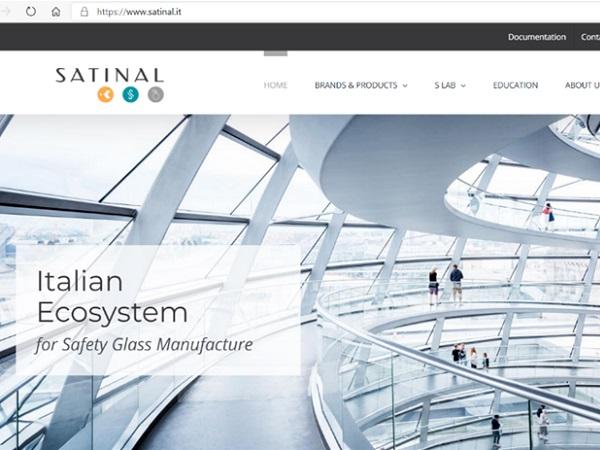 Photo source
www.satinal.it
The new site is online: a complete platform dedicated to the safety glass industry, from the production of EVA film to machines for the glass industry. All-round Italian quality. On the site, the first e-commerce of the sector.
Innovation, technological research, high performance interlayers, machines for the glass industry 4.0. SATINAL (Erba, CO) was born from a long tradition of the Bresciani family in the glass sector: the company operates in over 60 countries worldwide, and its distinctive feature is the constant search for the highest performance of all its products.
Product sections
The website presents the three souls of SATINAL: the TK machines for the glass industry (complete ranges for lamination and chemical tempering, with the availability of accessories in e-commerce), the STRATO interlayers, available in different performance families (transparency, color, outdoor applications, attention to nature, solar control, applications in photovoltaics and respect for the sustainability of buildings) and the SATINAL frosting chemical compounds and frosting machinery for the glass industry – hollow glass and flat glass.
TK Glass machinery
TK is the SATINAL brand with which it designs and builds ovens for glass lamination, tempering, chemical tempering and Heat Soak Test: the Italian brand of innovative and high quality glass machineries appreciated throughout the world.
The glass furnaces are intended for small, medium and large companies that need to start or increase their production capacity and improve the quality performances of their own finished products. By working in close collaboration with customers, SATINAL guarantees the best Italian technology and European components to meet the quality standards and requirements they demand.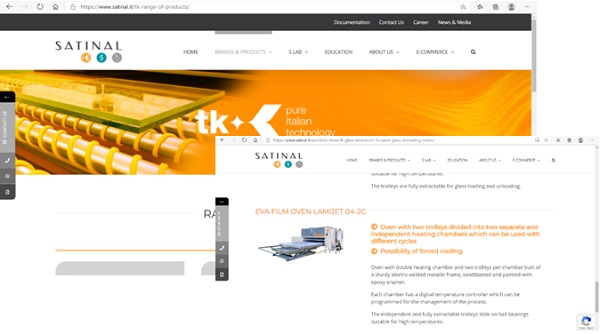 STRATO® is the first EVA film produced in Italy thanks to an extensive laboratory research and it is destined to manufacture safety glass. Thanks to its cross-linking structure, STRATO® can be used for both interior and exterior designs and on façade without running the risk of de-lamination and yellowing over time.
On the site, you also find the latest novelties such as the innovative range of encapsulating films created for the photovoltaic sector for the production of photovoltaic panels.
Particular attention is paid to customer service intended primarily as research: the SATINAL laboratory not only formulates increasingly advanced interlayers in performances, but it is at the service of customers to perform tests on request and to provide them with its advice.
The first e-commerce in the world for the glass industry
The part of the site for e-commerce is unique within the panorama of the manufacturers: accessories, instruments, components for ovens, test equipment. Satinal offers a wide range of tools useful for lamination and for durability or mechanical resistance tests of laminated glass.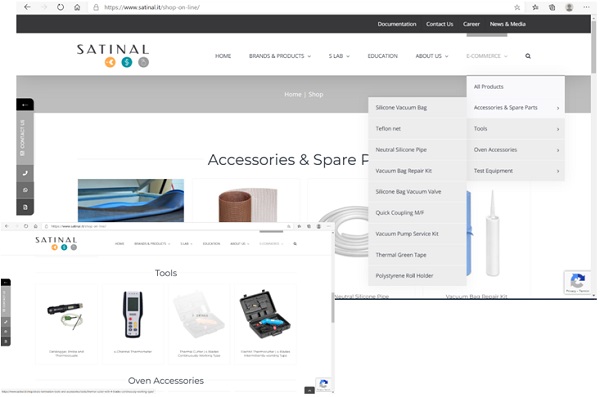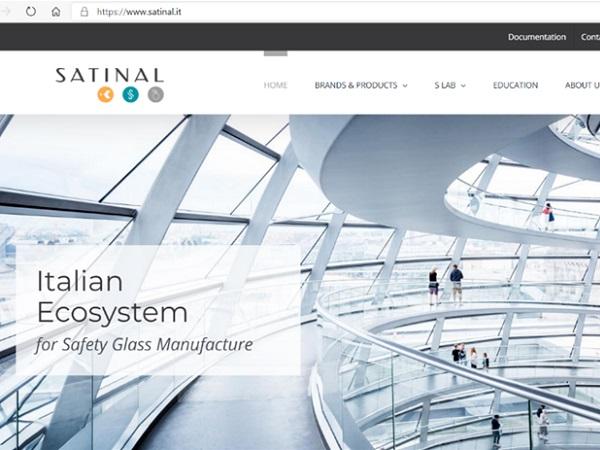 600
450
www.satinal.it
2021-01-28T08:41:25
The new SATINAL.IT site is online
glassonweb.com