Officina Meccanica Schiatti Angelo S.r.l.
Company address
V. alla Porada, 188
Seregno 20831 MB
Italy

COMPANY DESCRIPTION
With more than 65 years of activity, a good knowledge of  production problems, there are have been more than 17.000 machines manufactured.

These range from straight and double edgers, straight bevellers, automatic arrising machines, drillers and glass loaders/unloaders. This makes us an ideal partner for both small and big companies nationally and internationally.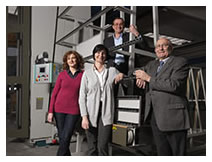 At Schiatti, every step of the machine production process is run in-house: from the initial fabrication, machining, painting, and assembly up to testing and shipping taking the utmost care in every detail.

Schiatti, cover everything from the initial concept,  it's design, development final production;  marketing and after sales service.

Service is not limited to only obtaining orders but includes continued  assistance through a network of agents and representatives working in all strategic geographical areas.
Schiatti Angelo srl offers a wide range of machines for glass processing, a result of considering the problems presented by glass processors, from the small shop to the big companies.
Straight edgers to grind and polish pencil, flat with arrisses, Ogee and waterfall edges for glass sheets from 3 to 55mm thick with electronically controlled automation device
Double edging machines for simultaneous grinding and polishing on both glass edges. They can process the pencil or flat with arrisses edges, with electronically controlled automation devices such setting up and monitoring the working cycle; for glass size from 80 to 4.000mm in lenght and thicknesses from 2 to 20mm
Complete grinding lines composed of two machines connected by a transfer table are available for processing all four glass sides
Automatic and semi-automatic drilling machines with opposite heads
Multi head drillers for the simultaneous execution of 2-3-4 holes
Straight bevelers for the grinding and polishing of glass as to obtain a bevel from 3° to 45° on thicknesses from 3 to 25mm
Loaders/unloaders
Vertical drilling/milling machines
Drilling centers
Automatic arrissing machines
VIDEOS