Facades, Building Envelopes and Systems
News
At 48 m high the monument La Ventana al Mundo − or The Window to the World − in Barranquilla, Colombia is hard to miss.
The region's foremost glass showcase, the Glasstech Asia series, opened yesterday in Kuala Lumpur.
In the functional arrangement of office buildings and public buildings, designers eagerly reach for solutions that provide optical lightness when separating individual spaces with glass walls.
Veteco, a benchmark European event for the Window, Façade & Sun Protection Systems sector from Nov.13 to Nov.16 in Madrid, Spain.
PremiPlan® Plus is a premium threshold system for maximum accessibility with a high level of comfort, when installed at ground level to zero millimeters.
Britain's long and well regarded engineering heritage continues to flourish across a number of sectors; and can be seen fully represented by the businesses, of different sizes, which belong to the Steel Window Association.
Tecnoglass, Inc. announced the appointment of Luis Fernando Castro Vergara to its board of directors, replacing Juan Carlos Vilariño, who has chosen to resign from the board for personal reasons.
Articles
The functionality of glass goes far beyond the proven basic properties of this transparent material.
This year the special show will address the four focal themes Interactive Façades/Display Glass, Energy and Performance, Structural Glass and New Technologies.
Arup are consulting engineers for a series of recent projects involving curved glass: The High Roller observation wheel in Las Vegas and a revolving feature lift for the new Louis Vuitton townhouse in London.
A facade shouldn't just dictate how a building looks, but how it works — especially in the harsh climate of Saudi Arabia.
XXL glasses expand the scope for design in architecture: view and admire at glasstec 2018 in Düsseldorf from 23 to 26 October 2018
Glass is enhanced with added functions to form an integral part of the building network. We are still in the early stages of development.
A modular system allows you to create a larger design by joining glass panels together in a line.
With the myriad of glass type available now, it is often confusing what to choose in terms of safety, thermal and solar performance and balancing cost with the benefits on offer.
Products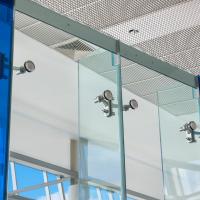 Consolidated Glass Holdings- CGH