Facades, Building Envelopes and Systems
News
The owner and the designer entrusted this significant architectural glass manufacturing task to Tianjin NorthGlass after on-site sampling and sifting.
Located on the Elbe River, on the western tip of the HafenCity in Hamburg, Germany, the Elbphilharmonie is one of the largest and most acoustically advanced concert halls in the world and an outstanding example of modern architecture.
For the glazed façade, the architect chose Guardian SunGuard® SNX 60, a triple silver coated solar control glass that offers even better colour consistency and enhanced internal reflections.
The internal and external curtain walls are all made by Tianjin NorthGlass.
The world's leading conference on façade design & engineering.
This week, we would love to share with you the final 3 videos from Facade Engineering session.
Visitors to this year's Glazing Summit will again be able to have their say on the issues that matter.
Articles
The Vacuum Insulated Glazing (VIG) is a unique thermally insulating window technology that can provide significant advantages over the conventional insulating units.
The Vacuum Insulating Glazing (VIG) is a highly thermally insulating window technology that outperforms existing insulating technologies.
The combination of the double-skin concept with unitized systems made current typologies of double glazed units possible.
The need for higher transparency in façades has led to the development of jumbosized glass. Until now, the almost jointless appearance of large-scale glazing could only be reached with laminated safety glass.
The use of laminated glass in structural applications has become more recognized and preferred as a safer choice to monolithic tempered or heat strengthen glass.
During a recent project to understand the ability to use Transparent Structural Silicone Adhesive (TSSA) via linear bonding for cable wall fittings, a unique aspect of the material indicates a potential novel method for cold bending glass.
This paper presents the results of an exploratory study into the metal-to-glass bond strength of a structural polyvinyl butyral (PVB) interlayer.
Numerous innovations have been seen in the last decades concerning new façade technologies. These were driven by new materials or new applications of known materials, such as glued-on wall structures (structural glazing) in the 60's and 70's.
Products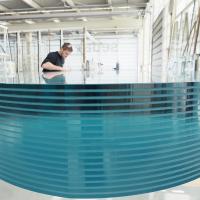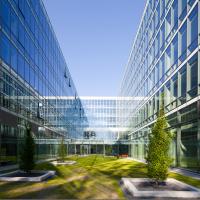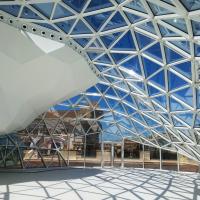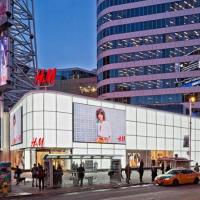 Walker Glass Company Ltd.