Facades, Building Envelopes and Systems
News
Since the 2008 Beijing Olympic Games, the story of NorthGlass and the Olympics has never stopped, from "Bird's Nest", "Water Cube" to the "ice ribbon".
One could almost say: "sedak has never produced a more complex glass", because with this laminate with attached insulating glass islands sedak created a real masterpiece.
Guardian SunGuard® Solar Silver 20 was selected for the glass roof due to its high level of solar protection, particularly in applications where heavy sun would make excessive solar heat gain an issue.
Thanks in part to its unique solar control design, rainwater catchment system and cool green roof, the building has earned Green Globes Certification with a Two Green Globes rating.
Projects recognized at the annual Guardian Glass BEC Glazier Connection™ Dinner and Awards.
With Maic Pannwitz and Julia Kovach, sedak Inc. will be again represented at this year's Building Envelope Contractors (BEC) Conference from March, 1st - 3rd.
Articles
The Vacuum Insulated Glazing (VIG) is a unique thermally insulating window technology that can provide significant advantages over the conventional insulating units.
The Vacuum Insulating Glazing (VIG) is a highly thermally insulating window technology that outperforms existing insulating technologies.
The combination of the double-skin concept with unitized systems made current typologies of double glazed units possible.
The need for higher transparency in façades has led to the development of jumbosized glass. Until now, the almost jointless appearance of large-scale glazing could only be reached with laminated safety glass.
The use of laminated glass in structural applications has become more recognized and preferred as a safer choice to monolithic tempered or heat strengthen glass.
During a recent project to understand the ability to use Transparent Structural Silicone Adhesive (TSSA) via linear bonding for cable wall fittings, a unique aspect of the material indicates a potential novel method for cold bending glass.
This paper presents the results of an exploratory study into the metal-to-glass bond strength of a structural polyvinyl butyral (PVB) interlayer.
Numerous innovations have been seen in the last decades concerning new façade technologies. These were driven by new materials or new applications of known materials, such as glued-on wall structures (structural glazing) in the 60's and 70's.
Products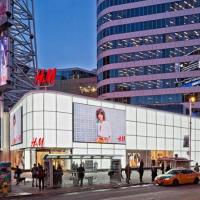 Walker Glass Company Ltd.