Facades, Building Envelopes and Systems
News
USA's largest flat glass show GlassBuild America kicked off Tuesday and continues through Thursday, September 19 in Atlanta.
Security, building stability, transparency: the new insulation glass "sedak isosecure" achieves the highest bullet-resistance class BR7 and optimal insulation values combined with high transparency – up to a maximum size of 3.5 x 20 meters.
The 240-metre-tall hotel and residential building will be clad entirely in glass.
For the needs of glazing on this campus, PRESS GLASS supplied a total of 9,500 sq m of insulated glass.
A project to create a high quality meeting room and classroom within the new Upper School of the prestigious École Jeannine Manuel School in London has been completed using the complete fire resistant, timber frame glazing system Promat SYSTEMGLAS® Ligna.
It's no exaggeration to say that innovation in the glass and glazing sector has fundamentally changed the way that buildings are designed.
The total area of the four storey building will be 15 500 m2 with underground parking in an area of 7 700 m2.
Articles
Daylight control is a main resource of energy saving in buildings. Daylight control systems with mirror optics have the potential to save air conditioning due to the ability to reflect the solar rays back into the sky.
The Glass structure of the West Balustrade in Eleftherias Square Nicosia Cyprus presented a challenge to Pentagonal in terms of 3D modelling, special glass fittings fabric, glass production, installation and testing.
When designing with glass, there are a wide range of options to choose from to create a truly unique project.
As companies strive to make their workplaces more flexible, interior glass has become a popular choice. Demountable interior glass also offers tax advantages.
The construction typology of the curtain wall arose with Joseph Paxton's Crystal Palace and accelerated in the 20th century.
Along with the multifunctionality of the building skin, BIPV today involves a new aesthetics in contemporary architecture.
This paper will describe the design, detailing, testing and construction of structural glass beams as part of load bearing grid shell structure in the newly built Zaryadye Park in Moscow, Russia.
The functionality of glass goes far beyond the proven basic properties of this transparent material.
COMPANIES

Super Sky Products Enterprises, LLC
10301 North Enterprise Drive
Mequon, WI 53092
United States

Wrightstyle Ltd.
Units 2 & 7 Band Industrial Estate
Devizes
SN10 3DY
United Kingdom
Products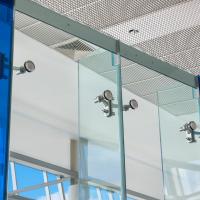 Consolidated Glass Holdings- CGH