Facades, Building Envelopes and Systems
News
The project adopts 7 layers of 15mm low iron SGP laminated glass, with a maximum size of 12m and the each glass weight about 5.6 tons.
Part of the concept is the Abercrombie Building with its dynamic façade of concrete panels and glass, partly complemented by OKAWOOD insulating glass with Functional Timber Grid.
Dow is now offering the opportunity to realize an aesthetically pleasing "one-color-edge" for insulating glass.
Tvitec is launching with Cricursa the most complete and comprehensive offer of high-performance flat and curved construction glass solutions on the market.
Eastman introduces Saflex® FlySafe™ 3D PVB interlayer, a highly effective way to keep birds from colliding with glass facades without compromising on views.
On the occasion of its 50th anniversary, the Pauluskirche in Olten was renovated after the design of Werk 1 Architekten und Planer AG.
Tianjin NorthGlass (referred to as TNG) uses innovative concave Low-e bending technology and adopts extremely strict standards for edge shift, curvature and edge straightness in production to present straight vertical lines on the surface of the building.
Articles
This paper discusses the structural response of cable-supported glass façades, through time history finite element (FE) analyses, under different wind action combinations.
Ground rules emerging from built case studies on adhesive selection and experimental validation.
The economy globalizes. The industries concentrate. The productions become uniform. Cultural specificities disappear. About architecture and glass in architecture, it is the same phenomenon.
In this article, experimental and numerical results obtained for linear structural silicone joints between glass and stainless steel substrates, investigated separately under tensile and under shear loading, are discussed.
This work focuses on the Transparent Structural Silicone Adhesive (TSSA), produced by Dow Corning.
Dow has a strong commitment to sustainability and recently introduced the first externally PAS2060-verified carbon neutral silicones for façades.
The intention of this paper is to address this gap with the aid of photoelasticity as an indirect measuring method in a coordinated way with numerical simulation based on finite element analysis.
Industrial manufacture of solar building components and their integration into the building planning process
COMPANIES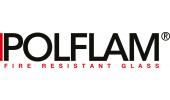 POLFLAM Sp. z o.o.
Jeziorzany, Aleja Krakowska 3
05-555 Tarczyn
Poland

sedak GmbH & Co. KG
Einsteinring 1
86368 Gersthofen
Germany
Products