Facades, Building Envelopes and Systems
News
NorthGlass has created the Guinness World Records for the largest single glass window.
Advanced technology, ongoing innovation, focus on the environment
Discover more about how Tvitec's glass solutions fit magnificently with other materials and claddings for projects headed by renowned international architects.
The first curtain wall of the project is 6m high ribbed glass curtain wall, 5 layers of 12mm ultra-white tempered laminated Low-E insulating glass unit.
Arkay Windows Limited is the latest industry name to come on board for this year's Glazing Summit.
Four different types of Guardian SunGuard® coated glass help to create a stunning, energy- efficient glass façade for the recently opened La Seine Musicale music and cultural centre located in the Boulogne-Billancourt suburb of Paris.
Facades+ Washington DC, September 21 - Facades+, Premier Conference on High-Performance Building Enclosures.
Articles
Unitised Façade System Designed with a Highly Transparent Façade of Low G-value Combined with Blast Requirements
For years and years research, development and discussions have been made on the safety of glass structures.
For nearly 50 years, glass has been used as structural elements in glass fin applications. These applications include interior and exterior projects, supporting facades, canopies, storefronts, curtain walls and skylights.
Post breakage strength of glass is still an unknown area as analytical models for this are inconclusive so far and thus destructive testing is the only reliable solution.
This article is dedicated to dynamic glazing in the façade. This is an update of the articles on smart products in the façade I and II published in March 2019 and May 2020.
Connecting glass with heat bonds is a way to create all-transparent glass structures. Two methods have been researched in theory and practice, glass welding, through local heating, and glass fusion through global heating.
This research investigates the potential of glass as a new design tool to highlight and safeguard our historic structures.
This paper focuses on the geometric optimization of the free-form gridshell towards planar quad glass units.
COMPANIES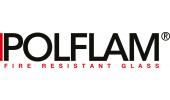 POLFLAM Sp. z o.o.
Runów, ul. Solidarności 1
05-504 Złotokłos
Poland

sedak GmbH & Co. KG
Einsteinring 1
86368 Gersthofen
Germany
Products