Insulating Glass Technology
News
The building received a new transparent skin glass façade made with Guardian Glass.
AIG positioned to be the only full-service glass fabricator in this market.
Take it easy in the field of window manufacture.
Performance engineering is at the heart of NanaWall. Their opening glass walls transcend the concept of large glass openings, facilitating a year-round connection to the outdoors, even in the harshest conditions.
Since November, Rolf Friedrich Buhl has been head of global sales and distribution of Thermix Warm Edge spacers for Ensinger.
SafeGuard Glass and Glazing has been working with Inagas for more than 15 years to help maintain its excellent reputation for quality, consistency and reliability.
Articles
Condensation is regarded as a problem associated with old and new windows. Commonly seen on the inside pane of glazing, new high performance sealed units and windows have resulted in condensation sometimes forming on the outside pane.
With the myriad of glass type available now, it is often confusing what to choose in terms of safety, thermal and solar performance and balancing cost with the benefits on offer.
Glass makes modern life possible, from our coffee makers, fireplaces, and induction cooktops to oil pipelines, syringes, lasers, and more.
When it comes to glazing your self-build, extension, or renovation project, it's easy to feel overwhelmed by choice.
Case Study: I.R.C.C. (Institute for Research and Treatment of Cancer)
Condensation, and in very cold scenarios, ice can form on the external pane of some modern glass units.
Triple glazing is essentially the same as double glazing, except it is constructed with 3 panes of glass, creating 2 sealed air cavities.
sedak GmbH & Co.KG, Germany, operates the largest insulating glass line in the world – about extraordinary glass processing and the role of LiSEC.
COMPANIES

Sparklike Oy
Hermannin rantatie 12 A 21
00580 Helsinki
Finland

Thermoseal Group Ltd.
Gavin Way, Nexus Point, Off Holford Drive,
Birmingham
B6 7AF
United Kingdom

Tvitec
Polígono Industrial El Bayo, parcela I, 19
24492 Cubillos del Sil León
Spain
Products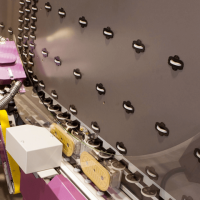 LiSEC Machines - Lisec Maschinenbau GmbH