Sparklike Oy – Your IG Quality Assurance
Company address
Osmontie 34
Helsinki 00610
Finland

COMPANY DESCRIPTION
UNIQUE NON-DESTRUCTIVE INSULATING GAS MEASUREMENT AND QUALITY CONTROL
Sparklike is the industry leader of non-destructive insulating gas measurement with devices that are developed and manufactured in Helsinki, Finland. Since the year 2000, we have delivered over 2.000 devices all over the world. Sparklike devices are used daily worldwide by the leading insulating glass producers, testing laboratories, window and door manufacturers, building quality inspectors as well as energy engineering and construction consultants.

WORLD'S FIRST AND ONLY NON-DESTRUCTIVE INSULATING GAS ANALYZERS
Sparklike's devices are based on our proprietary and patented technology, which allows the insulating glass manufacturers to measure the concentration of insulating gas inside insulated glazing units — without having to break them, even on a triple and double glazed units through coatings and laminations. Non-destructivity allows the customer to deliver tested IG units, test already installed units, or perform long term testing to their production. The devices enable manufacturers to produce products that meet the ever-tightening industry and government energy standards.
Products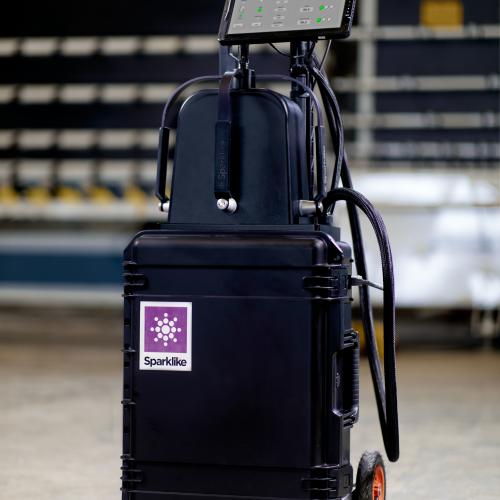 Sparklike Laser Portable™ 2.0 – for double and triple glazed insulating glass units with coatings and lamination
SEND INQUIRY
Sparklike Laser Portable™ 2.0 utilizes technology based on tunable diode laser absorption spectroscopy (TDLAS). The device analyzes oxygen absorption levels and calculates results which are displayed as argon, krypton, or additional insulating gas levels. The device is portable and battery-operated. Gas concentration levels can be measured at any point in the production process, at the construction site, or after installation.
More details ...
Sparklike Laser Integrated™ – IG-line integrated insulating gas measurement
SEND INQUIRY
Sharing the measuring technology of the Sparklike Laser Portable™ devices, Sparklike Laser Integrated™ enhances the quality control to the new level. Insulating glass units are measured automatically after the gas press, and all the results are recorded to its memory and are possible to be sent back to the IG-line or its ERP-system.
More details ...
Sparklike Handheld™ – for standard double glazed insulating glass units
SEND INQUIRY
Sparklike Handheld™ is practical and quick method to test IG gas concentration. Technology is based on plasma emission spectroscopy. A high voltage spark is launched in the IG unit's cavity causing a light emission which is observed and analyzed further. Thanks to its small size, it is easy to get a fast reading of gas concentration, whether it's argon or krypton. The user can simply place the device against the unit, press the button and receive an instant result with high accuracy. The device is portable and battery-operated.
More details ...