Glass Pre-processing Technology
News
HORN Glass Industries invests in a new sheet metal and bar storage system as well as in a high-precision cutting machine.
IGE Glass Technologies is full preparation for GlassBuild America. The largest annual glass, window, and door show in the Americas takes place September 17-19 in Atlanta, GA.
200 visitors per day, from 30 different Countries, for a 3-day event dedicated to the new technologies in the flat glass sector, following the "Time-Space-Efficiency" red thread.
Vidraria Mortagua: Reaching innovation with the constructor.
Performance data, investment costs, contribution margin, consumption of resources – the acquisition of a new glass processing system requires careful consideration.
We wanted it clear and smart both in Graphic Design and in User Experience because we expect the Customer to have all the informations immediately available.
Domino's stylized map of its three state distribution system is a tasty treat.
Articles
Along with the multifunctionality of the building skin, BIPV today involves a new aesthetics in contemporary architecture.
Productivity within the fabrication plant can be affected by the choice of drilling and milling machinery- what is the option- Horizontal or Vertical?
The functionality of glass goes far beyond the proven basic properties of this transparent material.
Presented below are some of the special challenges facing the skilled glass-processing trades: many products are becoming smarter.
This article will focus on the edge stability of PVB and ionoplast laminates and address the potential causes of blemishes.
Thin glass – as thin as a razor blade or a human hair – is a reliable method to protect smartphone touchscreens, sensitive filters and sensors.
Although anisotropy is inevitable when heat treating glass a major breakthrough took place in the industry in 2016 by developing an on-line anisotropy visualisation equipment.
Borosilicate glass, in particular, is extremely well-suited for 3D printing processes in a range of applications.
Products
Officina Meccanica Schiatti Angelo S.r.l.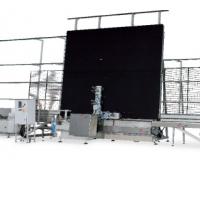 Officina Meccanica Schiatti Angelo S.r.l.