Glass Pre-processing Technology
News
Eurovetro upgraded their equipment with a new Forel 'High Tech' line for insulating glass, with an edging machine and flexible profile applicator.
Customers are willing to invest for something new, viable, exclusive and with added value like RCN's proposals.
All.in.one:solutions: under this motto LiSEC presented complete solutions from a single source for flat glass processing.
agil tr is the most compact, versatile cutting table ever produced.
Insulating glass production
Glaston CHAMP EVO represents the latest evolution in the CHAMP automotive glass pre-processing line.
With GlassBuild America coming up, this seemed like a great time to talk about why an event like this is so important for combatting the time and labor challenges we all face. - By Stephen Kucer
Articles
The article presents some basics about the processing steps of glass edges surfaces, introduces the considered grinding and polishing cup wheels and gives an overview of the performed experimental examinations.
The durability of an innovative polymeric coating recently developed by the authors to prevent stress corrosion in annealed glass is herein examined.
In this post, we discuss what emerging designs require and how automotive glass processors can meet these requirements.
Color Depth is a material-based research project investigating the optical and structural properties of thick glass.
The strength of glass plays an important role in the dimensioning of glass components in the building industry. A major factor determining float glass strength is damage such as scratches or cracks due to the brittle material behavior of glass.
In this study, the bending process of specially-fabricated double glazing units ('panels') is investigated with a focus on a local instability phenomenon.
This paper presents work undergone for a set of four high-rise towers, featuring 11,136 unique cold-bentpanels, hundreds of which are pushed beyond 250mm.
The paper presents the results of FEM analysis as well as tests performed on double glazed units including Sikasil® IG-25 secondary sealing joints and SikaGlaze® IG-5 PIB as primary seal.
Products
Officina Meccanica Schiatti Angelo S.r.l.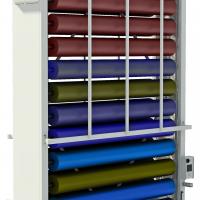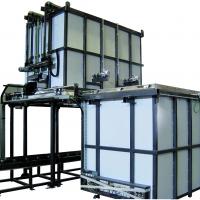 Hornos Industriales Pujol