Glass Pre-processing Technology
News
With Jetver Ultra, Tecglass brings sweeping changes to the inks sector for digital printing on glass.
Beveling is a process that is generally applied to glass, mirrors, and crystals to give the finished product an elegant appearance. It involves smoothing and polishing the surface of the glass at the edges with a 5° angle.
Forel "Residential" insulating glass line is a compact, reliable solution for glazing producers who serve the residential sector above all, which allows them to offer their customers a specific, high-performance product.
Coating independent temperature monitoring and quality control in glass tempering furnaces
Online white haze control – digital innovations open new possibilities for glass processors
The ninth edition of the highly successful conference and exhibition returns to Düsseldorf, Germany on 25-26 April 2023. The event will present the latest decoration solutions for all types of glass.
Recently, Tianjin Bureau of Industry and Information Technology announced the third enterprises list of single champion in manufacturing industry, Tianjin NorthGlass successfully is on the list!
Articles
In this paper, artificial intelligence (AI) will be applied for the first time in the context of glass processing.
Industry demand for impeccable glass quality has increased notably over the last years. Customer expectations run high, forcing glass processors to strive for ever-stricter quality control and ensure minimal rejection rates for finished products.
The most common quality issues that arise in tempered glass are roller waves, glass distortion, bad anisotropy and white haze. In this post, we want to focus on white haze and ways to control it.
Research has shown that the general approach to determine the bending strength of thermally curved glass with the aid of the four-point bending test for flat glass according to EN 1288-3 is applicable.
Glass can form and shape a space, creating transparent architecture that can make you feel closer to the outside world.
In 2015, the bold concept of a curvy tower at 252 East 57th Street, New York, was presented to an audience at the Glass Performance Days conference. At that time, building construction was just beginning, and no one was certain such a novel idea could be realized.
This poetry in architecture, one of the most advanced structures in the Nordic countries, Oodi Library exalts the very elements of glass, wood and steel that work in balance as a free-standing masterpiece. 
After seaming, grinding glass edges is another important work step in glass edge processing. The process is primarily used to remove overbreaks and underbreaks at the edges and to process the glass sheets to size.
Products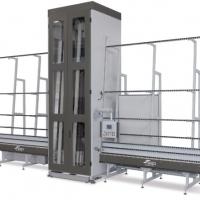 Officina Meccanica Schiatti Angelo S.r.l.