Glass Pre-processing Technology
News
Glaston has closed a follow-up deal with Lippert Components Inc. for an automotive pre-processing line and an insulating glass line.
The glass is available in sedak maximum dimensions up to 3.6 x 20m.
Starting January 1st, 2021, the merging sales' staff of CMS North America and Diversified Machine Systems will be solidified.
combiFIN is a compact but simultaneously highly efficient vertical processing line for flat glass with a thickness of typically 4 to 12mm.
The Quality Scanner automates your glass quality control and brings it to the highest standard.
Better quality, less costs and higher output – these are the benefits of the VSL-A.
Tecglass developed a showroom which allow them to show their processes to customers and leads, and most importantly, help them fully experience the digital printing process.
Articles
Few materials in human history have been made for as long or used in as many ways as glass. Ancient peoples molded it and poured it; later cultures discovered how to spin and blow glass into unique, dazzling shapes.
Some practical tips on how you can well maintain your laminating line and extend its longevity.
Glaston is working hard to make tempering furnaces more automated.
The new LiSEC glass edge deletion machines are equipped with improved sensor technology. This measures with greater precision and therefore guarantees constantly high finishing quality of the glass edges.
Digitalisation is not only something for start-ups or major enterprises. It applies just as naturally to many skilled trade businesses.
It is a very known behavior that the glass fragmentation depends on where you break the glass.
This paper proposes system concepts and fabrication methods for the use of ultra-thin glass in facades.
The laserbird is a universal tool, making it the perfect choice for a broad portfolio of customers, applications and glass products.
Products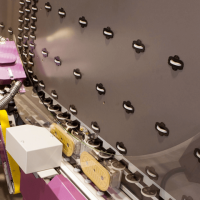 Glasmik d.o.o. - Branch Office MARIBOR