Glass Pre-processing Technology
News
At the center of the Tecnoglass manufacturing process is the tempering furnace Mappi Ats 4.0 2500x5000
Supertuff and LiSEC have been working together for 20 years now.
HEGLA TaiFin has now expanded its expertise in the glass processing sector by launching the CTF Series of flat glass tempering furnaces.
In this second NL the focus is on the CyberAL project
The effects of the Coronavirus have now also impacted glasstec 2020, which will be postponed to 15 to 18 June 2021.
Faced with the current global COVID-19 health crisis and especially concerned for the health and safety of its international teams and partners, the Fenzi Group has had to carefully evaluate its participation in 2020 trade shows.
Because of the need to balance the various shades among themselves and ensure they are in harmony with the context, even the color is subjected to careful scrutiny in every design project.
Articles
New Technical Document (TD) reviews glass surface decontamination—and what makes glass ideal for physical separation and other applications.
As digitalization becomes a strategic discipline in almost all enterprises and industries, the glass processing business is no exception.
Safety standards are constantly rising in all possible areas in which glass is used or installed – which is the reason why lamination is also becoming increasingly important in the glass industry.
Are you considering adding insulating glass products to your production mix? Or are you thinking of reconfiguring your current equipment to deliver new and better services to your customers?
During times when the number of suppliers in all industries is steadily increasing and the market is becoming more and more transparent at the same time, the importance of cost-effective production for higher profit margins increases tremendously.
When we speak about technological progress in mechanical engineering in general terms, conversations often revolve around Artificial Intelligence (AI) and the Industrial Internet of Things (IIoT).
It is well known that laminated safety glass (LSG) is a material that is specifically processed because of its composition.
Along with the multifunctionality of the building skin, BIPV today involves a new aesthetics in contemporary architecture.
Products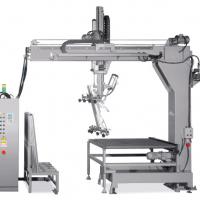 Officina Meccanica Schiatti Angelo S.r.l.