Glass Pre-processing Technology
News
2021 has been a successful year for LiSEC: For the second time this year, the company has managed to hit a monthly order intake volume of more than 30 million euros.
The chemical formula of REVA BF developped by RCN assures high performances in matter of adhesion, transparency and durability.
Forel received the "Best in Show" Award for best machinery booth at GlassBuild America 2021.
Learn more about the special features of the ARL-45F in today's highlight video.
The sights and sounds from the last day of the 2021 edition of GlassBuild America in Atlanta, GA.
Here is a triptych of Schiatti values, in particular the values ​​4,5 and 6 of the company Manifesto. Customization, transformation and trust together in the journey that SCHIATTI and the customer make, every time. Let's see what they mean.
Articles
In this blog post, we look at trends in the sunroof and windshield business today and how glass processors can prepare for them.
A clean, safe and sustainable source of energy, solar continues to power the world at a faster pace than ever before.
Connecting glass with heat bonds is a way to create all-transparent glass structures. Two methods have been researched in theory and practice, glass welding, through local heating, and glass fusion through global heating.
Latest Glastory blog by Jukka Immonen is dealing with the 5 promises of convection technology in windshield bending.
In today's architecture the bending of glass plays an important role in achieving free forms in modern façades.
The development of structural details in glass connections is the main topic of this research.
Few materials in human history have been made for as long or used in as many ways as glass. Ancient peoples molded it and poured it; later cultures discovered how to spin and blow glass into unique, dazzling shapes.
Some practical tips on how you can well maintain your laminating line and extend its longevity.
Products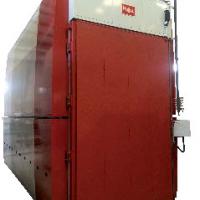 Hornos Industriales Pujol