Tempered Glass Technology
News
At the center of the Tecnoglass manufacturing process is the tempering furnace Mappi Ats 4.0 2500x5000
HEGLA TaiFin has now expanded its expertise in the glass processing sector by launching the CTF Series of flat glass tempering furnaces.
Glaston's President and CEO Arto Metsänen to retire from the company.
2050 M Street covers an area of 41,800 square meters and 5,000 square meters of curtain wall glass.
Glaston Corporation, the glass processing industry's innovative technology leader, has today published its first quarter 2020 results.
Due to the significant deterioration in the global financial situation following the coronavirus Glaston Corporation's Board of Directors has today in its meeting decided to amend the capital repayment proposal.
Orders received were stable and net sales grew, comparable EBITA for 2020 estimated to decline from 2019.
Articles
As a modern society, we're spending about 90% of our time indoors – at home, in offices or commuting. How is it possible to get access to daylight, when we can't naturally be outside? By making buildings more transparent.
As digitalization becomes a strategic discipline in almost all enterprises and industries, the glass processing business is no exception.
Are you considering adding insulating glass products to your production mix? Or are you thinking of reconfiguring your current equipment to deliver new and better services to your customers?
The fragment count in the standardized fragmentation test in the standard EN 12150-1 is the way to define the safety level of tempered glass and a way to also get an indication about the stress and strength level of the tempered glass.
The New Hype in Top End Architecture – an Examination of Latest Product Developments and Projects
A couple of years ago all started with the first measurement of anisotropies and edge stress as well as the detection of White Haze and other glass imperfections right after the furnace.
The author proposes a simple surface quality test using a standard window cleaning scraper and common smartphone or shop microscope.
Learn about the first step we take in maintaining tempered glass quality standards.
Products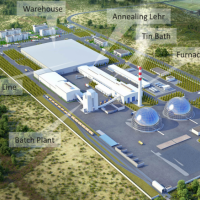 Luoyang North Glass Technology Co., Ltd.,