Tempered Glass Technology
News
Since the 2008 Beijing Olympic Games, the story of NorthGlass and the Olympics has never stopped, from "Bird's Nest", "Water Cube" to the "ice ribbon".
Glaston has renewed its website to reflect the current company structure, product offering and above all to better serve their customers worldwide.
Glaston Group has closed a deal for a FC Series tempering line with Dutch company Steinfort Glas, an expert in glass processing serving the construction, furniture, interior design as well as the automotive industries.
Recently, NorthGlass has been assessed by Saint-Gobain Deutsche Glas GmbH as A-supplier for the project "New Temper Furnace" in Freiburg, Germany.
Glaston Corporation initiates eemployee cooperation negotiations regarding possible temporary lay-offs layoffs in its Finnish units.
As announced on 13 January 2020, Glaston Corporation has made changes to its Group structure and as of 1 January 2020, has three reporting segments: Glaston Heat Treatment, Glaston Insulating Glass and Glaston Automotive & Emerging Technologies.
This week, we continue with 4 videos from the Tempering & Preprocessing session.
Articles
The fragment count in the standardized fragmentation test in the standard EN 12150-1 is the way to define the safety level of tempered glass and a way to also get an indication about the stress and strength level of the tempered glass.
The New Hype in Top End Architecture – an Examination of Latest Product Developments and Projects
A couple of years ago all started with the first measurement of anisotropies and edge stress as well as the detection of White Haze and other glass imperfections right after the furnace.
The author proposes a simple surface quality test using a standard window cleaning scraper and common smartphone or shop microscope.
Learn about the first step we take in maintaining tempered glass quality standards.
Although anisotropy is inevitable when heat treating glass a major breakthrough took place in the industry in 2016 by developing an on-line anisotropy visualisation equipment.
Incidents in Melbourne of 'spontaneous' glass breakage are more about the construction industry forgetting the lessons of the past than 'cheap' Chinese imports.
Power consumption of the glass tempering furnace refers to the amount of electric energy consumed in the process of tempering certain quantity of glass. The measuring unit commonly used is the kilowatt hour (KWh).
COMPANIES

Mappi International Srl
Via Fieramonti 1
04012 Cisterna di Latina LT
Italy

Viprotron GmbH
Ostendstraße 17
64319 Pfungstadt
Germany
Products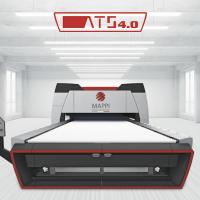 Luoyang North Glass Technology Co., Ltd.,