Tempered Glass Technology
News
In October effective tempering furnace orders were 40 and its total amount of nearly 21 million dollars.
Improve the quality and efficiency of your laminating process with a simple upgrade.
Mappi met Nermin Berbic to talk about his company, and their recent improvement: an all new tempering furnace, a Mappi Fox 1500x3000.
Today, with the entry into force of an order for a tempering furnace in South Korea, the cumulative sales volume of NorthGlass tempering furnace has exceeded 5000.
Glaston is launching its new brand to communicate the full strength of the new Glaston.
RCN SOLUTIONS would like to assure its customers that they will receive the utmost assistance and that we are working to guarantee remote installation and training by video tutors, written guidelines and live sessions.
Glasstec 2020 has been an important opportunity for business in a world that has forcibly gone virtual. RCN was able to "surf" into Glasstec Virtual, running into the platform to meet visitors and check demands.
Articles
That's an excellent question! It really is true that SentryGlass is more difficult to laminate in many aspects than standard PVB. But if we first think of what SentryGlass has been designed for, it is to give structural strength to the laminate.
It is a very known behavior that the glass fragmentation depends on where you break the glass.
Thin glass is the product of choice for electronic device displays. This glass is commonly expensive aluminosilicate glass whose properties are significantly enhanced when subjected to chemical tempering.
Since A.Zoller has proposed the idea of vacuum glass in 1913, vacuum glass technology become more and more mature from the last 100 years.
In this paper, the basics of the heat flux modes are given, a solution method for the glass energy equation is introduced, and some tempering furnaces are theoretically studied to show the portions of the heat transfer phenomena inside furnaces during heating.
This paper was first presented at GPD 2019 by Louis Moreau from AGNORA, Canada.
In a glass tempering process, residual stresses to glass are made with heat treatment. The process includes heating and cooling, and they should be equal on both sides of the glass pane.
In this article, the prestressing profile of chemically prestressed glass panes is investigated and two different measurement methods for recording surface compressive stress will be presented.
COMPANIES

SATINAL SPA
Via del Lavoro, 1
22036 Erba CO
Italy

SOFTSOLUTION GmbH
Im Vogelsang 18
3340 Waidhofen/Ybbs
Austria

Viprotron GmbH
Ostendstraße 17
64319 Pfungstadt
Germany
Products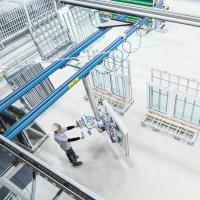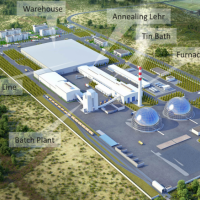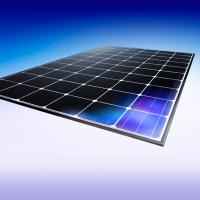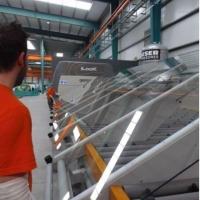 Luoyang North Glass Technology Co., Ltd.,