Interior Glass Applications
News
New color palette for ecological lacquered glass and new decorative 3D surfaces.
Advanced technology, ongoing innovation, focus on the environment
The Fenzi Group's approach to low-environmental-impact products and those with reduced VOCs (volatile organic compounds) also extends to the mirror production business unit.
Feel the privilege of double-sided glass in decoration
Thompson I.G., LLC is proud to announce the completion of its state-of-the-art glass fabrication training program.
Ideas and solutions for glass doors and partitions
Thanks to laser technology, the glass industry can do something that would be almost inconceivable in any other sector.
Articles
This research investigates the potential of glass as a new design tool to highlight and safeguard our historic structures.
Glass surfaces can be pre-treated so that they do not offer bacteria and viruses a chance to survive and do not aggregate layers of dirt.
From domed skylights to curved handrails, revolving door enclosures to building enclosures, the dramatic curves of bent glass offer architectural form and function.
Decorative glass is limitless in design, colors, patterns, textures, and offers aesthetic brilliance in countless interior applications.
Minimalist windows explore the potential of structural glass to provide large sliding glass doors with extremely thin doorframes.
New Technical Document (TD) reviews glass surface decontamination—and what makes glass ideal for physical separation and other applications.
Durability Testing Under Climatic Influences and Mechanical Loads
In the last decade there has been a trend in Architecture to design façades in which all structural elements are made of glass. This trend has also extended to other parts of the building such as rooflights, staircases, etc.
Products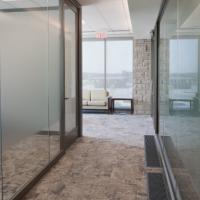 Walker Glass Company Ltd.