Interior Glass Applications
News
OmniDecor has good reason to make this statement: the 2023 design week was a fantastic week in every respect.
One of the latest news to be introduced by OmniDecor at the Fuorisalone 2023 collateral event is the result of the now consolidated partnership between the brand and Egidio Panzera.
Japan returns to inspire new OmniDecor creations during Fuorisalone 2023.
Clarity Neutral - a new generation of advanced anti-reflective coated glass
Jacob K. Javits Center in New York: the perfect setting for OmniDecor glazing.
On 14th December in New York, inside the United Nation headquarters, it has been held the closing ceremony of the International Year of Glass.
Trulite will continue delivering the same high-quality products and solutions, supported by the Company's existing management team and its talented network of employees across the United States and Canada.
Articles
This work presents the results of the evaluation of two Art Nouveau glass windows from the Casa-Museu Dr. Anastácio Gonçalves (Lisbon, Portugal) with IR-thermography during the summer solstice.
Color Depth is a material-based research project investigating the optical and structural properties of thick glass.
This study provides a closer look at fire performance of glass beams and proposes further examinations to increase the load-bearing capacity in case of fire.
The two case studies illustrate how the engineering of glass can fluctuate with design intent in unusual scenarios – when we cannot rely solely on conventional codes and standards to guide the analysis.
Glass production is an energy-intensive process by its nature, so even small reductions there can result in considerable savings in energy and costs.
This research investigates the potential of glass as a new design tool to highlight and safeguard our historic structures.
Glass surfaces can be pre-treated so that they do not offer bacteria and viruses a chance to survive and do not aggregate layers of dirt.
From domed skylights to curved handrails, revolving door enclosures to building enclosures, the dramatic curves of bent glass offer architectural form and function.
Products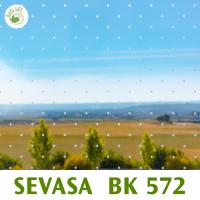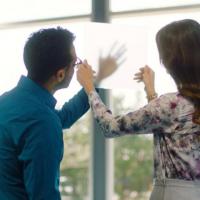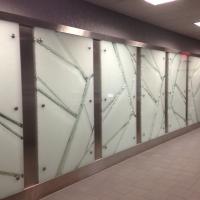 Thompson Innovative Glass