Laminated Glass Technology
News
During this web seminar Osama Wardani will help you understand the benefits of using acoustic laminated glass and how it can be used to reduce the effects of noise inside the building.
RCN SOLUTIONS has completed one important step of its new communication program. After the launch of the new company logo in June, RCN introduces a new website and products catalogue.
New, advanced facility will serve growing Eastern Europe demand
The complete range of STRATO® EVA interlayers is characterized by its excellent sound insulation properties.
The increase transparency of buildings has created new challenges when the occupants could be exposed to ballistic and blast threats.
Do you know how to select the right interlayer for your next project? Mark Jacobson and Ron Hull will explain the Decision Tree at SPARC virtual summit.
Ranking determined by independent survey of U.S. employees
Articles
We have seen rapid expansion in the last decade of laminated glass design using modern analytical and computational methods.
Time-temperature superposition principle is widely used to generate interlayer modulus properties in the form of mastercurves for use in glass design.
Historically, monolithic tempered glass has been primarily used in North America, but with the recent changes to the International Building Code (IBC 2015), laminates with heat strengthened or tempered glass are now required.
This paper presents an evaluation of the use of annealed laminated glass incorporating the stiffer PVB interlayers.
Decorative glass is limitless in design, colors, patterns, textures, and offers aesthetic brilliance in countless interior applications.
Increasing demands on security in an uncertain world have to be considered additionally by the building industry. Nowadays, largesized glazing in the building envelope cannot disregard safety requirements.
This paper was first presented at GPD 2019 by Louis Moreau from AGNORA, Canada.
The paper describes the research and development of phosphorescent glass.
Products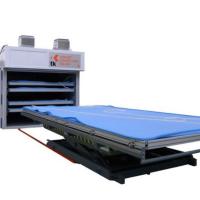 Glasmik d.o.o. - Branch Office MARIBOR