Laminated Glass Technology
News
Join the dialogue! Face Time 2020: Better Buildings through Better Skins
SentryGlas® ionoplast interlayer from Trosifol helps deliver strength, clarity, energy efficiency and protection to Miami's Brickell Flatiron, the city's tallest condominium.
The architectural trend to increase transparency in buildings has resulted in more use of glass in balustrade and overhead applications.
In their daily work, architects, civil engineers and planners constantly face new challenges.
Trosifol / Kuraray cancels participation in Düsseldorf because of corona pandemic.
Kuraray Europe ranked by IMWF, Deutschland Test and Focus Money as one of Germany's best companies for vocational training.
The Networking Platform for Young, Innovative Companies from the Glass Industry enters its Second Round
Articles
Laminated glass panels installed in structurally glazed applications may not always have the full laminate glass thickness supported along its bottom edge.
This paper was first presented at GPD 2019 by Dr. W.M. Stevels from Eastman Chemical Company.
Due to the tension stiffening of the polymeric interlayer resulting from the adhesion with the glass shards, laminated glass maintains significant stiffness and strength even when all glass plies are broken.
In a flat glass laminating oven, glass-film sandwiches are located on rotating rollers and conveyed through a heating chamber in a continuous flow.
As a manufacturer and supplier of monolithic, laminated and insulated glass panels, we often produce larger panels that must use heat-treated components, ionoplast interlayers and multi-layer assemblies.
Laminated glass deteriorates with time when subject to different environmental conditions. In this work, the impact of different environmental conditions on post-fracture performance is investigated by means of through-crack tensile tests on small scale PVB laminates.
Architectural preferences for commercial building continue towards increased transparency resulting in large lites of glass with minimal visual obstruction.
Strong, resilient, with perfect thermal and sound insulation properties, insulating glass has been used around the world in applications ranging from family homes to high-scale construction.
COMPANIES

Kuraray Europe GmbH
Muelheimer Strasse 26
53840 Troisdorf
Germany

LISEC Austria GmbH
Peter Lisec Straße 1,
3353 Seitenstetten
Austria

Mappi International Srl
Via Fieramonti 1
04012 Cisterna di Latina LT
Italy
Products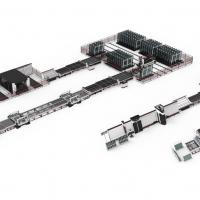 Luoyang North Glass Technology Co., Ltd.,