Laminated Glass Technology
News
New ribbon-wrapped Olympic speed skating arena is cool as ice thanks to SentryGlas® ionoplast interlayer from Trosifol
The delivery of a small kilns or a complex one makes no difference for RCN Solutions because the company has offered tailor-made products for its clients for a long time.
Glaston Group has signed an over EUR 2 million contract for a Jumbo Series flat tempering line and a ProL flat laminating line with StekloMir LLP.
An Architectural Glass Façade for Sensor City, Liverpool, England.
Folienwerk Wolfen GmbH appoints MM4GLASS as Exclusive Distributor in the territories of Central America (except Mexico), South America and Caribbean Islands.
Folienwerk Wolfen are delighted to announce that evguard® laminating film can now be found on the NBS Platform
Discover the most attractive projects of the last year that all feature high-performance glazed solutions from Tvitec
Articles
Dynamic mechanical analysis (DMA) experiments were carried out on three different Saflex® interlayers from commercial production, all at a nominal thickness of 0.76 mm.
The study describes the results of the principal applicability of fiber optic strain sensors to evaluate the structural behaviour of laminated glass and provides the basis to define a model for the material characteristics of viscoelastic interlayers.
The determination of interlayer modulus data is complex.
Here, comparisons are made with numerical analyses, performed by implementing an ad hoc routine in the software Straus7, developed by Maffeis Engineering.
Renzo Piano Building Workshop designed a 290,000 sf museum celebrating the artistry and technology of film, becoming the world's first museum and event space devoted to the Motion Picture.
The paper presents an overview of the work completed within the on-going research project "Structural safety of glass components" carried out at the Silesian University of Technology, Lund University and RISE Research Institutes of Sweden.
High-performance interlayers add to the stability, design flexibility, and adaptability of architectural glass
From domed skylights to curved handrails, revolving door enclosures to building enclosures, the dramatic curves of bent glass offer architectural form and function.
Products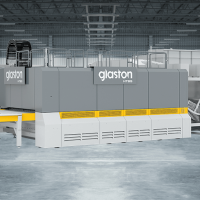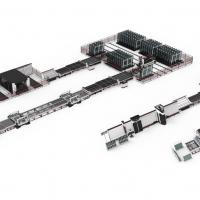 Luoyang North Glass Technology Co., Ltd.,