Laminated Glass Technology
News
The fourth GPD Istanbul presents the latest advances in the glass industry together with the most interesting future developments.
Gulfstream Condominiums on North Padre Island, near Corpus Christi, Texas/USA.
Turnover growth, plant enlargements and new recruitments.
OROShazaGLAS' last investment was a LiSEC laminating plant.
Each of the six cabs was adorned with a different space photo, some of which included an astronaut floating weightlessly in space as well as a stunning view of earth from the International Space Station.
Skylight replacement part of extensive renovation of iconic structure on historic site.
EVERLAM announces the launch of EVERLAM™ SUPER TOUGH, its new stiff PVB solution and a key addition to its portfolio of quality products and services.
Articles
Glass is a fantastic material… but sometimes it breaks.
The innovative modern technology utilizes a switchable liquid crystal film and durable glazing to deliver a number of benefits to medical facilities.
Switchable Glass Makeup – Clear or Coloured Glass
Using PVB Interlayers to Protect Your Interior
Combining white colour effects with impressive strength-to-weight ratio and excellent postbreakage performance
Laminated safety glass with SentryGlas® ionoplast interlayer has played a key role in enabling the design of an 100-foot-tall glass fin lobby wall on the 150 North Riverside Plaza office building in Chicago, Illinois, USA.
Stiff PVB is suitable for a much wider range of applications than more traditional PVB interlayers.
When the visual presence of materials decreases, the maximal transparency creates astounding beauty. In order to enhance transparency, clearer and lighter structures should be used.
COMPANIES

LiSEC Machines - Lisec Maschinenbau GmbH
Peter-Lisec-Straße 1,
3353 Seitenstetten
Austria

Mappi International Srl
Via Fieramonti 1
04012 Cisterna di Latina LT
Italy
Products
LiSEC Machines - Lisec Maschinenbau GmbH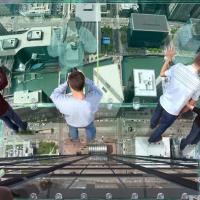 Formator Safety Glass d.o.o.