Laminated Glass Technology
News
Joe Khoury explains why his company advertises itself as the leading curtain wall consultant in Asia.
Improve the quality and efficiency of your laminating process with a simple upgrade.
This presentation documents the proper handling methods and processing conditions for the lamination of SentryGlas® SG5000 and SentryGlas® Xtra™ (SGX™) SG6000 ionoplast interlayers.
The enlargement of the Forel production plant (Treviso-Italy) is set to begin in 2021.
Learn why Trosifol® PVB interlayer for laminated safety glass is so special.
Kuraray Europe came second in its sector in the award "Germany's most family-friendly companies 2020" and is positioned among the top three overall in the Process ranking of the best employers in the chemical industry.
Although the title can sound strange, the duo of glass and marble in lamination is a superb combination, being demanded more and more in the glass and stone industry.
Articles
Held in Düsseldorf from 15 to 18 June 2021 glasstec will pick up on the latest glass trends related to shapes, formats and structures.
That's an excellent question! It really is true that SentryGlass is more difficult to laminate in many aspects than standard PVB. But if we first think of what SentryGlass has been designed for, it is to give structural strength to the laminate.
Two plus two does not equal one!
Traditional uses of glass have been reinvented by two architectural firms, who artfully use glass and interlayers to achieve very different design goals.
Noise as one of the major pollutants in our environment and society
We have seen rapid expansion in the last decade of laminated glass design using modern analytical and computational methods.
Time-temperature superposition principle is widely used to generate interlayer modulus properties in the form of mastercurves for use in glass design.
Historically, monolithic tempered glass has been primarily used in North America, but with the recent changes to the International Building Code (IBC 2015), laminates with heat strengthened or tempered glass are now required.
COMPANIES

R.C.N. Solutions Srl
Via Marcatutto, 7
20080 Albairate MI
Italy

SATINAL SPA
Via del Lavoro, 1
22036 Erba CO
Italy
Products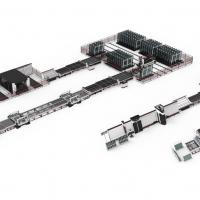 Luoyang North Glass Technology Co., Ltd.,