Laminated Glass Technology
News
Mexican group Vidanta Cruises has launched a large project consisting in the refurbishment of five cruise ships, to be carried out in the harbours of Naples and Genoa, in Italy.
Orosháza new laminating line meets rising demand for laminated glass products
Recently IGE Glass Technologies announced the promotion of Jeff Spicer to the roles of General Manager and Chief Operating Officer (COO). We caught up with Jeff to get his thoughts on the new role and more.
EVERLAM announces the reorganisation of its management team and the appointment of Albrecht Luick as new CEO, and of Marc Slock as Business Development and Technical Service Manager, a new position in the company.
FT technologies were experiencing severe noise pollution from speeding traffic on the M3 motorway.
Forms+Surfaces: When our California offices moved recently, we found ourselves faced with an exciting task: the design and build-out of a new home for our Design Studio and west coast sales support teams.
Articles
The compatibility of two or more materials consists in their capacity to co-exist in juxtaposition for an indeterminate period of time without manifesting signs of detachment (delamination), discoloration or alterations produced by chemical interactions.
This paper will describe the design, detailing, testing and construction of structural glass beams as part of load bearing grid shell structure in the newly built Zaryadye Park in Moscow, Russia.
This year the special show will address the four focal themes Interactive Façades/Display Glass, Energy and Performance, Structural Glass and New Technologies.
There have several type smart glass, what is the difference for different type? How can you know that and choose right?
Arup are consulting engineers for a series of recent projects involving curved glass: The High Roller observation wheel in Las Vegas and a revolving feature lift for the new Louis Vuitton townhouse in London.
This article will focus on the edge stability of PVB and ionoplast laminates and address the potential causes of blemishes.
Glass is a fantastic material… but sometimes it breaks.
The innovative modern technology utilizes a switchable liquid crystal film and durable glazing to deliver a number of benefits to medical facilities.
Products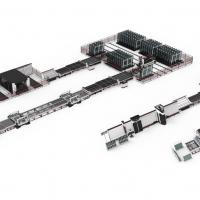 Luoyang North Glass Technology Co., Ltd.,