Company address
779 Washington Street
Buffalo 14203 NY
United States

COMPANY DESCRIPTION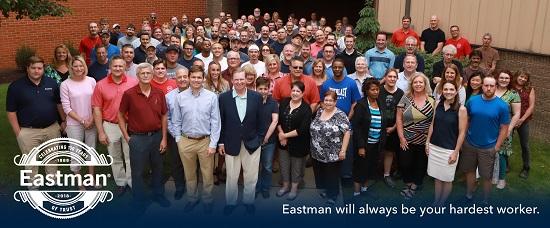 Laminated glass offers superior durability, rigidity, and security in a wide range of applications, from architectural to automotive to alternative energy. Manufacturers across industries rely on the material for security, safety, impact resistance, UV protection, and sound insulation. The high-performing material offers drivers, boaters, homeowners, and other users unparalleled safety without sacrificing the practical properties of glass itself.
Eastman Machine Company delivers a variety of solutions for cutting laminated glass interlayers. Our automated, computer-controlled systems are designed to cut laminated safety glass interlayer materials with ease. When you choose an Eastman machine as your cutting room solution, you can rely on a single system to cut multiple vinyl interlayer materials in a variety of thicknesses.
Cutting Interlayer Materials
 
Innovative, technical materials like laminated glass require specialized cutting solutions. Eastman's machines are designed to meet the needs of manufacturers utilizing a variety of interlayer materials. Our application specialists can help you find the right solution for laminated glass cutting at your facility. Our team has significant experience with interlayer materials in a variety of thicknesses including (but not limited to):
PVB (Polyvinyl butyral)
SentryGlas™ (SG)
EVA (Ethylene-vinyl acetate)
TPU (Thermoplastic polyurethane)
Similar vinyl and fabric interlayer materials
 
Personalized Solutions for Cutting Laminated Glass
 
Finding the right cutting solution for your production floor doesn't have to be difficult. Eastman's cutting machines offer flexibility without sacrificing durability or reliability. Whether your application requires straight, curved, or custom cuts, we can customize your cutting solution. Blade options include drag and round knives. A smooth, perforated polyurethane cutting surface ensures your material remains free from any particles or debris and makes cutting in a cleanroom possible.
 
Automated Cutting Machines
 
Computer-controlled cutting machines lend cut accuracy and quality to your production process. Automatic laminated glass cutting tables allow facilities to increase output without sacrificing the accuracy required in the medical and energy industries, among others.
To learn more about Eastman automated systems and solutions specific to laminated safety glass interlayer production, check out the Laminated Glass Brochure.
 
Dependable Cutting Solutions
 
The dependable mechanical systems, electronics, and software Eastman is known for are backed by industry-leading customer and technical support. Together, they prevent costly downtime.
Our application specialists help you find the right laminated glass cutting machine for your application with fast, easy setup for experimentation and concept testing. Service doesn't end at delivery though. Choosing an Eastman means choosing dedicated support for the life of your system. Our experienced technicians are always available to troubleshoot and resolve cutting challenges, as well as service your machine.