News
Glaston has closed a follow-up deal with Lippert Components Inc. for an automotive pre-processing line and an insulating glass line.
Plant Closure of PV Module Manufacturer from Solibro GmbH.
The glass is available in sedak maximum dimensions up to 3.6 x 20m.
Specially designed for the requirements of medium-sized customers
The date to reserve space at VITRUM 2021 by taking advantage of the Early Bird rate has been extended to February 15, 2021.
Kuraray is upgrading: as part of its digitalization campaign, Kuraray is integrating artificial intelligence (AI) into architectural planning.
247 exhibitors from 29 countries participated in BAU ONLINE, offering 1,495 live presentations and 4,316 one-on-one talks. 23 exhibitors additionally supported the event as sponsors.
Articles
Sustainability and the circular economy are increasingly influencing work and production processes in glass manufacturing, too.
Some practical tips on how you can well maintain your laminating line and extend its longevity.
Computer scientists develop a design tool that opens up the use of a cost-efficient technology for curved glass panels. The tool is based on a deep neural network and allows for the free-form design of beautiful glass façades.
Glaston is working hard to make tempering furnaces more automated.
What is your vision of the future? What role will glass play in your vision?
Held in Düsseldorf from 15 to 18 June 2021 glasstec will pick up on the latest glass trends related to shapes, formats and structures.
The new LiSEC glass edge deletion machines are equipped with improved sensor technology. This measures with greater precision and therefore guarantees constantly high finishing quality of the glass edges.
Digitalisation is not only something for start-ups or major enterprises. It applies just as naturally to many skilled trade businesses.
Products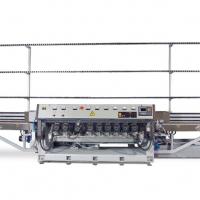 Officina Meccanica Schiatti Angelo S.r.l.