News
Wrightstyle, the advanced steel and aluminium glazing company, has been appointed to work on a sixth Crossrail station.
The technology line at POLFLAM production plant shall be expanded by a new tool, i.e., a glass processing centre.
The building received a new transparent skin glass façade made with Guardian Glass.
Priva B.V. and GEZE GmbH decided to sign a letter of intent to develop their cooperation in building automation systems and solutions.
The Glass Machinery Company recently took delivery of a Fratelli Pezza easymarker UP.
Powder-coated in red to match the school's branding, Maple's shading at Ashville College is a work of art.
Articles
A modular system allows you to create a larger design by joining glass panels together in a line.
All offices must be well ventilated. To meet increasingly stringent Health and Safety regulations, a continuous supply of fresh air is necessary.
Condensation is regarded as a problem associated with old and new windows. Commonly seen on the inside pane of glazing, new high performance sealed units and windows have resulted in condensation sometimes forming on the outside pane.
With the myriad of glass type available now, it is often confusing what to choose in terms of safety, thermal and solar performance and balancing cost with the benefits on offer.
This blog post was written based on an interview with M.Sc. (Chem.) Santtu Jolkkonen, Sparklike's Service and Maintenance Manager, who has been working as technical support specialist for Sparklike over a decade.
Solar glass can be used to replace conventional construction materials such as glazing or cladding, whilst also generating electricity on site.
Case Studies of the Aesthetic Qualities and Possibilities of Glass in Architectural Design.
Glass is a fantastic material… but sometimes it breaks.
Products
Officina Meccanica Schiatti Angelo S.r.l.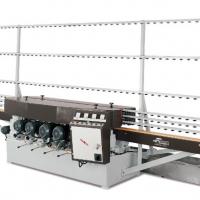 Officina Meccanica Schiatti Angelo S.r.l.