News
Leon's High-Speed underground rail line 'breathes' through 11 luminous and kaleidoscopic skylights with Vanceva.
The combiFIN is a nifty combination of different vertical processing devices to create a single intelligent line.
AB-AR and EVALAM VISUAL play a decisive role on the façades of this new business case with 7,300 square meters of laminated glass.
Hornos Pujol has designed the new EVA LAM-PRO "Jumbo" laminating oven size 69x35.
UNIQUE PROJECTS WITH TECGLASS DIGITAL PRINTING TECHNOLOGY: Ayyanna IT Park getting cladded in Hyderabad by FG Glass using Tecglass digital printing technology.
FIRESWISS FOAM is a type of class EI fire-resistant glass that provides vital protection against dangerous heat radiation.
Articles
I want you to think about your daily journey to work. Take a minute, visualize it – and then answer me this: How many glass surfaces did you see? Too many to remember?
Limiting global warming require "rapid and far-reaching" transitions in land, energy, industry, buildings, transport, and cities.
Bent and tempered glass has long been of great interest to the market. The process of creating high-quality tempered bent glass has evolved over the years.
Do you still spend precious time doing the meticulous task of manually counting glass cullets for a glass fragmentation test? Or maybe your modern counting tool is not exactly the gold standard? If so, we have some good news for you!
The latest Glastory blog is dealing with the newest trends coming to the bus glass market - how the cut-outs, digital and screen printing, larger surfaces and thinner glass to reduce weight and fuel consumption is challenging the glass processing.
An Initial Study Towards Optimized Structural Assessment of Glass Components
The latest Glastory post is dealing with the trends in automotive display glass processing.
In the European Union, Member States are allowed to set minimum performance requirements to construction products available on their market.
Products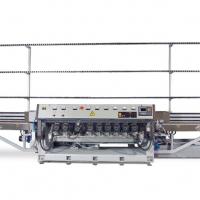 Officina Meccanica Schiatti Angelo S.r.l.