News
Glass façade takes center stage in new mixed-use development in Mexico City thanks to SentryGlas® from Trosifol
Live demos, talks with our experts and in-depth analysis of the main trends of the glass market.
Smaller fabricators are consistently overlooked when companies design, market, and sell ERP solutions. A+W Software is changing that for glass fabricators with the launch of our newest product called A+W iCut.
The Liverpool City Region will benefit from £54 million investment to revitalise its glass industry and support the region's economic recovery.
All together we can do it! Discover how!
Reservations are now open for your space at VITRUM 2021, to be held in pavilions 22 and 24 at Fiera Milano Rho from Tuesday, October 5th to Friday, October 8th.
Articles
That's an excellent question! It really is true that SentryGlass is more difficult to laminate in many aspects than standard PVB. But if we first think of what SentryGlass has been designed for, it is to give structural strength to the laminate.
It is a very known behavior that the glass fragmentation depends on where you break the glass.
In this paper we will look at the potential of what is now a commonly used component in facade design - a load-bearing glass wall panel.
The world of constructions and building envelope has been evolving in recent years and the curtain wall has become the main expression of the architects' imagination.
We have seen rapid expansion in the last decade of laminated glass design using modern analytical and computational methods.
Time-temperature superposition principle is widely used to generate interlayer modulus properties in the form of mastercurves for use in glass design.
Historically, monolithic tempered glass has been primarily used in North America, but with the recent changes to the International Building Code (IBC 2015), laminates with heat strengthened or tempered glass are now required.
This paper presents an evaluation of the use of annealed laminated glass incorporating the stiffer PVB interlayers.
Products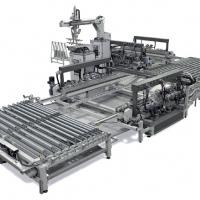 Officina Meccanica Schiatti Angelo S.r.l.