SC Railing Company, a national leader of architectural railing systems, is pleased to announce their partnership with SpecLink-E to provide architects and designers comprehensive specifications software to effectively communicate their design intent.
Technoform Bautec's insulating profiles and Technoform Glass Insulation's warm edge spacer systems for insulating glass units (IGUs) have been awarded Material Health Certificates by the Cradle to Cradle Products Innovation Institute.
PGT Innovations, Inc. announced today expansion plans for a new 330,000 sq. ft. manufacturing facility in Miami, Florida.
Articles
Point supported glass guardrail systems have increased in popularity in recent years offering a modern aesthetic to commercial projects.
You might not think about window making as an art form, but every pane and frame created at Pella requires exceptional skill and craftsmanship.
How does the industry ensure precise color accuracy in glass coatings?
Office glass partitions provide irrefutable benefits.
When asked about his contribution to glass advancements, O'keeffe quickly points to the greater reliance on science that is inherent in the industry today.
Cladding is more than just a protective skin on the exterior of a building.
Laminated safety glass is an excellent choice for building construction—here's why.
Combining white colour effects with impressive strength-to-weight ratio and excellent postbreakage performance
Products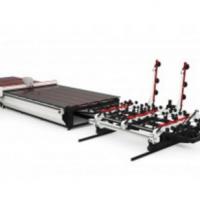 HHH Tempering Resources, Inc.