It's hard to stand out in the city that never sleeps – even for one of the most well-known financial trading entities in the world. That was the challenge that NASDAQ faced as they recently undertook over a $10 Million renovation at its national headquarters in the heart of New York City.
San Francisco International Airport's new air traffic control tower meets high-performance design and LEED Gold criteria features Wausau's curtainwall, Tubelite entrances, finishing by Linetec.
aluplast® strengthens its position in the US market through the acquisition of the uPVC system provider Chelsea Building Products.
Articles
You might not think about window making as an art form, but every pane and frame created at Pella requires exceptional skill and craftsmanship.
How does the industry ensure precise color accuracy in glass coatings?
Office glass partitions provide irrefutable benefits.
When asked about his contribution to glass advancements, O'keeffe quickly points to the greater reliance on science that is inherent in the industry today.
Cladding is more than just a protective skin on the exterior of a building.
Laminated safety glass is an excellent choice for building construction—here's why.
Combining white colour effects with impressive strength-to-weight ratio and excellent postbreakage performance
The AGI educational series illustrates and describes common glazing challenges as a means to communicate best practices for the design and construction industry, not as a sole source for design guidance.
Products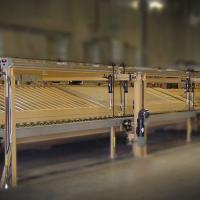 HHH Tempering Resources, Inc.