Meeting building codes and providing strength, sound damping, solar control, visual beauty, and impact resistance for safety, security, storm protection, and post-breakage performance are all attainable with laminated glass when using proper design. The multifunctional capabilities of Saflex and Vanceva PVB interlayers can help meet changing guidelines and building safety codes.
In the 28 years since Hurricane Andrew, laminated glass for hurricane impact resistance has demonstrated its protection capability. Now, thanks to Saflex and Vanceva, coupling that capability with sound control, color options, solar control enhancements, and structural and security performance in a multifunctional glazing is not just easy to do—it's a sought-after option that continues to grow in popularity.
Myth: The only safety glass is fully tempered glass
Reality: Laminated glass is safety glass in the correct configuration. Laminated glass does not need to incorporate tempered glass to be considered a safety glazing. The laminate simply needs to meet the appropriate safety glazing impact standard for the region it will be used in.
Some typically referenced safety glazing standards include ANSI Z97.1, AS/NZs 2208, CPSC 16 CFR 1201, EN 12600, and ISO 39584. The building codes reference a performance criteria, not a glass type, except when glass fallout post-breakage is a concern. In glass fallout cases, building codes specifically reference and, in many cases, require laminated safety glazing (skylights, overhead, balcony, etc.).
Myth: Laminated glass cannot be used in exposed external applications.
Reality: Laminated glass is ideal for both exposed and external applications. PVB interlayers produced prior to 1997 tended to be more susceptible to visible delamination due to environmental influences such as high moisture. When viewing laminated glass that was created and installed before this time, it may be easy to assume that laminated glass is not capable for this particular use.
The reality is interlayers have changed over time, and specialty products with ever-evolving durability and capability have been and continue to be introduced. All materials should avoid standing water or chemicals at the edges, but it's important to note that PVB interlayers today—when properly laminated and installed—are not the same as those used decades ago.
Myth: PVB is PVB.
Reality: Actually, there are several types of PVB interlayers. Most PVB interlayers are a highly engineered adhesive intended to provide basic safety glazing performance. However, they can be modified or layered to provide other value-added and desirable characteristics, including safety and security impact resistance, noise mitigation, solar control, and UV screening, as well as structural performance and color options.
They are designed so that various formulations from the same supplier can be combined to help meet project needs. For instance, an acoustic interlayer can be combined with color to provide security and wayfinding to a school.
Myth: PVB is for automotive applications.
Reality: While laminated glass was first introduced for use in automotive windscreens in 1937, it has successfully transferred over for use in the architectural market. Laminated glass is no longer a one-size-fits-all product. PVB interlayers have been specially engineered to provide the characteristics demanded by the markets they serve.
In the architectural market, that means keeping the ability to act as a safety glazing; retaining glass shards for some time when broken and wet; providing a mechanism to keep a building envelope intact and its occupants safe and comfortable; and protecting the property.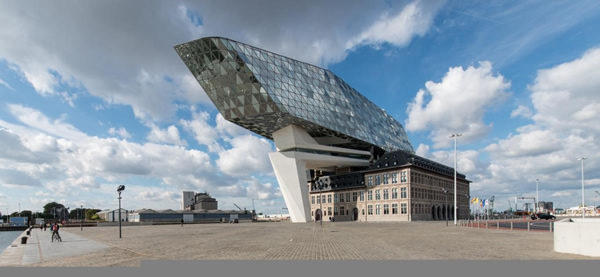 Why do these misconceptions persist? Perhaps it's due to how the products have been introduced and marketed. Often, informational brochures from some associations and organizations reference safety glass (fully tempered) or tempered safety glass as the only material for complying with building codes. It's a habitual and generic term, similar to referring to all coffee simply as coffee.
Prior to the late 1990s, there was essentially one base formulation of polyvinyl butyral interlayer for glass lamination to achieve safety performance, be it in automotive or architectural applications (specialty formulations existed for aircraft-type applications). Like the increase in the variety of brands, flavors, and strengths of coffee, new versions of PVB interlayers created for specific uses have been introduced. However, PVB continues to be the generic moniker, leading to the previously mentioned misconceptions.