Company address
2875 Jupiter Park Drive, Suite 100
Jupiter 33458 FL
United States

COMPANY DESCRIPTION
IGE Glass Technologies, Inc. North America's Leading Glass Machinery Supplier
IGE Glass Technologies, Inc. has a long history of serving the needs of North America's glass industry. We have been a leading single source provider of high quality glass fabrication machinery, service and supplies for nearly three decades. As we have from the beginning, we continue to search the world to find the most innovative and reliable equipment manufacturers for fabricating, handling and processing flat glass. Each of our manufacturers specializes in a certain type of machinery and all of our equipment is characterized by innovative features, long lasting durability and high reliability.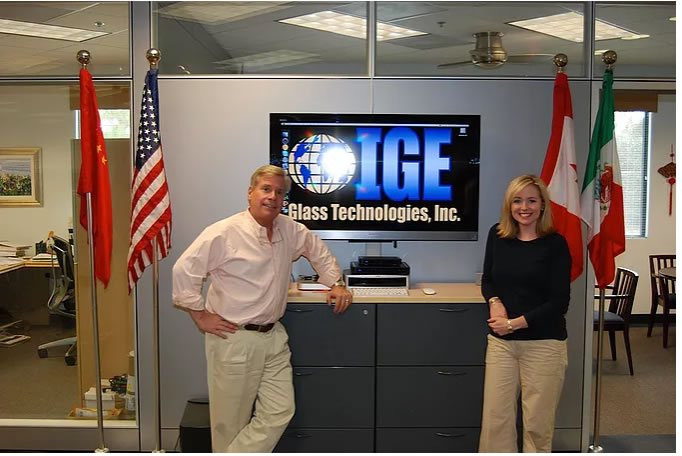 To provide our customers with the high quality supplies and reliable service they need, we formed separate companies, IGE Supply Solutions, Inc. and IGE Service Solutions, Inc. to focus solely on those tasks. The staff and service technicians that work within these companies are experienced professionals with factory training and authorization.

Michael Spellman, the President of IGE Glass Technologies, has over 40 years of experience in the glass fabrication industry and has worked with hundreds of fabricators. Mr. Spellman is a recognized and respected leader in the glass industry and he works very closely with all our machinery customers. Whether you need a single piece of equipment or need to set up an entire glass fabrication plant, Mr. Spellman and his dedicated team of professionals can help you get the equipment that will help you reduce labor, handling and waste, while increasing your productivity and profits.

Please explore our website to learn more about our company and what we offer. If you have any questions or unique needs, don't hesitate to contact us. Also, please sign up for our newsletter by entering your name and email.
Products
Tecglass Digital Glass Printer
SEND INQUIRY
IGE is pleased to present a digital glass printing line that makes a difference.
In just a few years, digital printing has literally changed the face of decorated glass, and its huge potential remains unexplored, both in terms of technical research and commercially.
Tecglass digital technology is the superior choice. Learn more below!
More details ...
IGE offers the following models
Vitro-Jet D
Print and dry simultaneously in the same machine with SDT technology.

Very easy and comfortable manually glass Load/unload.

Up to 12 sqm/hour printed and dried glass ready to go to the tempering furnace.

All movements with linear magnetic drive technology. High precision and no mechanical wearing.
Vitro-Jet I
Print and dry simultaneously in the same machine with SDT technology.

Robust suction cups transport system which can accurately move the maximum glass size at the maximum glass thickness.

Very heavy structure and strong construction for keep the best accuracy over the time.

Split Head Technology SHT to print double vision glass in only one process.

3 possible configurations of the printing line, possible upgrades from the basic configuration to the highest configuration.

Includes a polyvalent jig for print of irregular shapes.

Inline automatic glass positioning, no man intervention needed.
Vitro-Jet F
X and Y movement of the printing bridge with high precision magnetic linear drive technology.

Very easy and precise positioning of irregular shapes.

Inline automatic glass positioning, no man intervention needed.

Two independent belt stations integrated in the printing table increase productivity reducing cycle time.
Glass Cutting and Handling
SEND INQUIRY
IGE Glass Technologies presents cutting handling equipment from the Turomas brand. Turomas is known throughout the world for their high quality and reliable glass cutting and handling equipment. The company manufactures standard glass cutting lines, as well as innovative, specialized lines for cutting monolithic glass and laminated glass.
More details ...
The world's leading laminated glass producers trust Turomas to meet their demanding needs. All of Turomas' equipment is respected for its safety features, ease of use and durability. 
With over 30 years in the glass machinery industry and collaborations with the main glass manufacturers, Turomas has become a market reference in Smart Glass Storage, Loading and Cutting equipment.
From our production facilities located in Spain, (available in North America via IGE) our team designs, manufactures, codes, assembles and tests all the components of our machines to assure a total quality control. Reliability, security, performance and precision are key for our customers.
The glass storage and cutting area is the core of any glass processor's business. Correct planning of workflow, current volume and growth expectations is critical to devising a production without bottlenecks and flexible enough to meet current and future needs. After all, the success of our customers is also our success.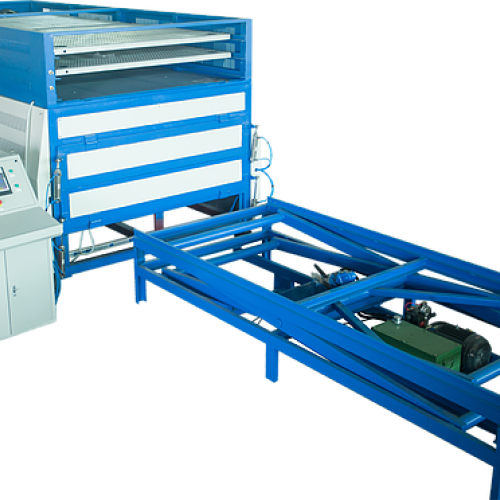 Lammy Can
SEND INQUIRY
IGE Glass Technologies has teamed up with Lammy Can. This remarkable system specializes in the design and manufacturing of products for the decorative glass industry, including autoclave-free laminating glass machines and a complete line of professional EVA films.
More details ...
Lammy Can is the division of Boujun.  Located in southern China, Boujun is an awarding winning company that has been recognized as China's "Art Glass Service Industry Pioneer" and China's "Chief Supplier Of Glass Materials." Boujun is a research-driven company, with a heavy focus on meeting the ever-changing needs and demands of the worldwide glass market, including energy-efficient machines and environmentally-friendly products. Lammy Can and Boujun are respected internationally for their innovation, quality and reliability.
Simple to operate

Very profitable products

No limit to creativity

Works with EVA, SGP and SMARTFILM