News
Glaston Group has closed a deal for several pre-processing machines with Chinese Xinyi Glass Holdings Limited, one of the biggest glass companies in China covering float glass, solar glass, coated glass and automotive glass.
The Palm Tower, at the heart of Dubai's iconic Palm Jumeirah, will feature incredible views of the city due to it being entirely cladded in Pilkington Suncool™ glass.
Şişecam Flat Glass, one of the largest flat glass manufacturers in the world attends the world's leading exhibition for the solar industry, Intersolar Europe 2019 held at Munich between the 15th and 17th of May.
ChromoGenics, represented by Mats Hansson, is nominated for the Swedish Embedded Award with an autonomous solar-powered smart glass, ConverLight® AW (Autonomous Window).
SolarWindow Technologies, Inc. is pleased to announce the appointment of Mr. Channing Chen to its Board of Advisors.
Molybdenum and tungsten are two extraordinary metals that make a significant contribution to our modern lives today. We are in constant contact with these two materials without even being aware of it.
Articles
Windows have always been at the intersection of various technologies and architectural processes that evolved in parallel and often intertwined.
Along with the multifunctionality of the building skin, BIPV today involves a new aesthetics in contemporary architecture.
Modern, transparent and prestigious – large glass façades are very much in vogue for office complexes and industrial buildings.
Over half the world's seven billion inhabitants live in cities, by the year 2050 the number will grow to almost ten billion. In order to avoid a climatic collapse in the metropolises, there is no other alternative to energy-efficient buildings.
Cities are eating up an increasing amount of heat and electricity. In order to reduce this consumption, buildings have to become increasingly efficient and integrate more renewable energies.
The crisis of the photovoltaic industry is drawing to a close. While it is true demand for solar modules is dropping in Europe, demand in many other regions is rising rapidly.
Although the costs for solar power have come down considerably lately, photovoltaics are still unable to compete with conventional energy sources.
Adrian Smith + Gordon Gill Architecture (AS+GG) has announced the public opening of the new head offices for the Federation of Korean Industries (FKI).
COMPANIES

Sisecam Group
Is Kuleleri, Kule: 2, Kat: 22, 4. Levent
34330 Levent-Istanbul/İstanbul
Turkey
Unelko Corporation
14641 N 74th St.
Scottsdale, , AZ 85260
United States
Products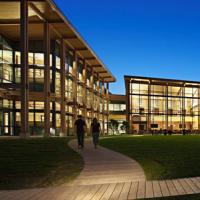 Vitro Architectural Glass (Formerly PPG Glass)