Green & Sustainable Building
News
The glazing specified in the buildings where we live and work can play an important role in reducing the health risk.
Suntuitive Dynamic Glass in the News: a look at what you may have missed recently.
Suntuitive® Dynamic Glass is pleased to announce the addition of Manko Window Systems Inc., to their Certified Fabricator program and as an exclusive distributor in specific territories.
Şişecam Flat Glass, one of the largest flat glass manufacturers in the world attends the world's leading exhibition for the solar industry, Intersolar Europe 2019 held at Munich between the 15th and 17th of May.
New perspectives and creative solutions. Design, functionality, versality and easy installation are imperative.
On 5 June, Glass for Europe was in Riga, to meet national delegates from all EU members (and Norway) who gathered to discuss the EPBD implementation during the CA EPBD – Plenary Meeting.
The VELUX Group, world leading roof window and modular skylights manufacturer is launching Vario by VELUX – the brand's first made-to-order rooflight solution for flat roofs.
Articles
Along with the multifunctionality of the building skin, BIPV today involves a new aesthetics in contemporary architecture.
There have several type smart glass, what is the difference for different type? How can you know that and choose right?
Presented below are some of the special challenges facing the skilled glass-processing trades: many products are becoming smarter.
Glass is enhanced with added functions to form an integral part of the building network. We are still in the early stages of development.
A modular system allows you to create a larger design by joining glass panels together in a line.
This paper presents a case study of an adaptive sunscreen facade and evaluation of its performance and occupant behavior.
Glass has entered the sustainability vernacular in a big way, which is great news for builders.
To provide stiffness, shading and privacy with abundant daylight and a feeling of openness for restaurant extensions and an entrance canopy to a London hotel, we used glass sandwich panels with aluminium honeycomb core.
Products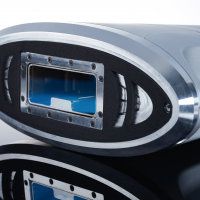 Sparklike Oy – Non-Destructive Argon Measurement