Green & Sustainable Building
News
Energy efficiency is one of the key ways to make the electricity you use in production go further.
Dow announced their sponsorship and participation at the next edition of Glass Performance Days (GPD), June 14-16 in Tampere, Finland.
Saint-Gobain Glass and Hydro Building Systems join forces to lead the market towards low carbon façades
eyrise® will speak at the Innovation stage on 11 May at 1pm.
Şişecam has exercised its purchase option from the European Bank for Reconstruction and Development (EBRD) for its 10% stake in Şişecam Çevre Sistemleri.
On 18 April, Glass for Europe was in Eindhoven to participate in the Glass Trend's event "Smart Sustainable Glass Manufacturing".
Facade-integrated PV installation with green MorphoColor® panes at the Center for High-Efficiency Solar Cells at Fraunhofer ISE.
Articles
It is hypothesized that the usage of smart glass in the building envelope can provide optimum solutions to adapt buildings to the variable climatic and environmental characteristics.
BIPV represents an important field to explore, since PV systems have an enormous potential within the context of architectural and urban design.
Learn how EPDs can help you make environmentally friendly product selections.
Unlocking the potential of energy-saving solutions in the glass industry: a guide for Italian companies
The paper presents an experimental research approach to the problem of developing continuous hybrid water-filled building envelopes through design and construction.
This study identifies the existing supply-chain inefficiencies in the UK glass industry in three stages.
Gain multiple benefits with upgrades to the glass laminating furnace
This paper focuses on the fire safety aspects related to the use of fire PV panels and systems in building facades.
COMPANIES
Unelko Corporation
1616 W. Williams Dr.
Phoenix,, AZ 85027
United States

Vitro Architectural Glass
400 Guys Run Rd
Cheswick , PA 15024
United States
Products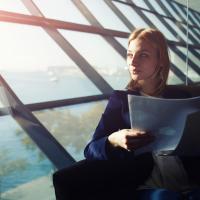 Vitro Architectural Glass