News
A+W Software is participating in GlassBuild Connect: The Glass & Fenestration Online Experience, taking place September 1-30, 2020
Almost a year after the acquisition, Thermix is now produced entirely in Italy and completely integrated into Alu Pro's operations at its plant in Noale (Veneto).
Walker Glass continues it series on Bird Safe Glass with an episode detailing the various levels of legislation that exist to protect birds from colliding with glass structures.
Ködispace 4SG clearly outperforms conventional spacer systems.
NGA is getting ready to deliver its most ambitious pandemic pivot—transforming GlassBuild America into an online event. We're calling it GlassBuild Connect, and it will last the entire month of September.
FGIA is pleased to announce it will participate as an association partner in GlassBuild Connect: The Glass & Fenestration Online Experience, taking place September 1-30 at GlassBuild.com.
The annual Glazing Summit conference, due to take place in October, has been postponed until 2021 due to uncertainties around social distancing.
Articles
Vacuum Insulated Glazing (VIG) concept allows for a significant improvement of thermal insulation compared with the incumbent double-pane windows design.
For over two decades and following a century of efficient, functional and often orthogonal architecture, we are experiencing the extensive search for ever more complex building geometries and expressive architectural forms.
The Wilshire Grand's Façade Design in L.A.'s Seismic Zone 4 Reality
111 Main presented a unique challenge of façade design.
Numerous innovations have been seen in the last decades concerning new façade technologies. These were driven by new materials or new applications of known materials, such as glued-on wall structures (structural glazing) in the 60's and 70's.
Windows have always been at the intersection of various technologies and architectural processes that evolved in parallel and often intertwined.
Use of cold-bent and warped glass units in unitized curtain walling is a state-of-the art application.
In the following we'll be limiting ourselves to the production of single pieces and small jobs of identical pieces, with applications predominantly in construction (e.g. windows, curtain walls, doors, showers, mirrors, kitchen splash backs) and interior design (e.g. display cases, furniture).
COMPANIES

Eastman
Ottergemsesteenweg 707-Zuid
9000 Ghent
Belgium

Kuraray Europe GmbH
Muelheimer Strasse 26
53840 Troisdorf
Germany

Trex Commercial Products
7008 Northland Drive, Suite 150
Minneapolis, MN 55428
United States
Products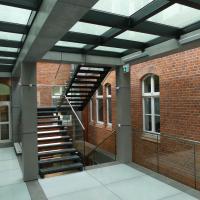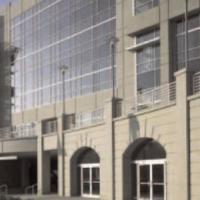 Vitro Architectural Glass