News
FLACHGLAS Wernberg is completely fit for the future with its new A+W software solution
Renaud Schmitt rejoins the A+W Software team as a Cantor Customer Support Specialist.
Joel Allen has joined the A+W Software team as an Application and Professional Services Specialist.
The Fenestration and Glazing Industry Alliance will host a webinar entitled "Glass Cutting & Washing Video Demonstration and Live Q&A with Industry Expert, Bill Lingnell" on Tuesday, November 16 at 11:30 a.m. Eastern.
As part of the Fenestration and Glazing Industry Alliance's continued growth and strategic planning goals, Aaron Blom has joined the Association in the new role of Technical Training Specialist.
Participants at the 2021 FGIA Hybrid Fall Conference heard an update on a collaboration between FGIA and FWC officials to help meet the needs of both nesting sea turtles along coastal property and the humans who build and reside there.
Articles
In the European Union, Member States are allowed to set minimum performance requirements to construction products available on their market.
This paper focusses on the special glass part of the façade that covers both the ground floor as well as the first floor with a total height of 8.5 m and width of 6.5 m.
The main goal of all fire-rated glass is to compartmentalize fire to enable safe exit. It is most commonly used around egress areas, property line walls, stairwells, and points of exit.
Elegant glazing - from walls to slabs - clads a residential tower.
Held in Düsseldorf from 15 to 18 June 2021 glasstec will pick up on the latest glass trends related to shapes, formats and structures.
What is phishing and how do you know when you make be the victim of it? AJ Piscitelli, PMP gives a real life example in his most recent blog post. Stay tuned for more real life examples!
This presentation offers a new perspective on limit device design and specifications especially due to construction phase and post-occupancy habits in urban environments.
Vacuum Insulated Glazing (VIG) concept allows for a significant improvement of thermal insulation compared with the incumbent double-pane windows design.
COMPANIES

Kuraray Europe GmbH
Muelheimer Strasse 26
53840 Troisdorf
Germany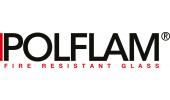 POLFLAM Sp. z o.o.
Runów, ul. Solidarności 1
05-504 Złotokłos
Poland
Products