News
How can automation help glass and fenestration fabricators meet growing demand?
GlassBuild America: The Glass, Window & Door Expo is on schedule for September 13-15 in Atlanta, GA, with the fitting 2021 theme of "Back to Business. Back to GlassBuild."
With FeneTech, the Stage team found the match they were looking for.
The Forum Pavilion of EXPOCENTRE Fairgrounds has opened its doors to the 22nd edition of the International Exhibition for Glass Products, Manufacturing, Processing and Finishing Technology – Mir Stekla 2021. 
FGIA has released an updated version of a document pertaining to roller assemblies, with or without height adjustment features, for use in sliding doors and lift and slide doors. 
Each year, the Window Safety Task Force takes the first full week in April to educate on the importance of practicing window safety year-round.
The Fenestration and Glazing Industry Alliance will host the webinar on Tuesday, April 6 at 11:30 a.m. Eastern.
Articles
This paper focusses on the special glass part of the façade that covers both the ground floor as well as the first floor with a total height of 8.5 m and width of 6.5 m.
The main goal of all fire-rated glass is to compartmentalize fire to enable safe exit. It is most commonly used around egress areas, property line walls, stairwells, and points of exit.
Elegant glazing - from walls to slabs - clads a residential tower.
Held in Düsseldorf from 15 to 18 June 2021 glasstec will pick up on the latest glass trends related to shapes, formats and structures.
What is phishing and how do you know when you make be the victim of it? AJ Piscitelli, PMP gives a real life example in his most recent blog post. Stay tuned for more real life examples!
This presentation offers a new perspective on limit device design and specifications especially due to construction phase and post-occupancy habits in urban environments.
Vacuum Insulated Glazing (VIG) concept allows for a significant improvement of thermal insulation compared with the incumbent double-pane windows design.
For over two decades and following a century of efficient, functional and often orthogonal architecture, we are experiencing the extensive search for ever more complex building geometries and expressive architectural forms.
COMPANIES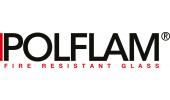 POLFLAM Sp. z o.o.
Runów, ul. Solidarności 1
05-504 Złotokłos
Poland

Trex Commercial Products
7008 Northland Drive, Suite 150
Minneapolis, MN 55428
United States
Products