News
Scan barcodes with a smartphone – completely automated production with A+W SmartFactory
What DecorOpal has undergone is a genuine upgrade!
POLFLAM has successfully completed a series of fire tests on timber partitions for classifications EW 30, EW 60, EI 30, EI 60, EI 90 and EI 120.
ASTM International's committee on building and environmental acoustics (E33) is developing a new standard guide for estimating the accuracy of acoustic test methods through interlaboratory studies (ILS).
The Fenestration and Glazing Industry Alliance (FGIA) will host the FGIA Product Showcase on Tues., Sept. 27 at 5:30 p.m. CDT during the FGIA Hybrid Fall Conference in Chicago.
FIT Show organisers have announced the winners of its 'Best FIT Show Marketing Campaign' following its hugely successful 2022 event, which took place at Birmingham NEC from 10 - 12 May.
Articles
In recent years, there has been a significant progress demonstrated in both the R&D and industrialisation of novel BIPV products, materials, and also the window-integrated PV (WIPV) solar window systems.
This paper gives an overview of the requirements of a ship structure, and more specifically yacht structures, and describes the challenges associated with using glass as a fully integrated structural component.
There are parts of the window inside the glass that play a crucial role in its performance.
In the European Union, Member States are allowed to set minimum performance requirements to construction products available on their market.
This paper focusses on the special glass part of the façade.
The main goal of all fire-rated glass is to compartmentalize fire to enable safe exit. It is most commonly used around egress areas, property line walls, stairwells, and points of exit.
Elegant glazing - from walls to slabs - clads a residential tower.
Held in Düsseldorf from 15 to 18 June 2021 glasstec will pick up on the latest glass trends related to shapes, formats and structures.
COMPANIES

Kuraray Europe GmbH
Muelheimer Strasse 26
53840 Troisdorf
Germany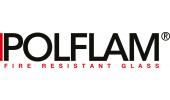 POLFLAM Sp. z o.o.
Jeziorzany, Aleja Krakowska 3
05-555 Tarczyn
Poland
Products