Company address
Gavin Way, Nexus Point, Off Holford Drive,
Birmingham B6 7AF
United Kingdom

COMPANY DESCRIPTION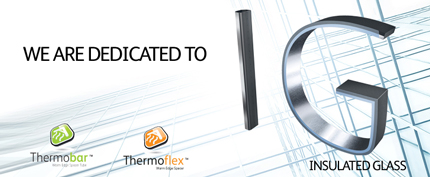 Thermoseal Group is dedicated to insulated glass. We have our own technical centre where we develop new insulated glass components with a focus on energy efficiency. We manufacture warm edge spacers in the UK, as well as many other insulated glass components.
We supply over 2,500 insulated glass components, including: sustainable warm edge spacers, aluminium spacer bars and steel spacer bars and accessories; integrated blinds; Victorian grille; Georgian style window components; molecular sieve desiccant; sealants; lead; decorative glass bevels and accessories; adhesive tapes; tools for glazing manufacturing, and most other items required for sealed unit manufacture.
In recognition of our excellent products, quality and service, as well as our dedication to staff and customers, we we've been awarded multiple awards including some from one of the glass and glazing industry's coveted G-Awards and the Queen's Award for Enterprise: International Trade 2017. 
We export world-wide, so whether you're a sealed unit manufacturer, a window fabricator or a double glazing installer in any location, we are the one-stop-shop for insulated glass components and machinery for all levels of glass sealed unit manufacture.
Thermoseal Group was founded in 1979 and quickly developed into an industry leader. Our original business was the sale of a limited amount of machinery from our small factory in Birmingham. Thermoseal Group now operates from four rapidly expanding branches in Birmingham, Wigan, Kent and Northern Ireland. We now stock and manufacture a wide range of insulated glass sealed unit components and machinery for sealed unit manufacturing.
Aside from our Kent-based lead plant where we produce our exclusive range of decorative DecraLed, most of our manufacturing processes have always taken place from our Birmingham factory.
However, as the business has expanded, we now have a large manufacturing base in Wigan dedicated to the production of our own energy efficient products including – Thermobar warm edge spacer tube made with engineering plastic and Thermoflex warm edge spacers made from a flexible foam material.
Alongside production on this site, we also have our own Technical Centre focussed on designing, developing and testing our range of products to meet the changing regulations. Research, development and manufacturing of future-proof products is now the focus of the Group.
In addition to this manufacturing base, we also have an expanding injection moulding division based in Birmingham where we are developing our own range of components compatible with key industry products including Thermobar and Thermoflex.
We are also active members of the Glass and Glazing Federation (GGF) and Bundesverband Flachglas (BF) and the IGMA working for the IG industry. Our warm edge spacers are also certified by the Passive House Institute (PHI). Thermobar is certified with a phA rating (phA+ with Hot Melt).
With innovation and a willingness to develop our industry as a priority, we offer a guaranteed quality of product and a reliable and timely delivery of goods, which in the UK are by our dedicated team of drivers.
We know that our customers have their own customers' needs to meet, so we make it our business to ensure that we provide a tailored supplier support system.