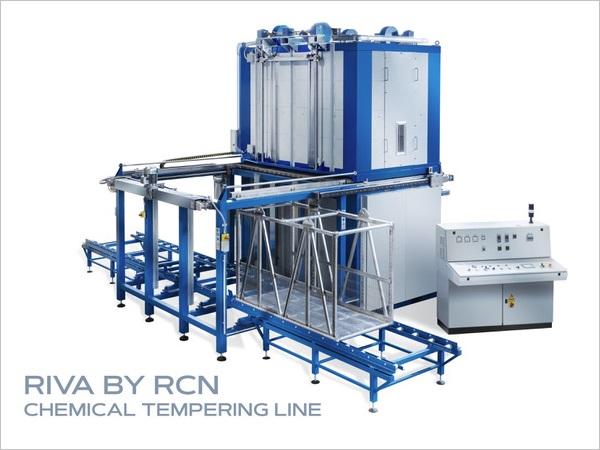 Photo source
www.rcnsolutions.it
We use glass everyday and we know it breaks easily. However, it can be processed to be toughened and used in applications like bulletproof glass.
Since 2017, when RCN relaunched the chemical tempering of glass, in cooperation with an important senior expert, Rivaroli Gianfranco, the interest around this process has increased - and there is a lot of talk about this matter.
The chemical tempering is based on ions exchange between sodium and potassium. The glass is dipped into a bath of molten potassium salts and processed for 16 hours over 450 drgrees Celsius. Since potassium ions are larger than the sodium's, the results is a compressive stress on the glass, making it three times more robust against impact and scretches.
However, there are some glasses available on the market, specifically manufactured to reduce the process by half. Some glass manufacturers have also introduced special thin glass particularly suitable for chemical tempering, to be effective for electronic devices. The combinations of such glasses with chemical tempering treatment has allowed thin glass to be applied in architecture, a market which has so far been justifiably reticent to the use of thin glass.
But, it's not completely true that chemical tempering is suitable only for thin glass, it can certainly give several advantages to thin glass, especially the possibility for cold bending after tempering. Yet, thicker glass can also be tempered to be laminated later, thus becoming safety glass. Complex curves too can be tempered without surface distorsion or defetcs.
Chemically tempered glass can be cut, grounded, drilled, shaped and decorated. The surface remains uniform after cutting, even on the edges. It can be used for balustrades, for decorative, digital printing and several other applications where resistance to impact is required. It has not optical distorsions, so much so that the difference with a non tempered glass cannot visually been detected - and it perfectly couples for lamination, resulting in a complete flat surface. This is important for both clear external and internal applications.
The RCN tempering line, CT, includes standard solutions but customizations are also possible to satisfy any production requirements. RCN carries out the ideal for safety combined with quality ouput and process control.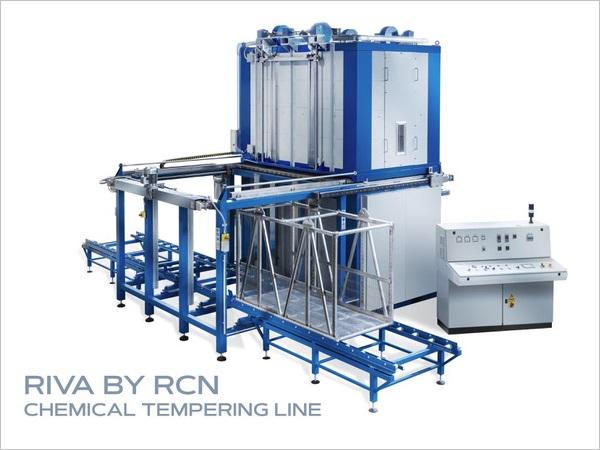 600
450
www.rcnsolutions.it
2022-04-14T10:55:00
R.C.N. Solutions: because chemical tempering matters
glassonweb.com