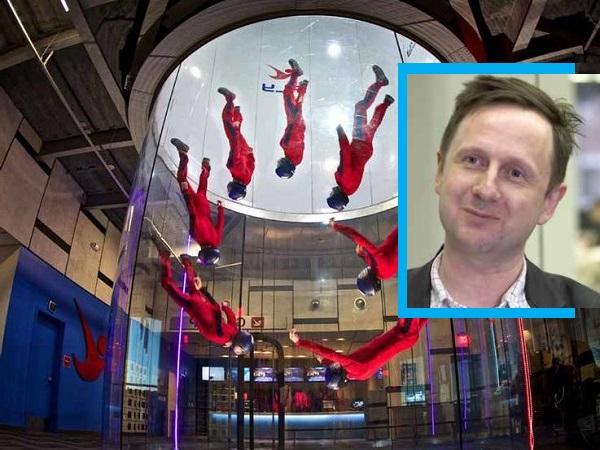 Photo source
© M. Ludvik Engineering
'Laminated Glass News' speaks to Michael Ludvik, founder of New York based M. Ludvik Engineering.
We discover how his role involves delivering inspiration, peace of mind – and in some cases a bit of therapy – to nervous architects who are looking to push the bounds of structural glass.
Q. Tell us a little about you and your company?
I was fortunate to gain a lot of experience working under Tim MacFarlane who was a trailblazer in the field of structural glass. I started my own practice in 2010, forming a boutique firm of special structures and façade engineers. Our first project was the Queens Museum, where we completed a series of feature elements, including the Large Works Hanging Enclosure, the feature stair, a glass fin wall, and the entrance canopy. We also worked on the four entrances of the World Trade Center, each of which has a blast-resistant cable wall.
Our clients include architects, buildings owners, artists, amusement companies and glazing contractors. We constantly maintain our expertise in glass and structural engineering and use it for everything from blank-sheet-of-paper designs all the way through to forensic analysis, covering structural glass, special structures, kinetic structures, door engineering, façade engineering and sculptures.
Q. Do you have a specific specialty or unique capabilities?
We have always focused on engineering special structures and glass, particularly feature elements. To put it very simply, we use structural engineering to create visually interesting things.
A museum for example would turn to us for a series of feature elements, such as a canopy at the front, a fancy elevator shaft, monumental stairs, chandeliers, skylights, feature walls, etc. These structures are frequently made from glass, and more often than not employ SentryGlas® ionoplast interlayer from Trosifol.
In terms of our further capabilities, in addition to structural glass, we are evolving our interest and capabilities in the deployment of newgeneration adhesives, such as Transparent Silicone Structural Adhesive (TSSA) from Dow. Indeed we are working on a big project in Los Angeles, which uses both TSSA and SentryGlas® in the construction of 200 14 ft long 2 ft wide (4.2 x 0.6 m) glass cylinders that are part of a 70 x 70 ft (12 x 21 m) structural glass truss, to create something that is like a cross between a skylight and chandelier.
We are also doing work that involves epoxies and other adhesives as well as many kinetic and moveable structures made with glass, including glass very large doors that move in weird ways, using center/side pivots or slides. We are finding that as architects get braver and more imaginative in their designs, many of them are coming to us, based on our experiences designing extraordinary structures.
Q. Do you have a signature style and approach?
We almost always adopt a first-principles approach. A lot of what we do is not covered by code, so we have to find a way to make interesting things but still backed by rigorous engineering. I have never really had a problem convincing architects to go along with unique designs – everyone wants to do it – although sometimes you're more a therapist than an engineer and you need to control anxiety and irrational fear. Just because you are the first to do it or it is not in the code, it does not mean that it is not safe.
I trust physics and intuition. I do not put all my trust little pieces of paper. Physics is much more reliable! If you can present something to an architect or building owner with confidence, based on physical stuff, the confidence just propagates through the architect, the owner, the engineer and eventually the lawyers. You have to manage anxiety across so many levels.
Sticking with codes; just because a building code does not expressly allow something it does not necessarily prohibit it either. Many codes simply do not represent the state of development. There is very little in codes about structural glass in general. There are certainly ASTM standards in development for structural glass and the European codes are way in advance of US codes, but that is to be expected, the Europeans have been ahead in architecture since the Romans – hence more developed codes.
That is not to say that US architecture has never had the lead. You only have to look at what Apple is creating. Apple experiments and creates some amazing structures, which simply do not have any codes related to them. In some case I am happy that there isn't a rigid code for structural glass – if there was, different mindsets and competing visions on the code committee could cloud the wording and change the direction. I know it can be difficult for code committees to reach consensus due to established practices.
Q. Can you give us some examples of projects that have used SentryGlas® and PVB from Trosifol?
The obvious one, is one that you have covered before in 'Laminated Glass News': The glass slide on the OUE Skyspace observation deck in Los Angeles (LINK). 1,000 ft (305 m) above ground level, the glass used in its construction was a vital element of its functional and aesthetic performance. We knew we not only had to offer strength, but also clarity, so we went with SentryGlas®, primarily for its composite action and structural capabilities, which deliver hightemperature stiffness and impressive postbreakage stability – if glass breaks it will still hold significant loads.
The various panels are made up of three plies of 10 mm low-iron (fully tempered or chemically strengthened) glass, sandwiching two layers of 60 mil (1.52 mm) SentryGlas® interlayer. Another LGN story was, of course, the stair case in the Onassis Cultural Center in New York (LINK), which also uses SentryGlas®.
We have lots of other projects in development too. One of the most interesting is a footbridge across 21st Street in New York. The bridge, which is 10 storeys up, is 60 ft long and 10 ft high (18.3 x 3 m) and links two building of the Flat Iron Institute, founded by Jim Simons, who invented some of maths that underpins string theory and is used for algorithmic stock trading. The Institute uses super computers to work on research; one side of the bridge is computers; the other side is trading.

Q. When do you get involved in a "typical" project?
Architects tend to come to us with ideas and then we brainstorm, with the bridge being a great example of the fruits of our discussions. In this instance we were fortunate to be working with Nick Leahy at Perkins Eastman, with whom we have collaborated before. With the brief boiling down to "Jim wants a bridge", we pitched a bunch of ideas, knowing that there's only one way you can get 60 ft (18.3 m) glass.
Architects are sometimes unaware of what can be achieved. The technology needs to drive the design. It is as important as all other factors.People think of industrial capability as a limiting factor but there's nothing stopping industry from creating a new menu of options.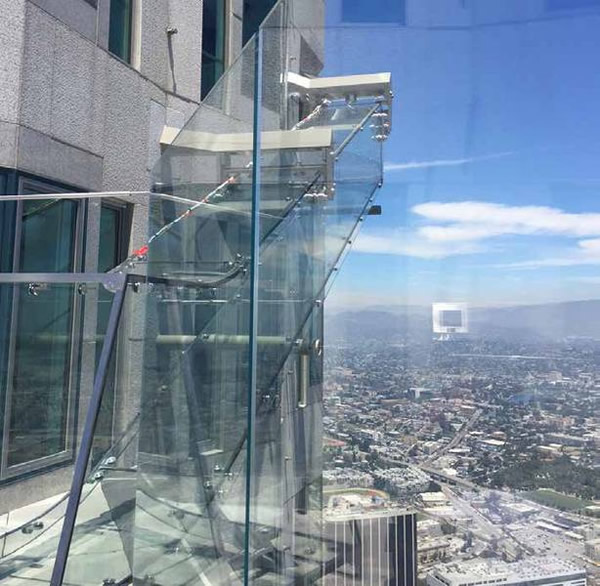 Q. What are the big developments?
Over the last few years, we have seen a real push to get to a 20 m lamination/tempering/ coatings milestone. 15 years ago, the biggest was 6 m, then we saw 8 then 12, then 18 and now 20 m is becoming more common. This has been driven by North Glass, which has integrated these capabilities with its fabrication and equipment department. Sedak has made massive contributions too, along with many collaborators in the coating world.
One of fabrication challenges with oversized glass using SentryGlas® is matching the interlayer splices with the panel shape and size. You are using big glass to deliver ultimate clarity, so it has to look nice. I know there is certainly lots of development work being undertaken by fabricators. And we know that Kuraray isn't standing still either, following the introduction of SentryGlas® Xtra™ (SGX™), which is a lot more forgiving during processing, and less prone to hazing.
Another big glass trend is to minimize hardware. People want just glass, no silicon or fixtures. The Onassis Cultural Centre stair was an example of this. We used a glass stair stringer and then laminated a support shelf using SentryGlas® and then used that to support stair treads. By resting the stair treads on this 'shelf' we were able to eliminate 90% of the typical hardware, which would traditionally comprise stainless steel buttons.
We are doing another stair soon, in Miami, with carbon fiber support structures (peers) – the same idea as Onassis but using new Dowsil™ 2400 optically clear structural Silicone Assembly Sealant from Dow. The interplay between adhesives and laminates is essential if you want to achieve maximum transparency.
We are also really interested in glass as a primary supporting structure, in combination with lightweight materials such as carbon fiber. This materials combination is being used for the Flat Iron Institute bridge and was also famously used for the Steve Jobs Theatre. Carbon fiber + glass opens up whole new world of interesting geometry & shapes – not just flat ones.
Q. As an engineering company, how has the development of ever more capable interlayers changed your design capabilities/visions?
The big thing with SentryGlas® is that it lets you use glass more like steel. It is so stiff that it bonds layers and lets you think of glass as a plate of steel. In fact, this leads me nicely onto a wish list item of mine. We are very keen on the ability to bond metal to glass that has been laminated with SentryGlas®. It is all about drive to minimize hardware – making things all glass. You still need to connect back to structure, but if you could use bonded SentryGlas® it would open up some amazing possibilities. We have actually achieved this, but we need some better research before we can commercialize it.
Q. Do you find that architects are now more aware of the capabilities of structural glass?
The use of structural glass is definitely still growing. The other related thing that's helping is the development of the bent-tempered-glass industry. The cost of bent glass is now only incrementally more than flat glass, and with SentryGlas® you can make some fascinating façades.
The other major industrial development is that bent glass is now available in larger pieces – up to 18 m (59 ft) for bent tempered. This is a game changer architecturally and structurally. You can use curvature to create structural rigidity, which then helps to minimize opaque structure and hardware. A good example of this in action is indoor skydiving tubes. The iFLY brand uses tubes that are mostly based on our work. We have 85 operational tunnels, with plans for more all over the world. All of them are heavily reliant on SentryGlas® from Trosifol and they all look amazing.
Trosifol is the global leader in PVB and ionoplast interlayers for laminated safety glass in the architectural segment. With the broadest product portfolio Trosifol offers outstanding solutions:
Structural: Trosifol® Extra Stiff PVB and SentryGlas® ionoplast interlayer
Acoustic: Trosifol® SC Monolayer and Multilayer for sound insulation
UV Control: from full UV protection to natural UV transmission
UltraClear: lowest Yellowness Index in industry
Decorative & Design: black & white & colored interlayers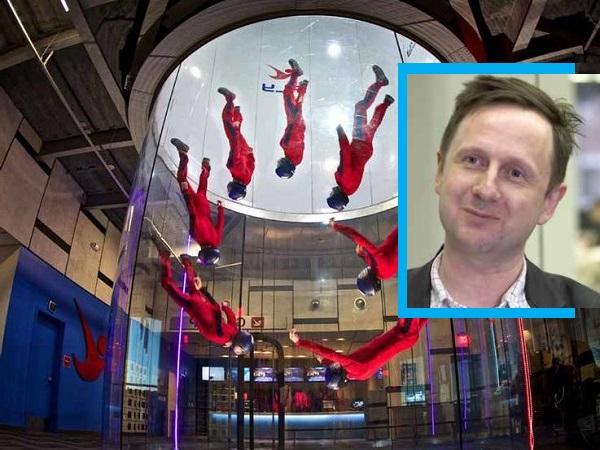 600
450
www.trosifol.com
2020-06-30T11:00:00
Apply the right technology and knowledge and anything can be possible | Kuraray
glassonweb.com