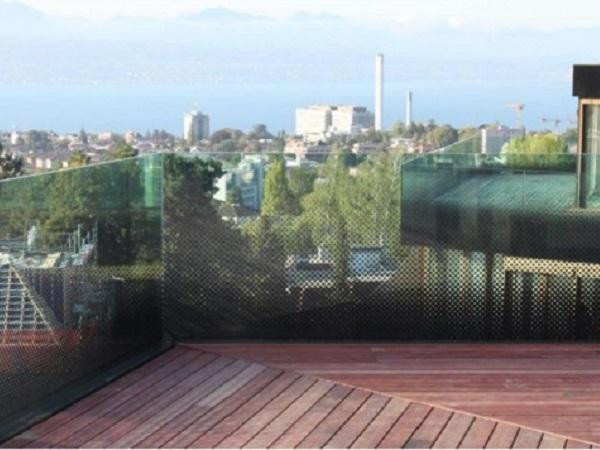 Photo source
www.saflex.com
Replacing mass colored glass with Earth Tones
Vanceva® Earth Tones continue to provide architects and designers the option to expand their creative boundaries using subtle colors and fulfill their vision without sacrificing structural integrity. Select from a range of 11 natural earth tones in shades of blue, grey, green, brown, and bronze.
Vanceva Earth Tones are intended to be used alone—as a single interlayer in laminated glass. However, they are compatible with other Saflex® and Vanceva architectural interlayers and may be layered if desired. Review of mock-ups is recommended.
Vanceva Earth Tones are designated with a four-digit code identifying color and visible light transmittance (in 3 mm clear glass). This code is preceded by the letter "S" indicating that it is a single layer and not a stack of four assembled interlayers. For example, S-3628 is a single layer of Vanceva Earth Tones brown with 28% visible light transmittance while Vanceva 3628 is a layer of 0003+0006+0002+0008.
All Vanceva Earth Tones are supplied as 0.38 mm (RB17) thickness interlayers. Marine, Shale, and Dolomite are also available in 0.76 mm (RB47) thickness. These thicker options are produced to the same color specifications as their 0.38 counterparts which means that the color intensity and visible light transmittance (VLT) does not scale with interlayer thickness. To illustrate this property, Table 1 provides an overview of low-iron configurations constructed with 4 mm glass laminated with 0.38 mm and 0.76 mm Vanceva Earth Tone interlayers.
Table 1: Comparison of Vanceva Earth Tone thickness—select performance characteristics

As shown in Table 1, the light transmission and color characteristics are very similar. If both interlayer thicknesses are needed in a single project, please contact your Eastman representative to ensure a uniform color aspect.
Offering exception
Vanceva Limestone is available in two thicknesses because of historical use. However, this specific interlayer is designed to have, and is designated with, two different VLT levels (Table 2). The 0.76 mm thickness has a VLT of 38% and is designated as Vanceva Limestone 38 color code S-5538. The 0.38 mm Limestone has a VLT of 58%.
Table 2: Vanceva Earth Tone limestone offering

The Vanceva Earth Tones interlayers are premium-tinted, plasticized polyvinyl butyral (PVB) interlayers. To resist fading, these PVB films are made with heat- and light-stable colorants. As a result, they are ideal for both exterior (curtain walls, spandrel glass, atriums including skylights partitions, balconies, etc.) and interior applications (partitions for offices and meeting rooms, conference rooms, balustrades, lift cages, stair railings, furniture, etc.).
Alternative for body tinted glass
Should an architectural or interior project require uniformly (body) tinted glass, a laminated safety glass with a Vanceva Earth Tone can be specified as an option. The colors are directionally matching the industry standard body tinted float glass. When imparting color to a glazing configuration, a key advantage of using colored interlayers over body-tinted glass is that the color rendering index and light transmission do not vary with glass thickness, as illustrated in Table 3a. In this way glazed surfaces with different total glass thickness (dependent on glass size, height in the building, and wind load) in the facade will have a uniform color appearance compared to monolithic, body-tinted float glass. Other advantages can include availability of configurations with higher overall glass thickness, uniform aspect of glass edge in thicker laminates, and improved lead times due to interlayer availability from stock.
Table 3a—Comparison of grey body tinted float glass vs. laminated glass with Vanceva Earth Tones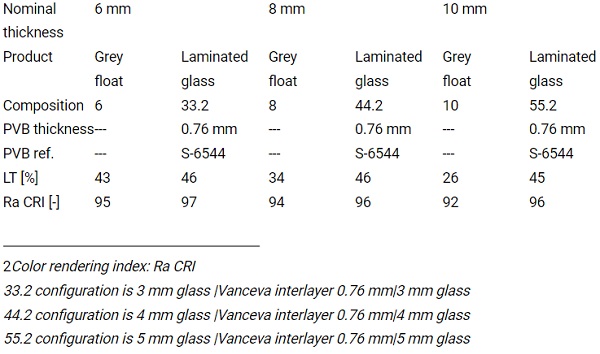 Table 3b—Comparison of bronze body-tinted float glass vs. laminated glass with Vanceva Earth Tones

Parsol bronze glass
Vanceva Earth Tones combine the creative design aspects of colored glass with the safety, security, UV screening, acoustic, and durability benefits normally associated with conventional PVB. For example, Vanceva Marine was used in combination with a frit print in a high-end residential apartment building in Lausanne, Switzerland.
In balustrade applications, Vanceva Earth Tones are often combined with Saflex® Clear to obtain various performance characteristics and to provide the recommended interlayer thickness when using strengthened glass in laminates.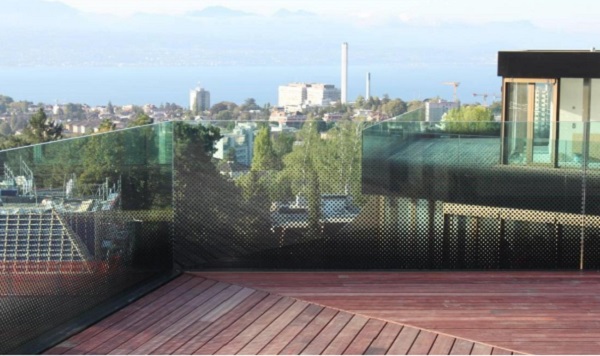 More examples and pictures can be found in the gallery at www.saflex.com/gallery.
Nature-inspired colors
Vanceva Earth Tones are nature inspired and provide a palette for glass that expresses a harmonization with the great outdoors.
Discrete colors
Natural tones are inherently discrete and can express awareness and comfort. They may be suited for use in living and working spaces where the environmental design quest is for a developed space to promote relaxation and well-being.
Matches the architectural trends (interior and exterior)
Interior
The top three palettes selected by interior color consultants bring color and warmness back. It's no wonder that warm neutrals make the cut since they complement earthy tones particularly well. Vanceva Earth Tones embody the mix of neutrality and warmth, bringing a connection to the colors of the Earth.
Exterior
The facade often offers possibilities of expression and these should be exploited. Today's trend in architectural facades combine the use of wood, steel, and glass. Vanceva Earth tones can be optimally combined with wood and steel facade elements. Many house builders and commercial offices want maximum transparency and light to enter the interior, and they do this by using large glass surfaces for their projects. Most are not concerned about allowing others a view to the inside, but Vanceva Earth tones can be used to reduce glare and achieve a low level of privacy due to the tint.
600
450
www.saflex.com
2022-02-04T09:47:51
Vanceva® Earth Tones
glassonweb.com