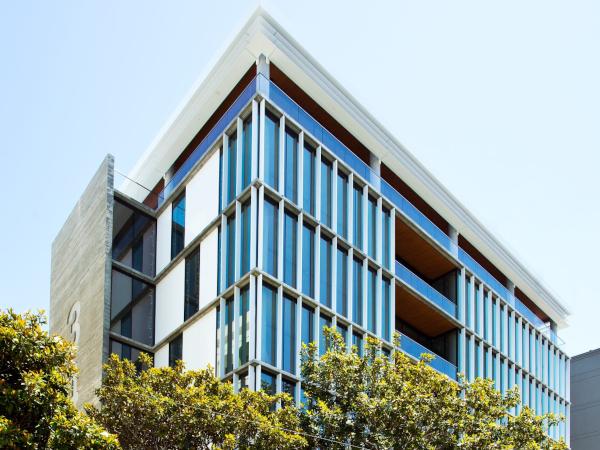 Photo source
Vitro Architectural Glass
Solarban® 72 Starphire® Glass Curtain Wall and Glass Handrail Balconies Distinguish Office Mid-rise in SoMa San Francisco
Making its own unique contribution to San Francisco's South of Market (SoMa) building boom is a seven-story, mixed use office building with exterior vertical sunshades framing a high-performance curtain wall at 345 4th Street.
As the neighborhood transforms from an industrial area into a sustainable, transit-oriented community largely populated by young professionals, Stanton Architecture's bold, contemporary façade fits the vibe, complete with its glass handrail balconies on floors two through six and a floor seven roof terrace.
To optimize daylighting and views while limiting solar heat gain, the architects selected Solarban® 72 Starphire® glass by Vitro Architectural Glass (formerly PPG Glass) for the curtain wall and balcony handrails.
The façade glass modules are comprised of 1-inch insulating glass units with Solarban® 72 Starphire Ultra-Clear® tempered glass on the #2 surface with a ½-inch black spacer and a ¼-inch Starphire® glass tempered inboard lite.
The Solarban® 72 Starphire® glass combination promotes high visible light transmission of 68% while blocking 72% of the sun's solar rays with a solar heat gain coefficient of 0.28.
"The product tempers very well, has beautiful aesthetics, and offers high visibility," states Mike Goldfarb, vice president of sales for the Tracy, Calif.-based Glassfab Tempering Services, whose firm fabricated the glass for the project.
"Because the glass has the same look across the building, most of the glass sizes were relatively the same," adds Jeri Jensen, a senior project manager with the project's Fremont, Calif.-based glazing contractor Pacific Glazing Contractors.
Matching the verticality of the exterior aluminum sunshades, the thin glass modules are less than five feet in width and more than 10 ½ feet in height.
"The glass handrail and horizontal fins on the seventh floor give the building definition," she explains, "For the balcony handrail, we used laminated tempered glass with Starphire® glass and had a handrail trim to meet safety codes. All edges were polished flat,"
Complementing the curtain wall, sunshades, and balconies is a 77 foot-tall, 28-foot-wide concrete wall with an illuminated "345" inset on the west elevation. On the building's east side is a set-back block of blue- and tan-colored metal cladding with a strip of front-facing punched windows. On the roof sits a vegetated terrace and a photovoltaic canopy.
The building's tenant WeWork is enjoying 49,900 square feet of office space and 2,670 square feet of rooftop terrace with views of the city skyline, along with 2,670 square feet of ground-floor retail. A newly landscaped alleyway connects 4th Street and the residential Tandang Sora Street.
For more information about Solarban® 72 Starphire® glass and the full line of architectural glasses from Vitro Glass, visit www.vitroglazings.com.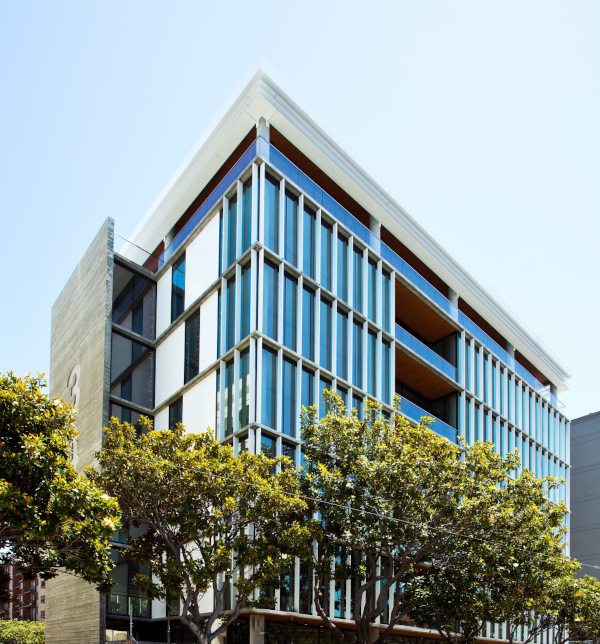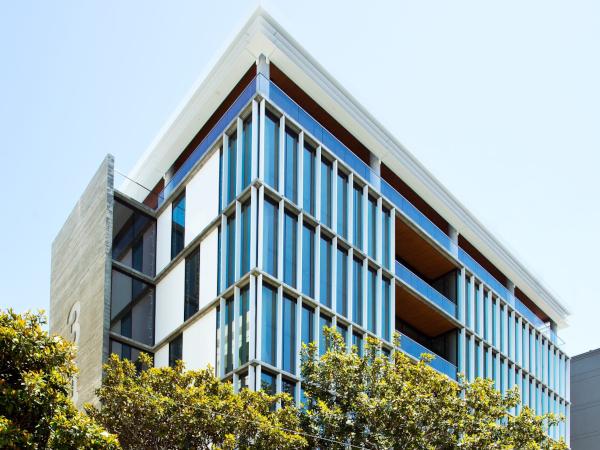 600
450
Vitro Architectural Glass
2022-11-30T11:30:00
Office building in San Francisco features Solarban® 72 Starphire® glass by Vitro
glassonweb.com