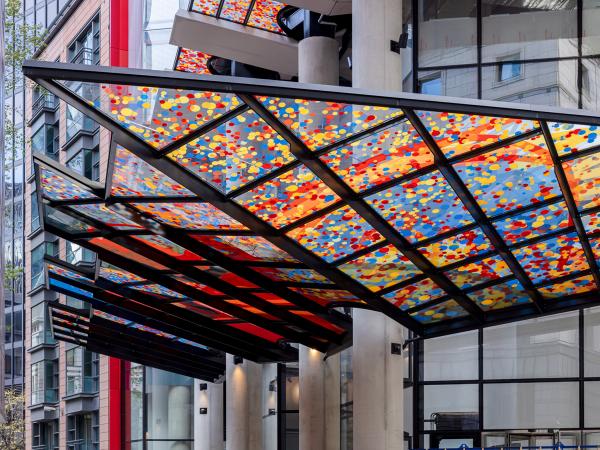 Photo source
Simon Kennedy
22 Bishopsgate, London: a new landmark emerges with artwork by Alexander Beleschenko
In the heart of London "22 Bishopsgate" soars 278 meters into the sky. But one of the most characteristic design features of the building is directly above the heads of passers-by: the glass canopies. They consist of 149 laminates in total, colorfully designed by the artist Alexander Beleschenko.
In order to print his designs accurately onto glass, a precise printing technique was necessary, and at the same time the glass itself needed to fulfi ll high technical demands. The artist, who lives in England but has Ukrainian roots, found this technical competence in Germany, where sedak (Gersthofen) produces safety glass that met the requirements, both in terms of accurate printing and quality.
A strong, colorful counterpoint to the cool metropolitan steel and glass architecture: when you walk along underneath the protruding glass roofs of the new London landmark "22 Bishopsgate" you fi nd yourself immersed in a joyful interaction of color and light. The canopies are fi lled with blue, yellow, orange, red and green geometric shapes, sometimes opaque, sometimes translucent.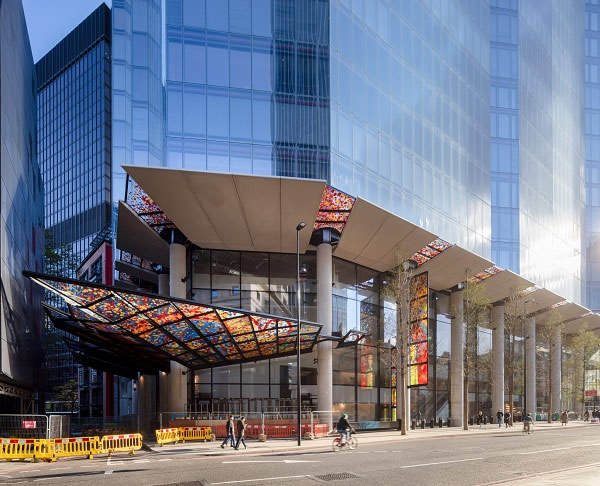 Equally color-intensive patterns, like huge brushstrokes on the glass surfaces, can be found on the glass façade and colorfully designed glass elements decorate some of the ceilings in the entrances, serving as friendly indications of where to go. The lively design is strengthened by the many different formats of the glass. They vary in size and form: quadratic, trapezoid, triangular, freeform. No two glass elements are the same, each is unique, a highly imaginative work of art.
The glass was designed by the internationally renowned artist Alexander Beleschenko, who has been using this material to set identitycreating architectural accents for many years. For 22 Bishopsgate he was inspired by the traditional coats of arms of the trade guilds, which were omnipresent in (old) London. He reinterpreted them in a new, abstract way, thereby connecting modern with historic – a phenomenon that is part of everyday life in the British metropolis.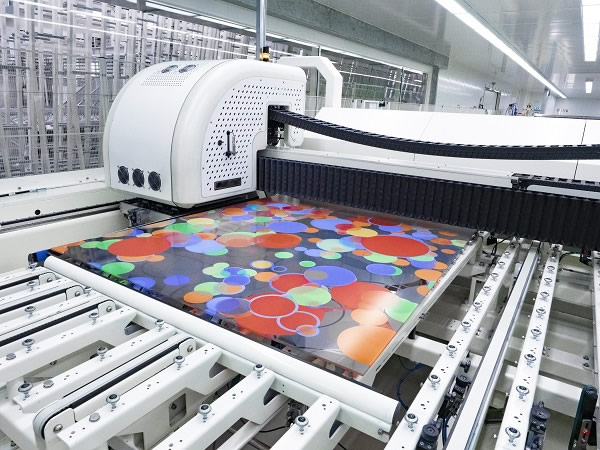 The symbiosis of transparency and color
Using glass for roofs already demands high technical standards (e.g. because of the danger of breakage). What makes the glass elements exceptional in this case is the permanently color-fast and highly precise printing, realized with a ceramic digital process at a resolution of 1,080dpi. This level of exactness goes way beyond the usual standard – on printed paper such as you may be holding in your hands right now, 300dpi is the norm. If you are reading this online, you are probably looking at a screen with 140dpi resolution (approximately 4K picture quality).
Because ceramic colors are especially stable in terms of tone and do not become bleached even under UV radiation, they are ideal for use outdoors. Beleschenko was impressed with the color stability and especially the extremely high precision: he wanted his space-defining art to have an impact on viewers from a distance as well as up close. This technique enabled him to realize this aim perfectly.
The production went really easily for Beleschenko: he sent his (enormous) files directly to the glass processing company sedak. The pane construction: double layer safety glass made from 8mm low-iron glass (heat-strengthened glass) with digital printing. Artwork in position 2 or 3. As the art extends to the façade, there are also printed insulated glass panes. These are each made from two double laminates (6mm heat strengthened glass). They are filled with argon and printed in position 2 or 7. In total, sedak supplied 149 laminates and 370 insulated glass panes.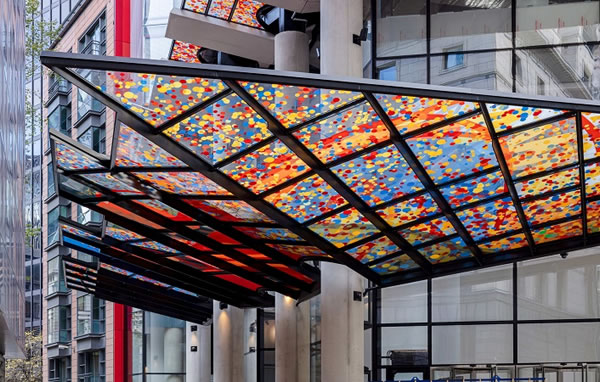 Art and works
Alexander Beleschenko knows how to design and realize large-scale art in architecture. Nevertheless, it is still a special moment for him when he sees his art installed for the first time – at this scale there is no possibility to check the complete work before it is finished. This makes the close cooperation between the artist and the glass processor especially important.
With artistic vision, a feel for "the big picture" and know-how in working with the material glass and the possible processing technologies, unique works can be created. If everything is realized perfectly, "in a certain way you see the art rather than the technique", said Beleschenko – the impressive result can now be seen in London at 22 Bishopsgate.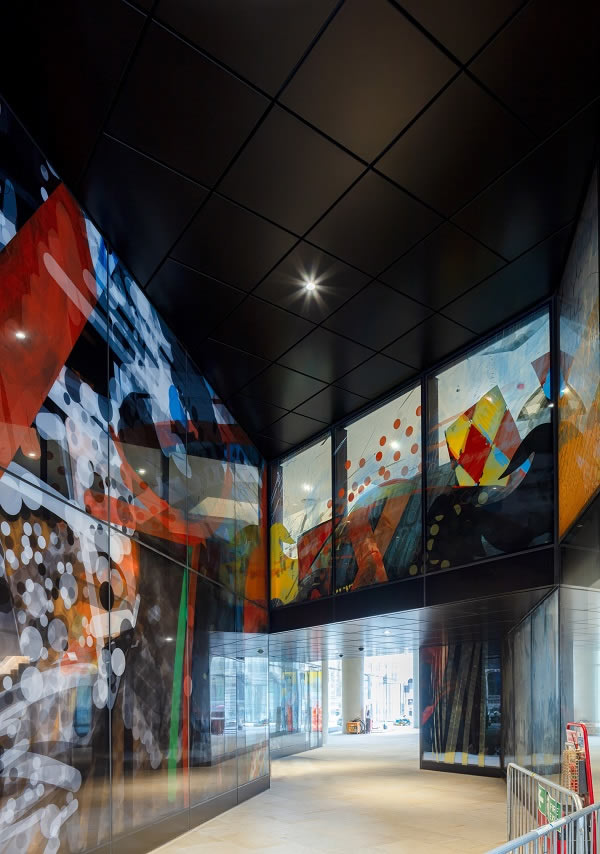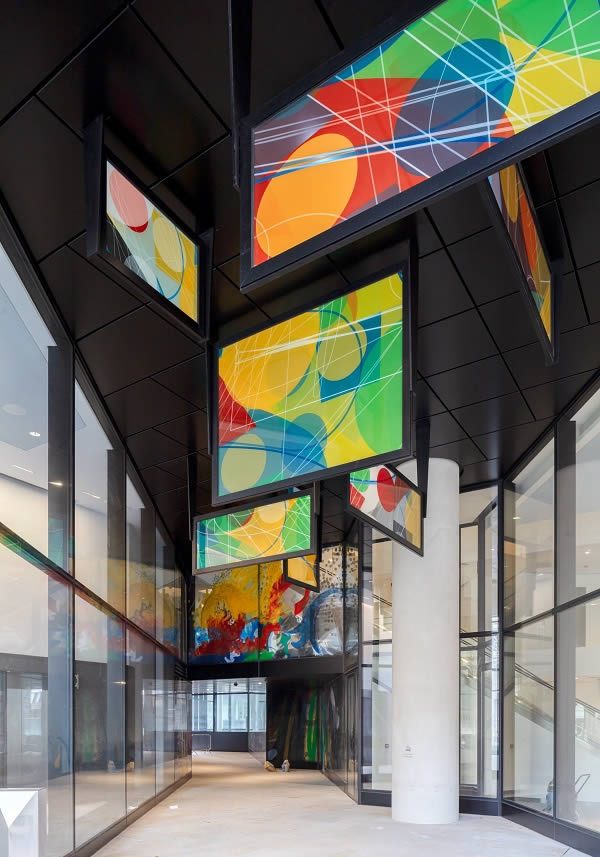 E X C U R S U S
Ceramic digital printing: the technique for art
The glass was created using digital printing with six ceramic base colors - the designs consisted of opaque and transparent elements, color gradients and overlays. It was especially the overlays that enabled a wide diversity of color nuances to be created from the base colors – also using different thicknesses of the layers. The software had to work just as efficiently as the printer, the data volumes were huge: every piece of glass is unique. Because many of the glass elements have an individual shape, it was not possible just to put them all into the automated transport chains of the sedak production system; some had to be handled using suction equipment.
Q U O T E S
Glass is a really powerful medium in the context of architecturally defined space.
Alexander Beleschenko, artist
Alexander Beleschenko is very emotional and passionate. He was astounded at how precise a print on glass can be. This was very important for his motifs.
Ralf Scheurer, sales, sedak
Credits board
Architects: PLP Architecture, London
Owners: 22 Bishopsgate (DEVCO) Ltd, London
Façade construction: Josef Gartner GmbH, Gundelfingen
Glass artwork: Alexander Beleschenko
Glas processor: sedak, Gersthofen (D)
Interview: Alexander Beleschenko regarding 22 Bishopsgate
Particularly large glasses on the one hand, exploring the technical limits of glass on the other, in order to qualify the material for new fi elds of application: this characterizes sedak. In some projects, this develops into an interplay with the creativity of planners and artists to fi nd such new fi elds of application with extraordinary ideas – even with the development of innovative manufacturing skills. The solutions require a lot of feeling, passion and knowledge about glass and the constructive cooperation with the idea providers.
The example of "22 Bishopsgate" in London shows how this works. Alexander Beleschenko, an internationally renowned glass artist, created glass art for the new landmark in the middle of London: colorfully designed canopies and façade elements. The challenge here was to combine a particularly fi ligree printing technique, wich applies the artistic design to the glass with pixel and color accuracy, with the technical requirements that glass has to meet in its function as a canopy. We talked to the English artist about his design idea and his path to sedak.
1 Mr. Beleschenko, you studied painting and printmaking. Why did you choose glass as your material?
I chose to work with glass after having been inspired by the art and architecture of the Renaissance city of Florence, Italy. I lived there for a short time being able to experience what I considered the life enriching aspect of the combination of art and architecture. That led me to change my artistic direction as a general response and then specifically to make the choice to work with glass which I singled it out as the material that had so many fascinating qualities.
The appeal of working with a palette of colours with a range and intensity with no comparison, varied by texture, opacity, transparency and optical effects contributed to making it my primary artistic medium for nearly forty years. Also, I chose it as my preferred medium because of the singular factor that marks out clearly from all the others is the way that it combines and works with light; a truly powerful medium within the context of architectural defined space.
2 One of your latest projects is 22 Bishopsgate. The tallest office tower in the City of London was completed last fall. Numerous artworks in and around the building are an integral part of the building concept. You designed the art on the outside of the 22. Mr. Beleschenko, please tell us something about your designconcept.
The City of London is a place where the ancient and modern sits next to each other and so I looked for a starting point for something that had a historic aspect, which could be expressed in a contemporary way. I eventually came to choose something particular and integral to The City of London, the Trade Guilds. These have a recognisable presence at street level by the display of their heraldic coats of arms. Their colour and geometry at an abstract level was the basis from which my imagery evolved.
The contemporary aspect of my approach was very much tied to the idea that the work should appear to have an immediacy and strong mark making suggestive of creative energy expressed by the act of drawing. As for my artwork being on the outside of the building this was part of my brief as the client and architects wanted artworks to be integrated into the built structure. As glass is the dominant material at street level it provided the artistic opportunity to do so.
3 The glasses are colorfully printed with ceramic inks. Their luminosity exerts a strong attraction on the viewer. The patterns include opaque and transparent elements, color gradients and overlays. They were realized using the digital printing process. How do you rate the quality of this technique?
I rate this technique very highly because, as you know, the printer offers a high level of consistency, gradations of colour and transparency, uniform flat areas and of course the possibility of incredible levels of detail. This combination of factors was liberating because within the context of its architectural application the artwork has to be impressive at a distance but also of a high standard for close viewing and scrutiny.
This project allows for both types of viewing and consideration for a technique that allowed for this type of the duality was paramount. In a sense when the level of sophistication is so high you don't see the technique, you see the art.
4 Have you worked with ceramic digital printing before? Why did you choose sedak as your partner?
The cladding contractor put me and sedak together so it wasn't my choice but I am thankful they did. Yes, I have had experience with ceramic digital print before on a couple of different projects and with different producers. These projects were done on the phase one print machines and the learning curve that came with the experience proved vital in understanding the technique's strengths and weaknesses. I grant myself the credit that this task wasn't so challenging because I came to use it being well versed in working with glass in architecture for many years. In familiarising myself with the process my task was to understand and develop an approach that wasn't going to have me make compromises. For complete mastery of the process as a form of artistic expression, it is important to put aside the idea that it is basically a means of reproducing an image to that of being a 'paint brush'.
5 To design in such large dimensions needs a lot of imagination but also know-how in printing technology. What were the major challenges in realizing the project?
Scale has never presented a problem for me in an architectural context especially with the scale of 22 Bishopsgate. To be honest I seem to struggle with small scale projects so large scale works are in a sense my natural habitat. With respect to know-how in print technology this as previously mentioned was acquired mostly in past ceramic digital print projects I did. However, I have to say that the biggest challenge was the fact that I was creating a complex unique artwork without ever being able to see and review it as a whole until it was installed. Of course there are models and CGI mock ups to help but in the end it's the work in its situation that counts. I can now say I was nervous as I walked towards the building when I first saw it all installed.
Apart from the challenges there were so many positives to take away. Such a project relies on so many factors; collaborations and partnerships that all add up.
6 During the processing of your glasses, you visited sedak several times. Is there anything you particularly liked about the glass production?
I was very impressed by the commitment to quality evidenced immediately by the high standard of sedak's facility. Being welcomed into to the space to be able to inspect different aspects of the process was a reassurance of progress and the works quality. Apart from being able to look at my own work it was really very informative to be able to see what is on offer at the top of the range, food for thought so to speak.
7 What's coming next?
I have a small project, again in the City of London. It is an interior work that I am fabricating in my own studio and is based on the use of another type of glass that is hand made. I did offer ceramic digital print as an artistic option to the client but their interest was for a more traditional approach.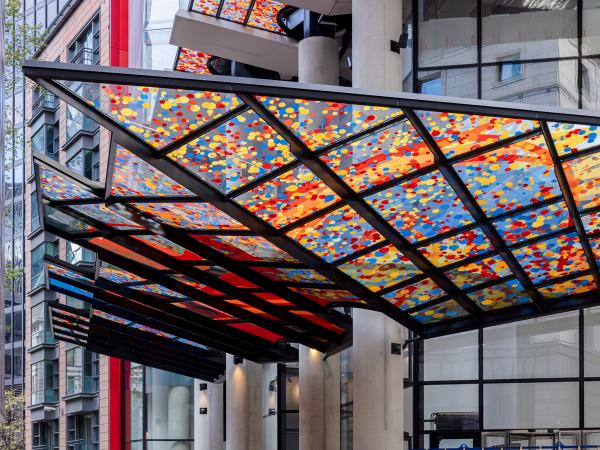 600
450
www.sedak.com
2021-03-23T08:04:00
Glass art in the context of architecture: impressive right into the detail - sedak
glassonweb.com