Photo source
www.vanceva.com
Architects and designers recognized for creative use of color and glass in design projects
What do a religious and cultural performance space, a car park, a school, railroad station depots, a church and a hotel have in common? They are the winning creative entries of this year's Vanceva® World of Color Awards™ (WOCA), an international design competition that draws participants from around the world.
Eastman, manufacturer of the Vanceva® color interlayer system for laminated glass, has announced two winners (interior and exterior) and four honorable mentions. This semiannual competition honors architects, interior designers, glass fabricators, furniture designers, glazing contractors, engineers and artists for their creative and impactful use of colored laminated safety glass in exterior building design and interior spaces. Vanceva offers the largest system of PVB interlayer colors in the world with a palette that can be combined to create more than 17,000 transparent, translucent or solid colors.
"The number and scope of projects entered in this year's World of Color Awards broke new records for the competition," says Priya Kalsi, global segment market manager with Eastman. "We are always inspired by the innovation we see as the entries come in. Vanceva PVB interlayers are used to create landmark designs, special effects, wayfinding, and so many other things. Our jurors had a challenge this year!"
An international jury of five celebrated industry professionals reviewed the project submissions to determine the winners. Entries were judged on the creative use of glass with laminated color interlayers, aesthetics and the degree of attention given to the overall benefits and technology of laminated glass.
Winners:
Exterior winner: Audrey Irmas Pavilion | Los Angeles, California, USA
Architects: Office of Metropolitan Architecture (OMA) and Gruen Associates
Glass laminator: Goldray Glass
Featured product: Eight layers of Vanceva PVB interlayer in Aquamarine and Golden Lite are combined with a metal mesh interlayer.
Creating a unifying space for religious and cultural activities, the Audrey Irmas Pavilion mixes modern planes with traditional shapes to defy conformity in the most harmonious of designs. The 55,000-square-foot pavilion consists of multiple gathering spaces — each with distinct scale and spatial character — stacked on top of each other in the uniquely shaped pavilion next to the Wilshire Boulevard Temple.
Designed by famed Dutch architect Rem Koolhaas along with Shohei Shigematsu, both representing the Office for Metropolitan Architecture (OMA), the Audrey Irmas Pavilion creates a special gathering place for religious and cultural activities, celebrations, and performances in the three-story building. Tying the three levels together is the strategic use of green glass combined with a metal mesh interlayer that allows light into the spaces while providing amazing views of the city.
"Outstanding" is how WOCA juror Joe Jacoby describes the Pavilion. "Such powerful pops of color contrasting the light-colored fractal facade," Jacoby said. "The simplicity of the green has such a big impact and meaningful connection to the existing green dome roof next door. They took a simple concept and went big with it while keeping the purity of the design."
Another WOCA juror, Firas Hnoosh, stated, "Color laminated glass was not simply used to add color; it was used as a painting and volumetric medium to color the different recesses within the building and complement the composition."
Interior winner: A Long Time is Not Forever | Bispebjerg Hospital car park, Copenhagen, Denmark
Visual artist: Malene Nors Tardrup
Architect: Årstiderne
Glass laminator: Thiele Glas
Featured product: Vanceva PVB in Aquamarine, Sapphire, True Blue, Sahara Sun, Tangerine and Ruby Red
The interior win goes to the colorful, seven-level car park of Bispebjerg Hospital in Copenhagen, Denmark. Aptly named "A Long Time Is Not Forever," the different levels flow from green to warm tones to a cool blue finish at the top. Each level presents a story from the hospital's 100-year history with tiled photographs, while the many Vanceva-colored square windows share a colorful view —inside and out.
WOCA juror Monika Kumor says, "'A Long Time Is Not Forever' art installation introduces splashes of color to an otherwise very utilitarian structure. It plays with multiple materials to tell the story of the place and to introduce light, color, and transparency in a very creative way. It gives a recognizable, strong, and uplifting wayfinding element to an environment that can be stressful and overwhelming for patients and their families."
Honorable mention: Cooke School | East Harlem, New York, USA
Architect: PBDW Architects
Glass laminator: JE Berkowitz Architectural Glass
Featured product: Vanceva PVB in red, orange, yellow, green and blue
The new Cooke School marks its presence with an uplifting design that elevates the experience of the special needs students who call it home. Abundant bay windows with vibrantly colored Vanceva interlayers create visual interest and make it easy for students to identify their classroom from the street below.
"Very interesting piece of architecture. Creative use of color and geometry," states WOCA juror Roman Schieber of the school's facade. Fellow juror Firas Hnoosh noted the "successful integration of color laminated glass into a school project that is perceived both interior and exterior." And juror Jeffrey Monzu says, "This is a very interesting use of color that also applies to the project type. This learning environment is enhanced by the use of this product. Application is very sophisticated and designed into the entire aesthetic."
Honorable mention: The Kaleidoscopic Station | León, Spain
Architect: Adif, Ineco, and Fernando Liébana
Glass laminator: Tvitec
Featured product: Vanceva PVB in Aquamarine, True Blue, Sahara Sun, Tangerine, Ruby Red and Deep Red
The transformation of León's 1,200-meter, high-speed underground rail line is noted from both above and below ground with 11 luminous and kaleidoscopic skylights denoting each station stop.
WOCA Juror Jeffrey Monzu found the renovated train stations of León to be "a very unique application, creating a whimsical underground environment." Juror Monika Kumor added, "Transparency and color greatly improve public space through León's high-speed underground rail design, marking the way both below and above ground with distinctive colorful elliptical glass skylights."
Honorable mention: Kostel Blahoslavené Marie Restituty, Brno | Lesná, Czech Republic
Architect: ATELIER ŠTĚPÁN — Marek Štěpán
Glass laminator: Saint-Gobain — GLASSOLUTIONS
Featured product: Vanceva PVB in a wide range of combinations using two to four colors to form a rainbow with transition lines
The rainbow-hued strip of high-performance glass enhanced with Vanceva interlayers topping the concrete, circular Church of Blessed Mary Restituta in Brno provides an inspiring circle of rainbow light in the church while projecting a retroactive reflection above the city of Lesná.
Monika Kumor noted, "It's interesting to see the very abstract form of the church emphasized by use of color juxtaposed against natural forested background." Fellow juror Joe Jacoby adds, "I love the simplicity and impact of the forms, highlighted with the rainbow-colored glass."
Honorable mention: The Mist Hot Spring Hotel | Xuchang, Henan, China
Architect: Department of Architecture
Glass laminator: Thai Techno Glass Group PLC
Featured product: Vanceva PVB in Coral Rose, Ruby Red, Aquamarine, Sapphire and Marine Blue Green
Rising steam from the spring acts as a natural camouflage for privacy at this peaceful resort. Gray granite walls form the backdrop for the double-skin shell of laminated glass with magenta and blue Vanceva interlayers, creating a sensorial experience both from outside and inside the rooms.
WOCA juror Joe Jacoby describes the design as a "brilliant mixture of colors." Monika Kumor concurred, saying, "I especially love the floating cubes and how they reflect from the water surrounding. The mist surrounding makes these feel like a fantastical wonderland. The color pallet selected for the hotel facade artfully complements its natural settings and winter season. The layering of the soft color, mist, and water makes the images almost magical."
The Vanceva color system offers architects and designers unparalleled creative freedom to incorporate color into glass and glazing systems using tinted interlayers, which are laminated between two pieces of glass. A palette of 16 colors can be combined in up to four layers to produce more than 17,000 transparent, translucent and solid glass colors. Vanceva color interlayers also offer many of the benefits of polyvinyl butyral (PVB) interlayers for laminated safety glass, including security, solar control, sound insulation and UV protection.
Saflex® and Vanceva® brand PVB interlayers are two of the most trusted names in PVB interlayer technology for laminated glazing, delivering outstanding performance and durability and backed by reliable and knowledgeable service. As a result, they are found in nearly 40% of laminated architectural and automotive glass worldwide.
All 2022 WOCA entries can be viewed online at www.vanceva.com/woca/winners.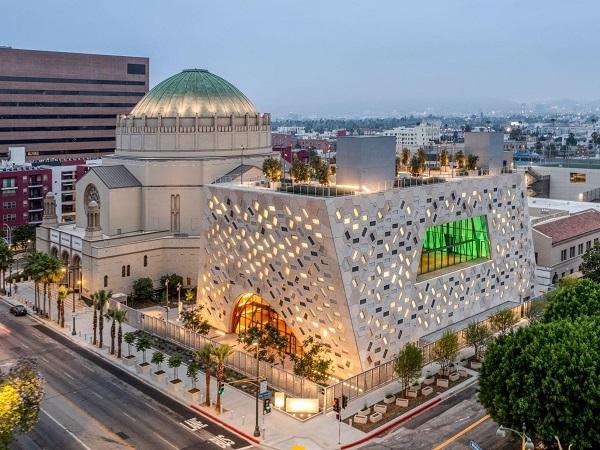 600
450
www.vanceva.com
2022-08-10T11:30:00
Winners announced for 2022 Vanceva® World of Color Awards™
glassonweb.com