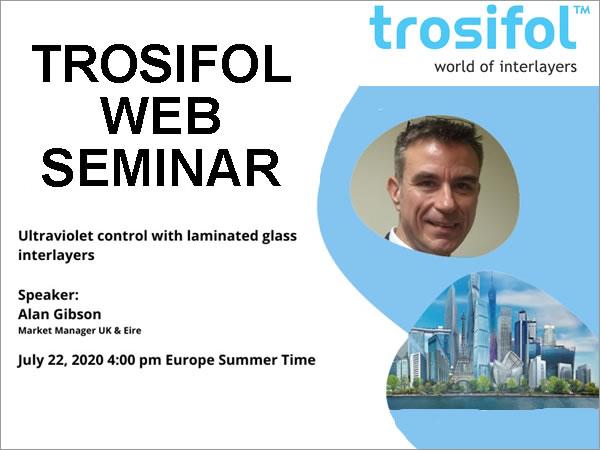 Trosifol Web Seminar with a speaker Allan Gibson - UK Market Development Manager Kuraray.
Date and time:    Wednesday, July 22, 2020 4:00 pm
Europe Summer Time (Berlin, GMT+02:00)
Change time zone
 

Speaker Info: Allan Gibson UK Market Manager UK & Eire Based in Oxford and for the past 19 years, I have managed the supply and specification of specialist materials used in the construction industry in the UK and Middle East. Now responsible for the Trosifol PVB and Ionoplast interlayers for laminated architectural glass in the UK and Ireland with a strong focus on new technologies and innovations underlining the Kuraray commitment towards serving the ever changing demands of the global glass industry.
Duration:    1 hour
Description:    
This presentation looks at the electric magnetic spectrum, helping you to understand the importance and the effect the benefits and disadvantages of Ultraviolet light. How laminated safety glass can help control the flow of UV and why this is important for the occupants of modern day buildings or to protect those important, vulnerable artefacts.
Registration is required to join this event. If you have not registered, please do so now and HERE.
Trosifol® offers the world's broadest portfolio of innovative glass-laminating solutions, including structural and functional interlayers for safety and security applications, sound insulation and UV protection. For decorative applications, we supply colored interlayers, digitally printable films and other innovative products for interior design projects. Our UltraClear films exhibit the lowest Yellowness Index (YID) in the industry. We offer the following RIBA approved CPDs: 1) Designing with Structural Laminated Glass Interlayers We can also offer our CPDs at your premises during the lunch time.
Visit www.trosifol.com for more information.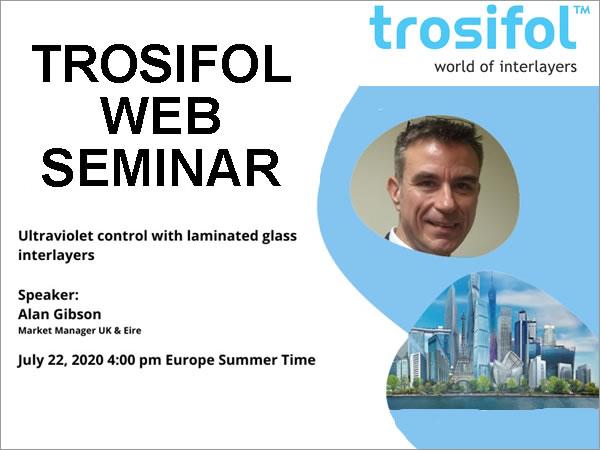 600
450
Trosifol
2020-07-16T09:00:00
Web seminar: Ultraviolet control with laminated glass interlayers
glassonweb.com