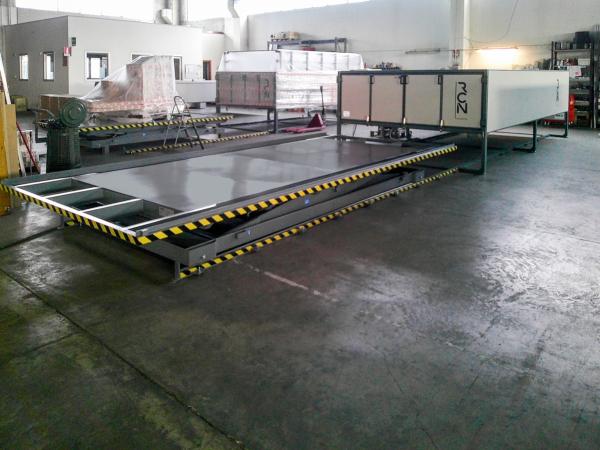 Photo source
R.C.N. Solutions
Lammy System 2 is once again the most demanded RCN laminating kiln and keeps the pole position among other valid possibilities having not the same upgrade capacity.
Coming in different sizes, Lammy System 2 is a very versatile machine, a real transformer, becoming Lammy System 2+2, Lammy System 4, Lammy System 4+2 or Lammy System 4+4 and more, depending from customers' requirements. 
With all those variables in their hands, customers can enhance their production without forcibly buying a new kiln, unless of different size. 
Equipped of lamination bags and more frequently of RCN CLEAN CONCEPT, the RCN patented system for clean edges, Lammy System 2 is served by one lifting platform with load capacity of kg. 2000 and horizontal and vertical movement. The PLC is completed by the RCN EASY CONNECT application to have process control at hand and remote assistance granted. One conveyor con eventually be added for easy glass loading directly into the laminating bag. 
The Lammy System 2 machines cannot even have a second-hand life, not only because of the upgrades but also because, in case the customer decide to buy bigger, the old Lammy System 2 can be easily re-sold, just the time for refurbishing.  
That's one of the reasons for which RCN SOLUTIONS rarely has second-hand machines available in stock. 
RCN machines have long life because they are conceived to last and offer the best performance. 
The picture shows one new Lammy System 2 – 5000x2500mm – going to Portugal, replacing an old Lammy System 2 – 45000x2100mm – re-sold to an Italian customer. 
600
450
R.C.N. Solutions
2023-04-12T09:24:19
R.C.N. Solutions, Lammy System 2: timeless best seller
glassonweb.com