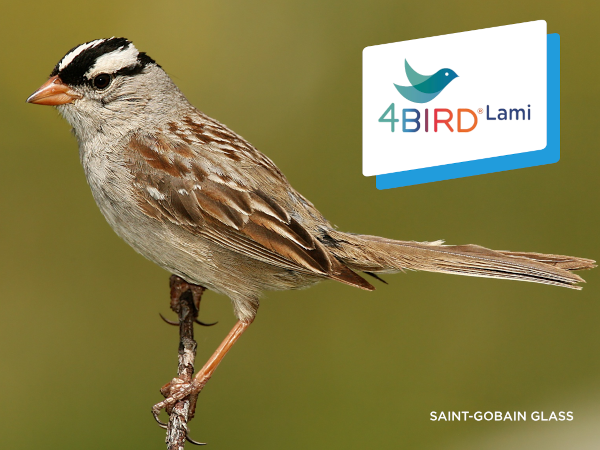 Photo source
Saint-Gobain Glass
A first solution combining Saint-Gobain Glass and Eastman's bird-friendly interlayer that offers safer glazed façades for birds without compromising on performance and aesthetics.
Making tomorrow's buildings and constructions more sustainable involves a number of aspects, including decarbonising glass facades, offering solutions for the thermal efficiency of buildings and preserving the biodiversity. The Saint-Gobain Glass' product range continues to grow in this direction, offering architects, customers and partners a range of innovative solutions.
The dangers of urbanization for birds, are not only proven but also a growing concern, and early in 2022 Saint-Gobain Glass presented its first tested bird friendly solutions, combining the range of COOL-LITE® solar control glazing with different technologies to make glass façade safer for birds while keeping good thermal efficiency.
After 4BIRD®Frit and 4BIRD®Etch, offering different combinations and patterns made respectively by enameling or acid-etching, Saint-Gobain Glass always looking for more efficiency and solutions adapted to all projects, introduces 4BIRD®Lami to its range.
4BIRD®Lami, in its first 4BL-1 configuration, gets together Saint-Gobain Glass' COOL-LITE® solar control glass with the special Saflex® FlySafe ™ 3D PVB interlayer from Eastman.
The combination of the two high-performance products from Eastman and Saint-Gobain Glass, allows to combine the outstanding efficiency of both products, regarding the bird protection and the energy performances.
Tested in Europe and validated in North America, the new product offers one of the most effective solutions on the market with a threat factor of 10 or less (meaning that more than 90% of birds avoid the tested glass) and also meets the bird protection criteria of the LEED green building certification label.
All this without sacrificing aesthetics and view. The low external reflection as well as the color-neutral appearance of the COOL-LITE® products associated with a discreet pattern create an excellent combination of function and aesthetics, thus offering a smooth and homogeneous façade design and taking care of both: bird protection and comfort of the occupant with undisturbed views from outside and inside.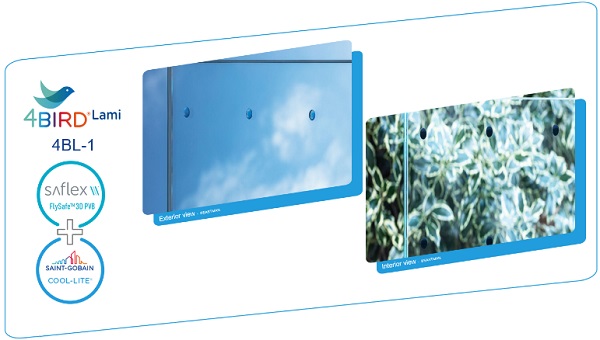 Finally, 4BIRD®Lami offers many combinations to suit any architectural project, requiring durable bird protection without compromising on solar protection or safety, picking in the diverse range of both products. Several COOL-LITE® solar control products in annealed or to-be-tempered version can be used offering a wide range of solar factors. In addition, Saflex® FlySafe ™ 3D PVB interlayer is compatible with select Saflex® PVB interlayers for enhanced security, acoustic or structural functions.
The protection of the planet and all its inhabitants is everyone's business, and the demonstration of the effectiveness of the combination of the two products range is an additional chance for an ever more sustainable future and good news for all stakeholders in the field of façades, who can thus benefit from the best products and the know-how of the two companies for their future projects.
To know more about this solution, refer to https://www.saint-gobain-glass.com/products/4birdr or www.saflex.com/flysafe
600
450
Saint-Gobain Glass
2023-01-10T05:00:00
New 4BIRD®Lami
glassonweb.com