Creating iconic buildings often means using unexpected materials in new ways. Traditional uses of glass have been reinvented by two architectural firms, who artfully use glass and interlayers to achieve very different design goals. Here, we'll explore the science of structure and color and how these architects re-interpreted glass with elegant result.
Glass Types and Structural PVB
Due to the strength and stiffness of the Saflex Structural interlayer, laminated glass can either sustain a higher uniform load for a given configuration or the glass thickness can be reduced while keeping the same load and area as compared to conventional laminated glass. Saflex Structural interlayer can be used with virtually all glass types and works well with annealed and heat-strengthened glass to provide reduced optical distortion.
It can also be used with fully tempered glass to further contribute to structural capacity. The use of heat-strengthened glass may be a preferred choice as it delivers reduced optical distortion, thermal stress breakage resistance, reduced potential for spontaneous breakage and the larger break pattern. Heat-strengthened glass laminated with Saflex Structural interlayer can provide good residual strength should loads be applied post breakage.
Exposed Edges and Coatings
Saflex Structural interlayer is formulated to provide strong resistance to delamination in open edge exposed applications and is compatible with most visibly reflective, low emissivity, and ceramic frit coatings. Saflex Structural interlayer also has good sealant compatibility performance.
Integrate Color and Earth Tones
Saflex Structural interlayer is also compatible with the Vanceva® Colors and Earth Tones interlayer systems, so architects and designers can create safe spaces without sacrificing style or comfort. 
Vanceva Earth Tones collection and Vanceva Colors interlayers offer the possibility of using a large range of color in a façade or as interior glazing without having to increase glass thickness to achieve color intensity. Colored interlayers are exceptionally true and can generally be delivered more quickly than large quantities of colored glass. Both products provide the flexibility to customize, modify and improve the aesthetics of the façade with great precision.
Mixing it Up: How to Combine Interlayers
Combining Vanceva colors with Saflex Structural can also meet some unique challenges. When properly specified, Saflex Structural can enable the use of large surface glass and or reduce the thickness of the glass needed to resist design loads.
When combining Saflex Structural and Vanceva colors, here are some simple ground rules:

For the calculation of the load resistance of laminated glass, the interlayer modulus is a key input parameter. The modulus properties of Saflex Structural are significantly higher than those of Vanceva Colors, as a higher level of plasticizer is used in the latter. After passing through the lamination process, the modulus properties are stable with respect to time, and are intermediate between Saflex Structural and Vanceva Colors. The value of the modulus of the combined interlayers will depend on the ratio of the total number of Saflex Structural layers to Vanceva Color layers.
As an example, a laminate that comprises a combination of Saflex Structural with a single 0.38 mm layer of Vanceva Color will behave stiffer in many load scenarios than a combination of Saflex Structural with three 0.38 mm layers (1.14 mm total) of Vanceva Colors. The latter is illustrated below in tabular format for a wind gust load scenario of 3s at 30 oC for different configurations. Results for Saflex Structural and Vanceva Color as singular products are shown for reference against a grey background.

Modulus properties of any Saflex Structural/Vanceva color combination can be provided for conventional load scenarios, please contact your local representative or ask the question on our contact page.
Interplay of Structure and Color: Sensor City, The Gold Standard
Sensor City, a collaborative venture of the University of Liverpool, John Moores University and the Liverpool City Region Local Enterprise Partnership, brings together academia and business to create the first University Enterprise Zone in Liverpool. The building's purpose is sensor technology — studying, building and expanding sensor systems and applications.
Inspired by the building's intended use, designer Julian Stock, with the help of the architectural firm of IBI Group Inc. could evoke the intrigue of sensor technology on the building's façade, using a double skin architectural glass curtain wall made of laminated glass containing Saflex® Structural PVB interlayer.
Saflex Structural was selected for this project for numerous reasons. As a testament of its structural integrity, glass panels laminated with Saflex Structural offer very high wind load resistance of 3.7 kPa. It was the preferred product choice that could deliver structural performance in combination with colored interlayers to bring to life the designer's colorful artistic vision. Saflex Structural was paired with Vanceva® Colors PVB interlayers for installation in the exterior applications with open edges exposed continuously to the changing environmental conditions of Liverpool, England.
Novum Structures UK, the engineering façade maker for Sensor City, was instrumental in the decision to use Saflex Structural with Vanceva because they had used both previously on a major project in London with great results. Together with Ariño Duglass, the glass laminator, Novum Structures wrapped Sensor City's exterior in an abstract pattern resembling computer chips. The abstract design was created with silk screen printing in ivory and black enamel incorporated into a double laminated insulating glass unit.
The sensor technology theme is further carried out using the color epitomizing electronic conductors — gold. Vanceva® Colors PVB interlayers in Golden Light and Coral Rose were used to simulate this gold color. The golden façade of Sensor City renders color differently depending on the viewer's location and amount of light. The view inside and outside the building can look different, just as a view from near the building or down the street will make the building look alive — as if it is dynamically altering its appearance based on each individual's sense — therefore a wonderful structure for Sensor City!
View this project in the Saflex Gallery
Interplay of Structure and Color: Showcasing at the Corning Museum of Glass, North Wing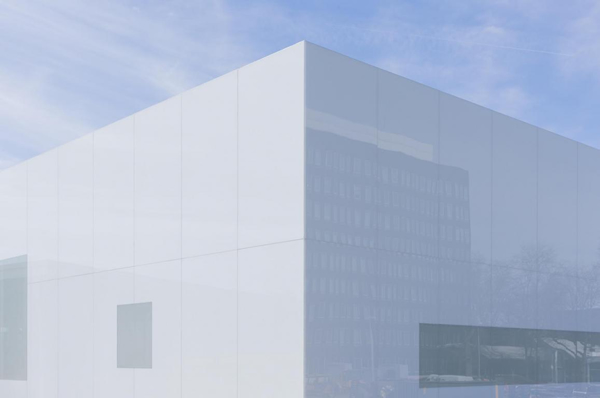 With its greenhouse-style use of glass, the new 100,000-square-foot North Wing expansion of the Corning Museum of Glass fuses the line between built and natural environments. The square, minimalist design by architect Thomas Phifer and Partners features a 16-meter-high glass façade that spans 2,000 square meters, offering a sweeping panoramic view of the museum grounds.
The new expansion houses a collection of contemporary art. In addition to the 26,000-square-foot contemporary art gallery, the Corning Museum's new North Wing provides access to a newly renovated 500-seat facility for glass-making demonstrations and events.
Creating a scenic overlook of Corning's newly landscaped lawns, the glass façade integrates its natural setting, blending in with winter snow and floating above the green lawn in summer.
The North Wing's exterior construction forms a unique composition of large laminated glass panes with vertical aluminum profiles that appear as a single unit, similar to the arrangement of an oversized showcase. The project combines Saflex DG structural interlayer with Vanceva® Polar White opaque interlayer and digitally printed white dot matrix for a mix of transparent and translucent interlayers in each individual pane. The heavy 1,000-kilogram panes are held in place by aluminum profiles, which are bonded to the glass with silicone and mounted to the façade construction.
Saflex DG structural interlayer is an ideal choice for this prestigious project as it meets the technical and aesthetic requirements necessary to achieve the architect's vision.