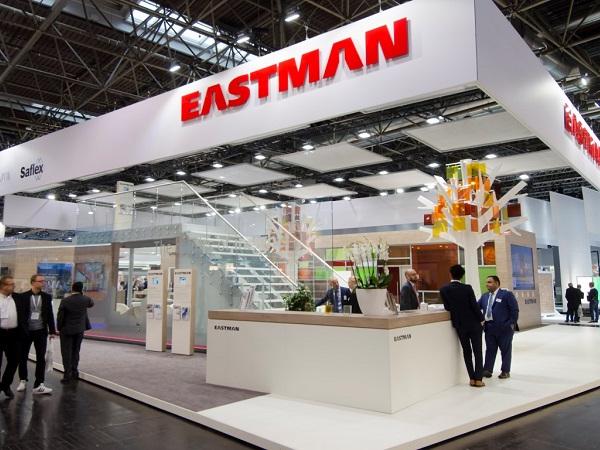 Photo source
www.eastman.com
Eastman Exhibit was the Perfect Backdrop for Visitor Selfies.
Oversized glass was taken to the next level at the Eastman exhibit during the 25th anniversary of Glasstec, the largest international glass trade fair that ran October 23-26, 2018 in Düsseldorf, Germany.
Eastman Chemical Company, manufacturer of Saflex® product glazing solutions for architectural and automotive applications and the Vanceva® Color System for laminated glass, offered visitors a real showstopper with the world's largest laminated heat-strengthened glass panel made with Saflex Structural PVB interlayer at 18m long and 3.22m high.
The glass panel was so large a special truck from Saint-Gobain was required for transport from eastern Germany and installation at the Messe Düsseldorf. With the help of two cranes and numerous suction cups, the oversized pane was secured into place with dowels. The glass, together with its steel base, weighs nearly four tons. 
Due to its show-stopping popularity, Eastman plans to install the glass at its Ghent South Production Plant (Eastman, Ottergemsesteenweg-Zuid 707, 9000 Ghent, Belgium) before the end of the year. It will be placed next to the Customer Service Lab, easily accessible for customer visits.
"We hope that this installation inspired our visitors," says Kevin Moens, Global Commercial Director Architecture – Advanced Interlayers at Eastman. "Since this type of glass can be used to achieve an open, airy aesthetic and a smooth transition between interior and exterior spaces, architects at the show were imagining all sorts of design possibilities."
Eastman's enormous laminate pane is comprised of two 12mm high-quality, heat-strengthened, low-iron glass panes laminated with 1.52 Saflex Structural PVB interlayer. It is 40 percent larger than a glass panel made with conventional PVB*. 
*When calculated to DIN 18008, wind load 0,5 kN/m2, line load 0,5 kN/m.
The spectrum of construction applications where glass panes can be used is extensive including commercial and office buildings, museums, exhibition halls and conference centers, hotels, restaurants, as well as residential buildings. 
With such a large format, there can be time and cost efficiencies with the production and assembly of one oversized panel versus multiple smaller panels. Architects and designers have unlimited design flexibility, especially when paired with Vanceva Illusion White or Vanceva Color Interlayers. 
The 25th anniversary of Glasstec was a huge success with more than 42,000 visitors from over 120 countries. There were 1,280 exhibitors from 50 countries showcasing their product highlights in nine halls. Eastman was proud to be a returning participant and is thankful to all of the visitors, representatives, and staff who made the Eastman booth the success it was this year.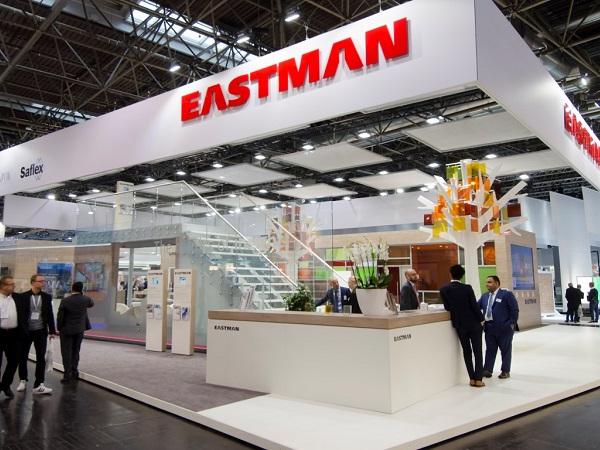 600
450
Eastman
2018-11-09T15:04:10
Visitors Stunned by World's Largest Glass Panel at Glasstec 2018 in Düsseldorf, Germany
glassonweb.com