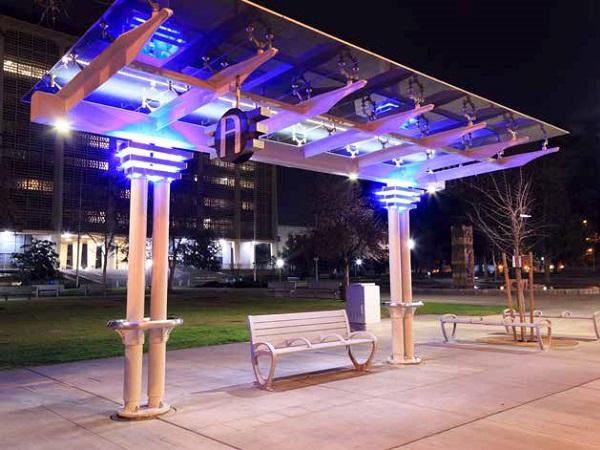 Photo source
© Jason Thomas, Provost & Pritchard Consulting Group
SentryGlas® proves to be a shade above the rest for innovative rapid transit system in California.
Since 2015, the Fresno Area Express (FAX), operated by the Department of Transportation in the City of Fresno, California, USA, has undertaken three separate major capital improvement projects, which have been implemented to improve services to the city's many public transit users.
The three projects are the Bus Rapid Transit (BRT ) Project ($52 million investment), Courthouse Park Intermodal Transit Center Improvement Project ($2 million investment), and the Manchester Transit Center Remodel Project ($2 million investment). 
Funded by federal and state funds, the new BRT system − called FAX Q, which stands for "quick" and "quality" − is instantly recognizable with its light blue colored, natural-gas-powered buses. Offering more frequent services, fewer stops, and off-board fare payments, it has been designed to reduce overall travel times.
In addition to these timetabling advantages, the buses also offer clean air, plush seating and energy-efficient windows. The whole package being designed to make the everyday public-transportation experience a more pleasurable activity.
The BRT Project has added 52 high-frequency bus stations along a 15.7 mile corridor, which runs through the City of Fresno. Each station includes modern passenger amenities, such as benches, trash receptacles, shelter, ticket-vending machines and real-time departure information.
The striking designs of the new buses is complemented by the design of these new shelters, which are custom designed and fabricated for the project and include suspended glass canopies. In every shelter SentryGlas® ionoplast interlayers from Trosifol® have been deployed.
SentryGlas® has also been used in the other projects, with 66 panels being installed as part of the Courthouse Park Intermodal Transit Center Improvement Project and 72 panels in the Manchester Transit Center Remodel Project. All glass panels are secured by CRL spider hangers or stanchions.
The panels used either a clear SentryGlas® or SentryGlas® TW (Translucent White) interlayer in combination with the 6 mm glass plies. A 1.52 or 2.28 mm thick interlayer was used, depending on the span of the glass in the canopy.
According to Brian Barr, Assistant Director for the Fresno Area Express: "Two panel/interlayer combinations − of clear interlayer/blue tinted glass and white interlayer/clear glass − were driven by the need for light reduction, resulting in better shading for FAX customers. We did investigate alternatives but found that the initial investment with glass canopies was more cost effective than a similar design that used solid polycarbonate roof tops. Our engineering team specified the use of interlayers for their strength properties; and in the case of the clear glass canopies, they were used for solar control, too."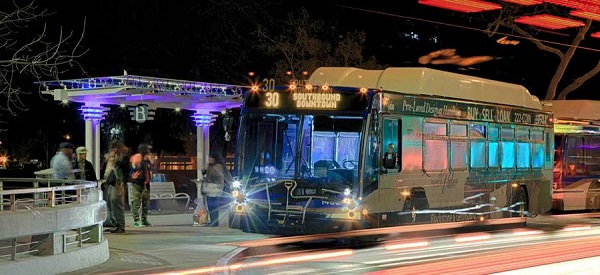 The BRT Project comprised 6,888 ft2 (640 m2 ) of panels, while the Courthouse Park Intermodal Transit Center Improvement Project and Manchester Transit Center Remodel Project installed 2,365 ft2 (220 m2 ) and 1,074 ft2 (100 m2 ) respectively.
PRL Glass Systems, based in City of Industry, California, supplied and laminated a portion of the 300 blue tinted glass panels for the BRT system.
According to Wardi Bisharat from PRL: "Both polycarbonate or laminated glass would have met overhead-glazing requirements for the canopies, however, laminated glass was selected because of its durability. The blue tinted glass was selected to create a comfortable and aesthetically pleasing area for passengers waiting for their buses. Since the edges of the laminated glass were exposed, a SentryGlas® ionoplast interlayer was used. Indeed, we always recommend an ionoplast interlayer when edges are exposed or the installation is near an area of high moisture. We laminated the tempered glass and then shipped the glass to LNI Custom Manufacturing in Hawthorne, California, where the spider fittings were attached. The glass was then shipped to Fresno for installation by Teichert Construction."
Color, transparency and visual appeal can go hand-in-hand with safety, strength and edge performance in a multitude of architectural and transportation-related applications. The laminated glass in the Fresno bus shelters delivers all of the benefits, while at the same time, creating a modern, attractive area for passengers. As many designers and architects are discovering, technical and safety capabilities no longer need to be traded off with aesthetics thanks to modern interlayer technology, such as that from Trosifol®.
Trosifol™ is the global leader in PVB and ionoplast interlayers for laminated safety glass in the architectural segment. With the broadest product portfolio Trosifol™ offers outstanding solutions:
Structural: Trosifol® Extra Stiff (ES) PVB and SentryGlas® ionoplast interlayer
Acoustic: Trosifol® SC Monolayer and Multilayer for sound insulation
UV Control: from full UV protection to natural UV transmission
UltraClear: lowest Yellowness Index in industry
Decorative & Design: black & white, colored & printed interlayers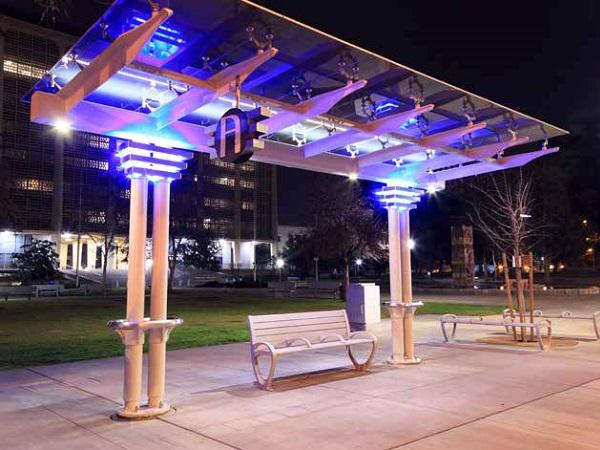 600
450
www.trosifol.com
2018-10-19T09:26:26
SentryGlas® for innovative rapid transit system in California
glassonweb.com