When you are looking to create entire walls of glass as part of a design there are various options at your disposal. In most cases when designing a wall of glass you want the glass to be the prominent feature of the façade. This means minimising the framing and using the largest glass panes feasible.
There are so many façade systems available on the market and each varies greatly in terms of frame size, material and design. Structural glass can be used as a fantastic alternative to a traditional façade system. Using high specification glass with bespoke fixing details you can create entire elevations of glass with no visible frame or fixing.
Further Reading: What is Structural Glass?
But when it comes to specifying your glass elevation what is going to be the best solution for you and your project design? Here we explore the most identifiable differences between a structural glass façade and a glass elevation made with a slim framed façade system:
Framing
For the most minimal façade system you would be looking at using an aluminium frame. The most minimal façade system has framing sightlines of 35mm on the face.
Of course with a façade system you will also have to consider the size of the 'box' behind the glass which gives it its strength. These box sections vary in depth depending on the height of the elevation and the wind load of the project.
As an example the slim façade system from IQ has a frame of only 35mm however the transom depth depends on the weight of the glass unit. For glass units of 250kg or less the transoms is 70-155mm deep. Heavy Duty Transoms are used for glass units of up to 400kg and are 130-155mm deep.
In contrast, the key design element of structural glass is that there is no frame. The glass units are fixed to the building structure using channels or angles that are designed to be hidden away, no matter what your project design is.
Take this multi-storey structural glass façade to an office renovation in Folkstone. Here structural glass was used to create the frameless glass façade to the street face. The glass was detailed and designed so that no fixings were visible at all. Instead, each glass unit across all floors seamlessly merge together creating a smooth all glass elevation.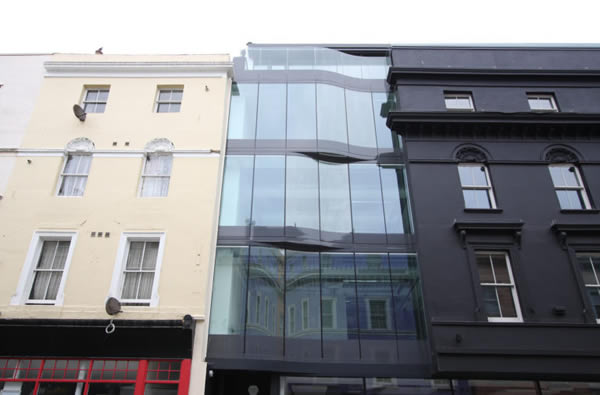 Glass Sizes
The maximum glass size you can achieve with a façade system will be determined by the weight of the glass. This means that if triple glazing is used or thicker laminated glass units need to be integrated the maximum size of the glass you can use will be reduced.
It is typical for a façade system to offer a maximum glass weight of up to 250kg as standard. This can increase to 400kg using deeper or 'heavy duty' transoms.
Using a typical glass specification of a double glazed unit with 6mm toughened glass you could get a maximum size of 8m2 for a standard transom depth or 12m2 for a deeper transom up to 155mm.
Structural glass is not governed by any of these maximum glass size or weight restrictions. On most projects the only restriction on glass size will be access to the site and how much you want to spend on the glazing.
In the UK the biggest glass panes that are made are 6m x 3.2m. This is a 'Jumbo Sheet'. You can use panes of glass this big as part of your glass façade design for a really impressive finish. 
This structural glass façade in London used panes of frameless structural glass of nearly 6m tall to create the glass wall to the double height lobby. The glass wall didn't have to be dissected with any horizontal framing or mullions and the result is a clear and clean glazed elevation.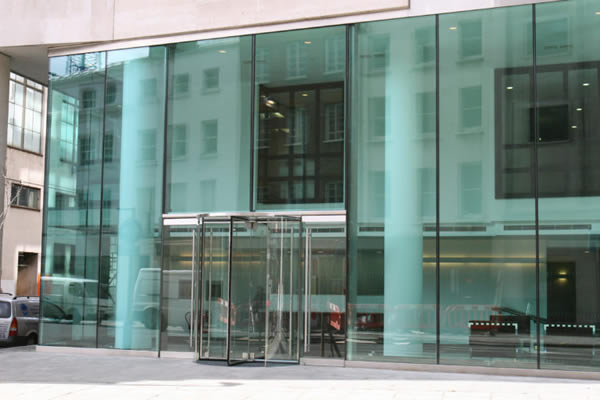 If you want to use glass units bigger than 6m x 3.2m to create your glass façade you can, you simply have to source the glass from overseas. This will obviously add cost and may increase the lead time of the glass but can be a great way to create high impact glass elevations.
Glass Specification
A façade system will have a set maximum and minimum thickness for your glass units. This range is normally quite broad so will allow for most typical glass finishes or types that you may want.
Flat coatings like low-e coatings, solar control coatings and tinted glasses are all possible. You could even integrate something a little more technical like Heated Glass, Privacy Glass or Electro Chromic Glass for a fully responsive glass façade design.
Decorative finishes can be achieved by using a printed or coloured interlayer or you apply a screen printed pattern on the surface of the glass to create a manifestation or logo.
Laminated glasses will increase the weight of the glass unit which could reduce the size of the glass units you can use within your elevation so keep an eye on that.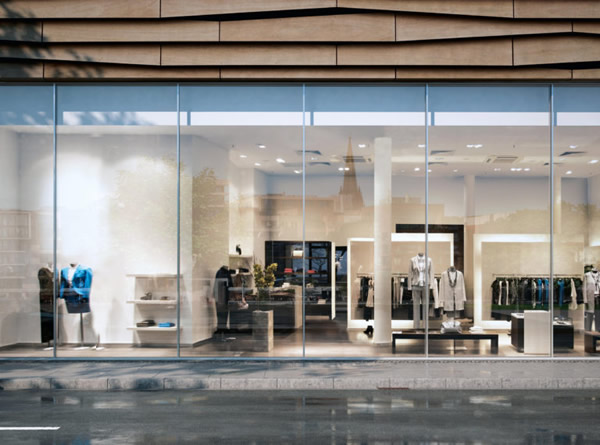 When looking at structural glass you have even greater freedom with your glass specification. As you do not have to create glass units to a certain weight restriction or depth you are free to include entirely bespoke glass units into the façade with little consequence to the design of the glass elevation details.
This means that you can use multiple laminated layers of glass, triple glazing, electrical glass and decorative glass all within one pane of glazing if you wanted. Most projects obviously wouldn't do this but the freedom gained by removing the parameters of a façade system allows designers to be a lot more creative with their façade design.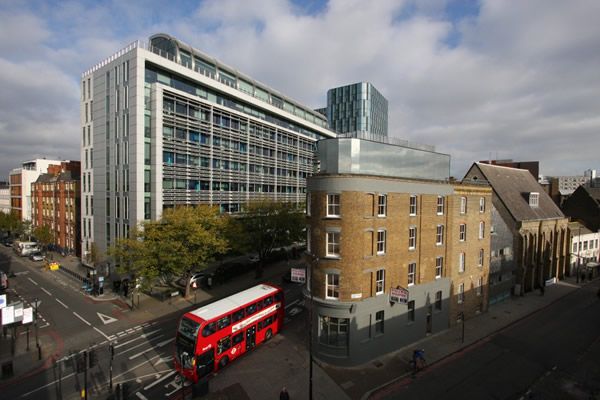 Shaped or Unusual Designs
Structural glass has many design benefits but when it comes to bespoke or unusual glass façade designs it really outshines the alternative options.
As there are no framing systems involved with the creation of a structural glass façade you can engineer a structural glass wall to any specification you need.
This could include simple alterations like angled facades or shaped units to more complex 3D structures, curves and specialist performance criteria.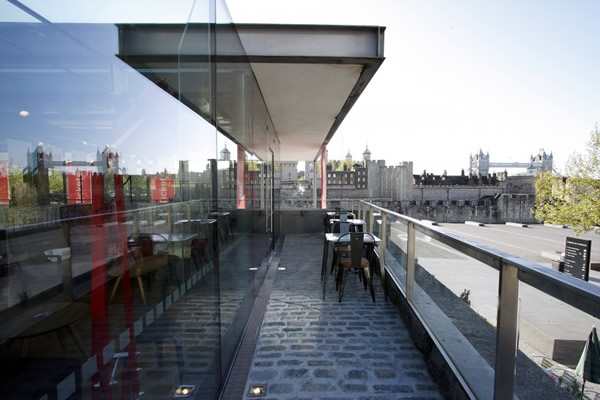 Some façade systems will allow some variation on the design for a more bespoke finish and this may include the ability to create shaped or angled glass installations.
For instance, the Glass Façade with Concealed Vents from IQ allows you to create glass to glass corner connections with no frame at the meeting junction. However, it is much easier to create bespoke designs using a structural glass installation.
This may be of special importance in a listed building. Structural glass can be easily detailed and designed to be in keeping with all the requirements from English Heritage or the local authority.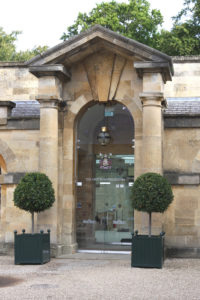 Further Reading: How to Add a Glass Extension to a Listed Home
Want to Extend or Renovate a Historic or Listed Building?
Glazing for Historic Buildings
Cost
As there is so much choice available for a structural glass installationthe costs can vary dramatically.
Obviously, if you are using very large glass units or glass that has to be sourced from overseas, specialist electrical glass finishes or many layers of glass the cost of the glass package will increase.
However, when looking at a structural glass facade you should normally look to budget for at least £1000 per m2.
The costs of a slim façade system will change depending on the system you choose. As an example the Slim Façade System from IQ starts at £750 per m2, whereas their Slim Façade with Concealed Vents starts at £850 per m2.