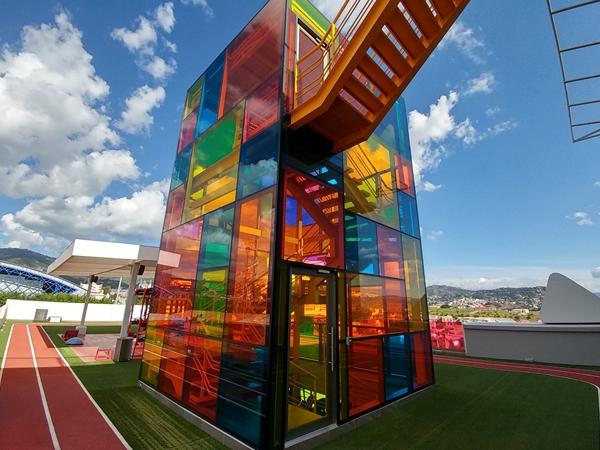 All projects will be judged by this international jury of renowned industry professionals representing the architectural and design industries
The jury is in! Eastman Chemical Company, manufacturer of the Vanceva® Color Interlayer System for laminated glass, announced today the five jury members for its international design recognition program, 2020 Vanceva World of Color Awards™, which is inspired by the liberal use of Vanceva Color Interlayer System in both exterior and interior architecture and design. All projects will be judged by this international jury of renowned industry professionals representing the architectural and design industries. 
The Vanceva World of Color Awards is a worldwide competition designed to honor architects, interior designers, glass fabricators, furniture designers, glazing contractors, engineers and other industry professionals for their innovative use of colored laminated safety glass in building design and interior spaces. Preliminary entries can be submitted from November 12th, 2019 to February 29th, 2020 at 11:59 p.m. CST and all entries can be uploaded at vanceva.com/woca. 
ABOUT THE 2020 JURY
Ammar Al Assam, Chief Executive Officer, Dewan Architects & Engineers
Since joining Dewan in 2003, Ammar has led the firm in developing and implementing a strategic, regional multi-disciplinary and multi-market growth plan. In the past nine years, Dewan has set up regional offices in Saudi, Iraq, Philippines, and Vietnam to focus A&E operations in the Gulf, the Levant, North Africa, and South East Asia. With an emphasis on the growing importance of environmental consciousness, Ammar has helped steer Dewan to the forefront of designing high-performance, sustainable, and environmentally friendly buildings that receive LEED and ESTIDAMA certification without compromising on functionality or the high aesthetics for which regional clients strive. Ammar received both his Master in Business Administration and his Bachelor in Civil Engineering from McGill University, Montreal, Canada.
Thomas Bögl, Partner and Director Architect, LIAG architecten en bouwadviseurs
With LIAG since 2009, Bögl's focus has been to integrate sustainability into all aspects of a project, creating both user-friendly design and healthy environments. A prime example of this harmonious design concept is the elevated rainbow glass bridge connecting Princess Máxima Center for Pediatric Oncology with Wilhelmina Children's Hospital. This project, under Bögl's direction, was the exterior winner of the
2018 Vanceva® World of Color Awards™. Along with training to be an architect, Bögl has a Masters education in advanced and environmental studies from the University of East London and has also completed studies in Building Biology and Cradle-to-Cradle Design in Germany.
Paul Eis, Architectural Photographer, www.paul-eis.com
An aspiring architect and world-renown architectural photographer, Eis is building a career on photographing buildings all over the world, then digitally coloririzing their facades. His artistic intent is to demonstrate how the use of color effects on primarily grey, modern buildings can elicit inspiration and appreciation for joyful architecture. His last project was well-received by the media and has been published worldwide in such publications as Dezeen, Archinect, ArchDaily, Business Insider, and more. Currently, Eis is living and studying architecture at the University of Art and Industrial Designe in Linz, Austria.
Kateri Knapp, Senior Façade Engineer, Arup
Knapp joined Arup in June, 2015 and recently served as a Visiting Assistant Professor at the Pratt Institute from January, 2017 to May, 2018. As part of Arup's Façade Engineering and Building Physics team, Knapp concentrates on the design and engineering of building envelope systems. Knapp's responsibilities include thermal and structural analysis, detailing and design, condensation mitigation, performance mock-up testing, as well as factory and site inspections. Knapp received both her Master of Science in Architectural Science / Built Ecologies and Bachelor of Architecture in Architecture / Sustainability Studies from Rensselaer Polytechnic Institute.
Benjamin Wright, Artistic Director, Pilchuck Glass School 
Wright is the new Artistic Director of Pilchuck Glass School, an international center for glass art education in Stanwood, Washington, USA. While Director of Education at Urban Glass in Brooklyn, New York, Wright expanded the team and program to produce more than 300 events and workshops annually. He has taught at numerous U.S. art schools, as well as abroad in Germany, Turkey, Denmark, Japan, Belgium, Poland, and Australia. Additionally, he has produced exhibitions at the Museum of American Glass, Islip Art Museum, and Urban Glass. Wright has a BS in Evolutionary Biology from Dartmouth College, a BFA in Glass from the Appalachian Center for Crafts, and an MFA from Rhode Island School of Design.
"This year's winners of the Vanceva World of Color Awards will be determined by a varied group of professionals looking at each project through their own creative lens and experience," says Priya Kalsi, Global Market Segment Manager – Advanced Interlayers for the Vanceva Color Interlayer System. "This jury, as well as juries past, are experts in the artistic use of glass and bring their own unique perspectives to what makes an architectural project or design standout."
 The Vanceva Color Interlayer System offers architects and designers unparalleled creative freedom to incorporate color into glass and glazing systems using tinted interlayers, which are laminated between two pieces of glass. A palette of 16 colors can be combined in up to four layers to produce more than 17,000 transparent, translucent and solid glass colors. This gives designers unmatched flexibility to create custom colors and one-of-a-kind aesthetics. Vanceva color interlayers also offer all the benefits of polyvinyl butyral (PVB) interlayers for laminated safety glass, including security, solar control, sound insulation and UV protection.
The Vanceva World of Color Awards competition is an international recognition program open to all industry professionals. All entries must include liberal use of Vanceva color interlayer products, including Vanceva Colors, Earth Tones and the White Collection.
 Eastman Saflex® and Vanceva® brand PVB interlayers are the most trusted name in PVB interlayer technology for laminated glazing, delivering outstanding performance and durability, backed by reliable and knowledgeable service. As a result, Eastman interlayers are found in nearly 40 percent of laminated architectural and automotive glass worldwide. 
# # #
Notes to Editor:
Saflex®, Vanceva®, and all other trademarks listed above are trademarks of Eastman and/or its affiliates. 
Eastman is a global specialty materials company that produces a broad range of products found in items people use every day. With the purpose of enhancing the quality of life in a material way, Eastman works with customers to deliver innovative products and solutions while maintaining a commitment to safety and sustainability. The company's innovation-driven growth model takes advantage of world-class technology platforms, deep customer engagement, and differentiated application development to grow its leading positions in attractive end-markets such as transportation, building and construction, and consumables. As a globally inclusive and diverse company, Eastman employs approximately 14,500 people around the world and serves customers in more than 100 countries. The company had 2018 revenues of approximately $10 billion and is headquartered in Kingsport, Tennessee, USA. For more information, visit www.eastman.com.
Media Contact:           Janet Ryan, +1 314-822-8860 | +1 314-614-7408 | janet@ryan-pr.com
Vanceva_WOCA_2020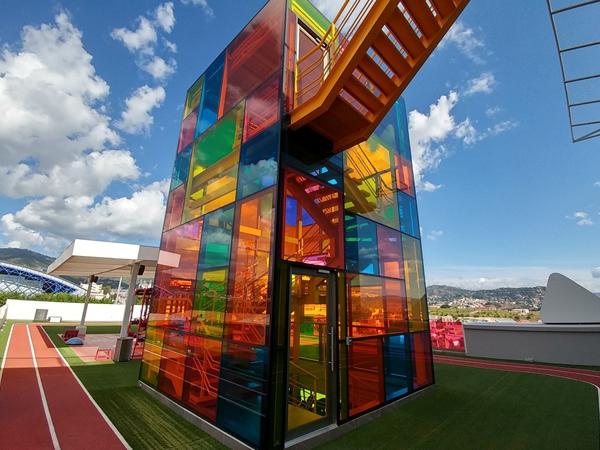 600
450
Eastman
2019-11-18T15:00:00
Vanceva® World of Color Awards™ Announces 2020 Jury
glassonweb.com