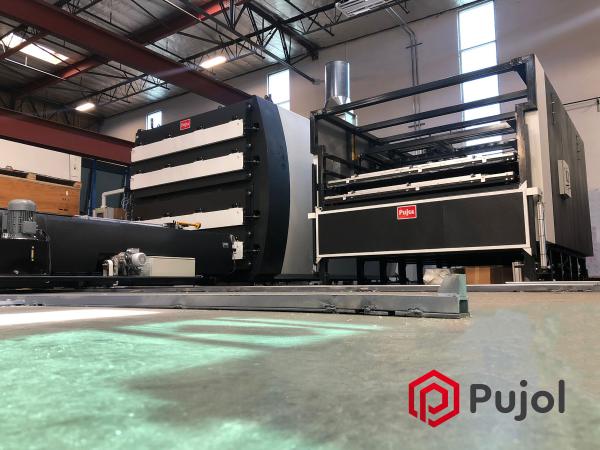 Photo source
Hornos Industriales Pujol
Visitors can meet the team at Stand N1-119 and discover an extensive range of ovens designed for the treatment of laminated glass
Pujol is an expert group in laminated glass with a 360-degree strategy, including machinery, EVA for architectural use, and other consumables. They will be participating in a major industry event in Asia, showcasing their products and services to leading companies in the glass sector.
At Stand N1-119 it will be possible to discover the extensive range of ovens for the treatment of laminated glass, such as the successful PUJOL 100 PBV+, an oven developed and designed to help customers work with PVB/EVA/ionoplast interlayers (SGP) layers without the need for a climate-controlled room, additional fixed operating costs, expensive calendering processes, or inefficient heating/air conditioning systems for humidity and temperature control.
The company will also be showcasing the new TEMPER FLEX glass tempering oven, which is the result of Pujol's recent acquisition of the glass division of the Italian company Teknokilns. This acquisition has enabled Pujol to expand its portfolio and establish a strong presence in the tempered glass sector. The new TEMPER FLEX oven range offers outstanding performance and is equipped with several innovative technological solutions. These ovens are fully suitable for layer and selective glass tempering with low emissivity. Notably, all models feature low energy consumption (kw/m2) in all processed products, high final optical quality due to low planimetry distortion, great flexibility and adaptability of operation, low maintenance, and low installed power necessary for commissioning.
At the Pujol Stand, there will also be a range from EVALAM, the world leader specializing in EVA manufacturing for architectural use, such as:
EVALAM VISUAL a film developed for lamination experts looking for a product with high added value. Its excellent and incomparable transparency, high adhesive strength, superb acoustic insulation performance, and crosslinking index like no other on the market make it the perfect product. These characteristics make Evalam Visual the ideal lamination solution for areas where optics and durability are essential requirements.
EVALAM N-FLUENT a product designed to minimize the overall costs of the post-lamination process. Its innovative formula prevents product fluidity and saves time and costs in edge cleaning. This in turn translates into direct benefits for the processor.
EVALAM COLOR a product developed for temperatures in the 120ºC range without causing changes in color near the edges, ensuring greater durability of the color over time, has a range of 5 colors that meet European 12543-4:2011 standards for outdoor installation. Evalam comes in the following colours: white, super white, matte, acid white, and black.
600
450
Hornos Industriales Pujol
2023-05-05T11:02:00
Pujol will be at China Glass 2023 from May 6th to 9th
glassonweb.com