Photo source
www.saflex.com
Saflex.com has a whole new look!
Designing innovative and high performing glazing is made simple and easy with the launch of a new Saflex website from Eastman Chemical Company, manufacturer of Saflex® PVB Interlayers.
The completely redesigned website dedicated solely to Saflex architectural applications allows users to explore the expanding world of laminated glass solutions with new tools and a gallery of inspirational ideas.
Visitors can still find the website at www.saflex.com, however the design has a whole new look and feel, making it more appealing to architects, engineers, glaziers, and interior design professionals. The home page is more intuitive and has search capabilities that can be filtered by desired product performance and end-use applications. The home page also invites users to submit their projects for publication in the Saflex project gallery. 
When designing with Saflex products, users will find quick access to educational training, product brochures, design guides, and technical data, as well as a stunning project gallery that features work by top architects throughout the globe. Architects and designers will also have access to unique design tools such as Structural® Pro and the Vanceva® Color Selector.
About Saflex 
For more than 80 years, glass fabricators, architects, and automotive engineers have counted on Saflex for high quality products, reliable service, and expert advice to help deliver world-class technology for laminated glass. That's why customers across the world consider Saflex more than just a supplier of PVB (polyvinyl butyral)—rather a trusted partner that finds solutions to stringent design requirements as it relates to laminated glass. To learn more about the Saflex product portfolio or project design support, visit www.saflex.com.
 
# # # 
Saflex®, Vanceva® and all other trademarks listed below are trademarks of Eastman and/or its affiliates.  
About Eastman Chemical Company 
Eastman is a global advanced materials and specialty additives company that produces a broad range of products found in items people use every day. With a portfolio of specialty businesses, Eastman works with customers to deliver innovative products and solutions while maintaining a commitment to safety and sustainability.
Its market-driven approaches take advantage of world-class technology platforms and leading positions in attractive end-markets such as transportation, building and construction and consumables. Eastman focuses on creating consistent, superior value for all stakeholders.
As a globally diverse company, Eastman serves customers in more than 100 countries and had 2016 revenues of approximately $9.0 billion. The company is headquartered in Kingsport, Tennessee, USA and employs approximately 14,000 people around the world. For more information, visit www.eastman.com. 
Media Contacts:   
Janet Ryan (USA), +1 314-822-8860 | +1 314-614-7408 | janet@ryan-pr.com 
Delphine Kirscht (EU), +32-2746-5129 | ddkirs@eastman.com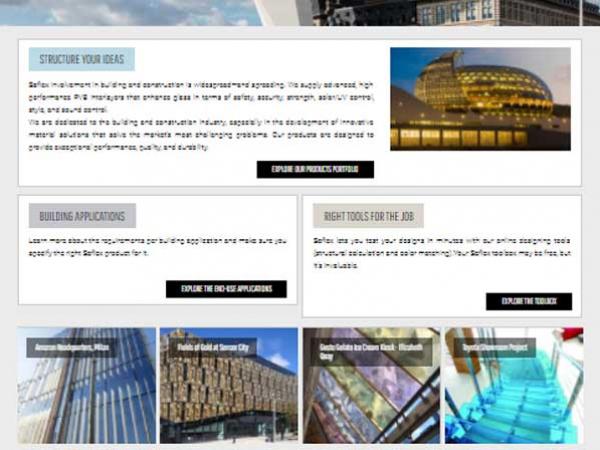 600
450
Eastman
2018-03-19T10:45:00
Have you seen the new Saflex website yet?
glassonweb.com