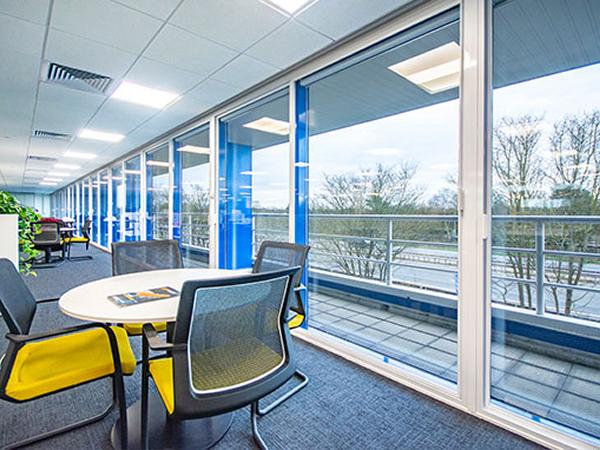 Photo source
www.gsecg.com
FT technologies were experiencing severe noise pollution from speeding traffic on the M3 motorway.
This busy stretch of the M3 can see noise levels exceed 85 decibels, high levels of constant noise can distract employees, and substantially decrease productivity levels. As a result, Granada Glazing was contracted to increase the acoustic insulation of the existing primary windows.
The Specification
Granada Glazing was specified to develop a secondary glazed solution to mute the sound of passing by traffic. The proposed solution needed to blend in seamlessly with the current aesthetic of Sunbury House. To achieve optimum acoustic performance, Granada Glazing designed, manufactured and installed Heritage Hinged Units, Horizontal Sliders and Lift Outs.
Product Design
Sunbury House's reception area showcases large areas of curtain walling several metres high. To treat large areas of glazing, Granada Glazing often couple and stack secondary glazed units with a stacking and coupling support bar. This support bar allows Granada to connect secondary glazed units allowing for total coverage of the existing windows.
Granada's in-house design team composed detailed drawings demonstrating the proposed acoustic solution. To ensure the final installation was safely secured and as discreet as possible, the fixing detail was planned and outlined on the technical CAD drawings.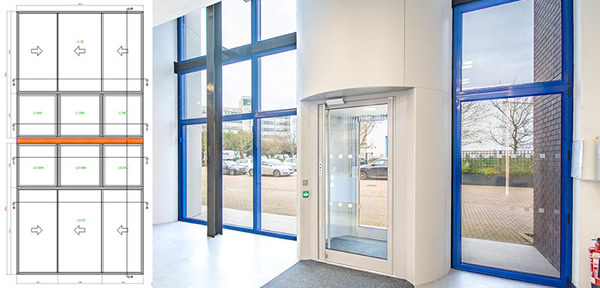 To match the existing sightlines of the primary glazing, Granada recommended installing horizontal sliding units with stacked lift outs. We securely fixed the secondary glazing units to the face of the curtain walling which resulted in a discreet and unobtrusive installation.
Granada's onsite powder coating facility is capable of matching any RAL colour and finish. The secondary glazing units and window hardware was powder coated in RAL 5010, this was selected as an exact colour match with the primary glazing.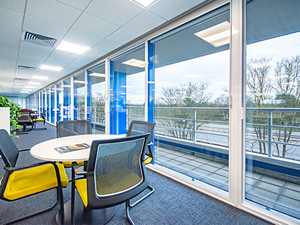 The rear façade overlooks the M3 motorway and is subject to large amounts of noise pollution. To combat severe noise pollution, multiple horizontal sliding secondary glazed units were coupled together to complement the original ribbon glazing.
To offer optimum acoustic performance, Granada Glazing designed a coupling detail. This coupling detail allowed the secondary glazed units to be used in conjunction with each other and appear to be invisible from the exterior of the building.
Products Installed:
Hinged Unit – With one pane of glass hinged units offer an unobtrusive view and are a popular choice to be installed in conjunction with doors and large windows.
Horizontal Sliders – Often installed where access to the primary window is essential. The panels slide within the frame and can be individually lifted out to give full access for cleaning and general maintenance.
Lift Out – Lift outs provide one of our most cost-effective solutions – ideal for when limited access is required.
Glass Specification
Recommended for installation was 6.4mm acoustic laminated glass, this type of glass decreases noise levels and performs exceptionally well at reducing noise from cars and heavy goods vehicles. Laminated glass is a safety and security glass, it is made from a 0.4mm PVB layer (Polyvinyl Butyral) that is sandwiched between two 3mm panes of glass.
The PVB layer is designed to absorb low-frequency noise emitted by vehicles where the individual 3mm glass panes are designed to reflect sound. This glass specification and Granada's durable aluminium frames are capable of decreasing noise levels by as much as 80% which is the equivalent of 54 decibels.
Project Outcome
In total 118 secondary glazed units in multiple styles were designed, manufactured and installed by Granada Glazing. The acoustic installation drastically reduced the noise levels that FT technologies were experiencing; other benefits included increased security and a substantial decrease in heat loss.
This installation was to initially increase the acoustic performance of the fenestration however FT technologies noted an improved environmental performance, this was given as the secondary glazing offered an extra layer of insulation. This extra layer of insulation decreased heat loss through the windows and reduced the overall running costs of the building.
Robert Walton, Granada Glazing's Business Development Manager, notes "The specification of secondary glazing has hugely grown in popularity due to the acoustic and thermal performance offered. We work very closely with architects and contractors to ensure the design and performance criteria are not only met but exceeded. The noise specification outlined for this project was challenging, in part, this was due to the building's proximity to the M3 motorway and the large glazing areas that needed to be treated. We were delighted with the acoustic performance and design aesthetic given by the secondary glazing."
Granada gazing support all sectors and building types across the whole of the UK. All products are manufactured in-house where Granada can ensure that projects are delivered on time, within budget and to the highest quality.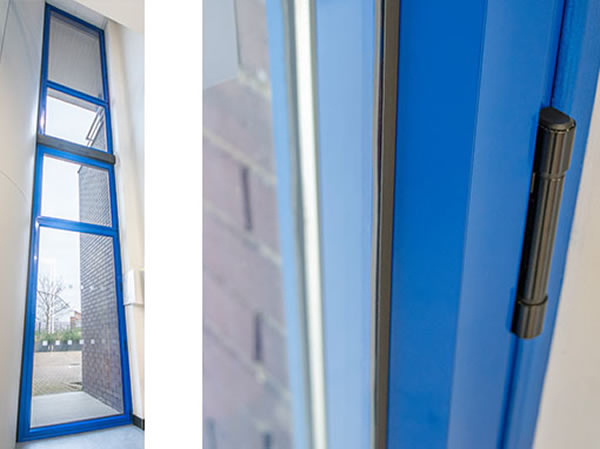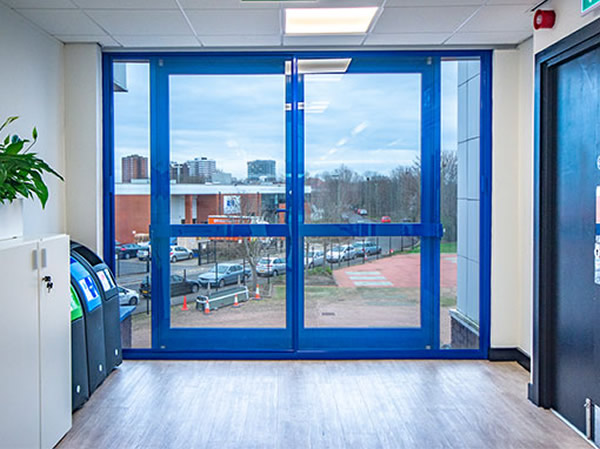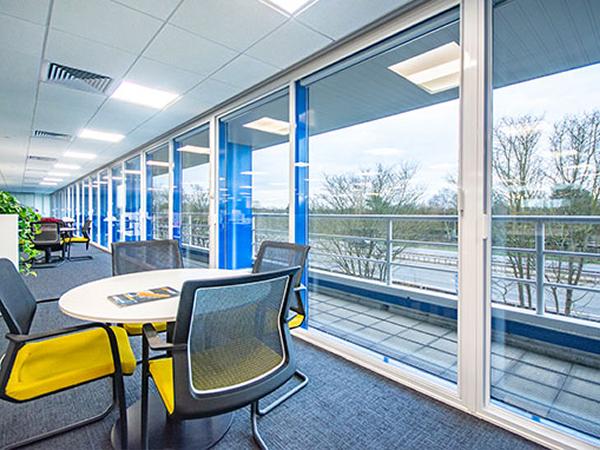 600
450
www.gsecg.com
2019-05-02T08:30:00
FT Technologies Acoustic Insulation – London
glassonweb.com