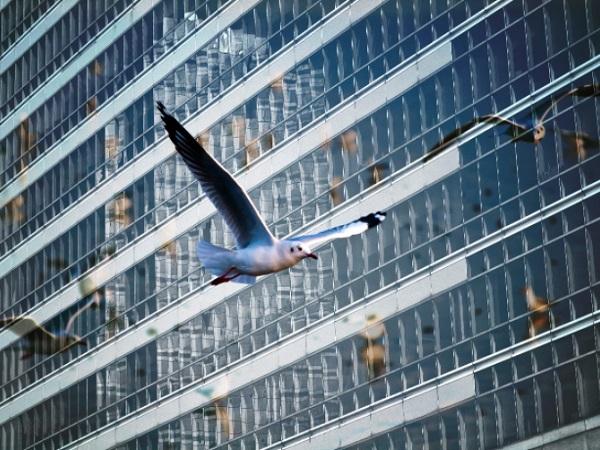 Photo source
©Shutterstock
Get to know more of the Bird protection Glass by SAINT-GOBAIN with the upcoming World Bird Migratory Day!
At the end of this week - as every year, the second Saturday in May, the World Migratory Bird Day ¹ (WMBD 2022) will take place, an annual awareness-raising campaign highlighting the need for the conservation of migratory birds and their habitats.  
One might wonder what the glass industry has to say on this subject; far from being the first reason for bird mortality, glass facades nevertheless remain a trap for birds.  According to the American Bird Conservancy (ABC) "each year up to 1 billion birds die after hitting glass surfaces in the United States" ². 
The reasons why birds hit windows and glass facades are diverse - not to say that a sparrow has a different perception of glass than a pigeon. In general, there are two, seemingly contradicting reasons why birds may collide with glass but that are unique to the material in itself: reflectivity and transparency.  All glass, of course, reflect the (natural) surroundings of their buildings - from the sky with its clouds down to bushes and trees in nearby streets or parks - which obviously presents to birds the continuity of their local habitat with "safe routes, shelter, and possible food ahead" ³. Likewise, the same perception may occur to birds if for them the glass seems to be transparent - especially corner glazings, skywalks or glass walls are known threats to birds. 
When at SAINT-GOBAIN we announce that we want to MAKE THE WORLD A BETTER HOME, we speak for all those who live on this planet, whether they walk, crawl, swim or fly. It is our duty to consider this subject and propose solutions. Especially as solutions exist to make glass "visible" to birds.  
Indeed, experts have issued rules on the design, level of reflection or intensity of the patterns, which have been tested and are today widely recognized. These "recommendations" have been lately included regulations at local or national level in Europe as in North America, or in voluntary labels such as LEED for green building certification.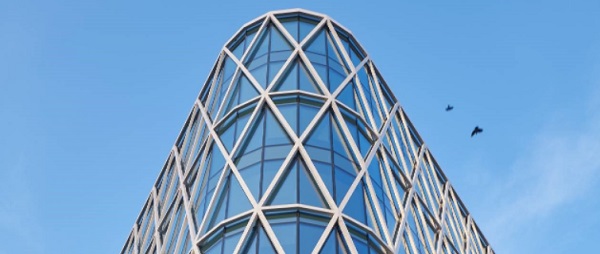 With the 4BIRD® product family, SAINT-GOBAIN GLASS offers a range of solar control glass with a special focus on an effective bird protection, offering both sustainable solutions for the preservation of the biodiversity and a wiser energy consumption of building, while keeping a homogeneous and neutral external aesthetic.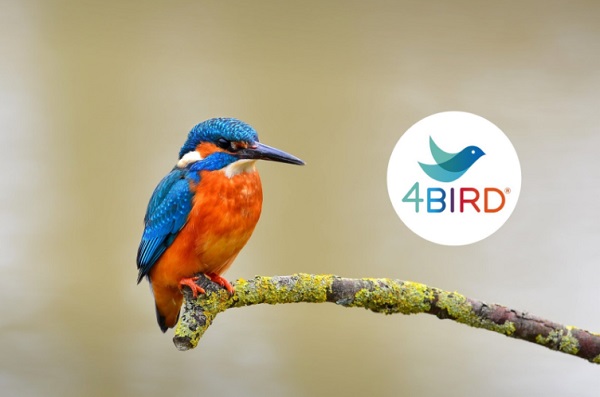 Often, solutions proposed for bird protection have been shun, due to budget or aesthetic reasons. Options offer to manufacturer was poor, and what's available was too expensive. Beside new legislation and public awareness, it takes also cost-effective and good solutions from the glass industry to fix this. 
4BIRD® products are combined with SAINT-GOBAIN's COOL-LITE® XTREME and SKN solar control coated glass, offering thus all benefits related to this product family regarding aesthetic (low external reflection and colour-neutral external appearance), visual comfort (neutrality and transparence for maximum of natural daylight) and indoor comfort (Highly efficient, optimal at all time, sun protection and excellent insulation). 
4BIRD®Frit is a series of specifically screen-printed pattern on #1, #2 or #3 together with selected annealed or to be tempered COOL-LITE® solar control coatings on #2 (respectively #4 of laminated glass) or #3 by SAINT-GOBAIN GLASS depending on the glass composition. With a full range of possibilities, there are solutions available for all projects, dealing with different requested efficiency, aimed aesthetic or targeted budget. The versatility of COOL-LITE® SKN 183 II is opening new opportunities and offers among other simpler and cost-effective compositions.
4BIRD®Etch is a series of specifically acid-etched pattern on #1 by our partner SEVASA S.A. together with selected to-be-tempered COOL-LITE® coatings protected with EASYPRO® on #2 by SAINT-GOBAIN GLASS. Thanks to EASYPRO® unique protective layer, both etched pattern and COOL-LITE® solar control coatings are on one single glass, thus avoiding complex composition and saving cost and weight.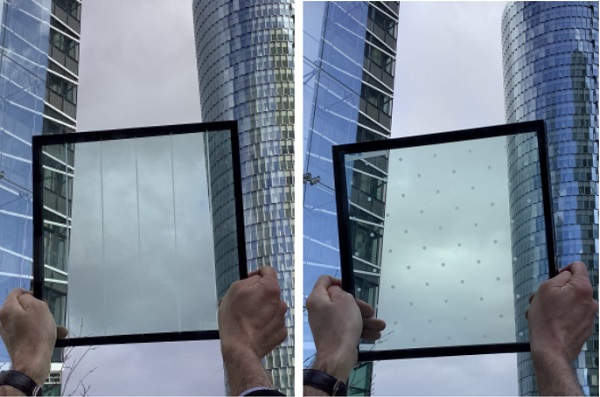 The proposed designs meet the recognized 2x2"and 2x4"rules and tighter mandatory or voluntary regulations like LEED Pilot Credit #55: Bird Collision Deterrence; American Bird Conservancy (ABC) has evaluated several 4BIRD®Frit and 4BIRD®Etch configurations and found that they satisfied ABC's criterion for bird-friendly glass. A corresponding Material Threat Factor (TF) has been given.  
To learn more about this product go to https://www.saint-gobain-glass.com/products/4birdr 
 All details are given dedicated datasheet for each 4BIRD® series: 4BIRD®Frit and 4BIRD®Etch and for any question:  

¹https://www.worldmigratorybirdday.org/ 
²abcbirds.org/glass-collisions/why-birds-hit-glass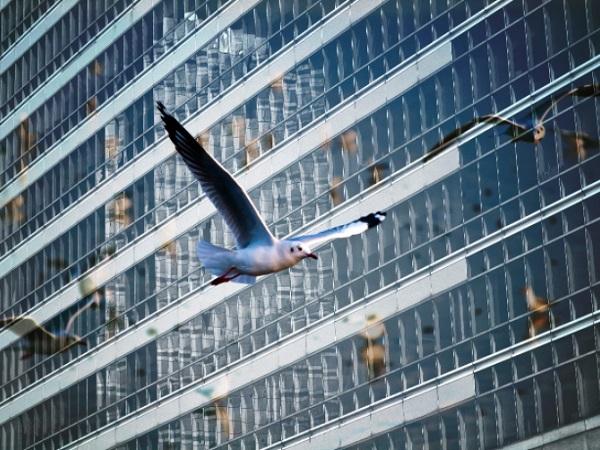 600
450
www.saint-gobain-glass.com
2022-05-11T07:00:00
4BIRD® Effective Bird Protection in Glass Architecture
glassonweb.com