Our new Trosifol® Structural product Translucent White SentryGlas® TW ionoplast interlayer has played a key role in the design of the exterior glass façade and interior entrance tunnel ceiling of the recently-opened, award-winning College Football Hall of Fame and Chick-fil-A Fan Experience in Atlanta, Georgia, USA.
Designed by architects tvsdesign and constructed by Brasfield & Gorrie LLC, the College Football Hall of Fame is a three-storey, 8,733 m2 (94,000 square feet) hall of fame and museum devoted to college football.
Opened in August 2014, the attraction is designed to entertain and educate visitors of all ages.
The building features historic and contemporary artefacts, interactive multimedia displays, children's activities, meeting facilities, a theatre, a 41 m (45-yard) indoor turf field for interactive play and special events, as well as street-level retail and restaurant space.
In homage to the sport, part of the attraction's external façade features a rotunda that looks rather like a football standing on its end. The rotunda sits atop the entrance and in front of the lobby, providing views into and out of the Hall.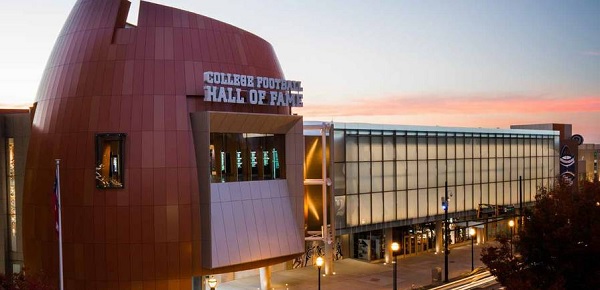 Justin Hughes, Senior Associate at tvsdesign comments:
"As the College Football Hall of Fame is located adjacent to Atlanta's Centennial Olympic Park and in close proximity to several other high profile cultural institutions including the Georgia Aquarium, the World of Coca-Cola, and the newly opened Center for Civil and Human Rights, it was important that the building could function as a museum, whilst also being an architectural icon.
The rotunda and external glass frontage of the building were therefore critical aspects of the overall structure. Although we didn't specify the laminated glass for this project, we did make strong recommendations on how the front of the building should look. We wanted a kind of billboard-look to the façade, but combined with a high quality, sophisticated glass look. We are very happy with the end result."
The Hall's design has already been recognised for its quality and impact on its context. It was recently awarded a 'Best of the Best Merit Award' from the International Interior Design Association's Georgia Chapter, as well as 'Best Design' from Atlanta Business Chronicle's Best in Atlanta Real Estate Awards.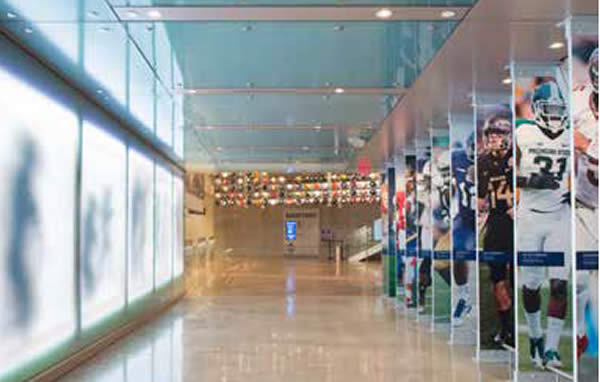 The glazing contractor on the project, Gardner Glass & Glazing, Inc. – a leading US glazing manufacturer and installer – selected SentryGlas® TW interlayer for multiple reasons, including its white colour effects, its impressive strength-to-weight ratio, excellent postbreakage performance (for the entrance tunnel ceiling), and in the case of the exterior glass façade, its high compatibility with the silicone framing system, which is of an open-edged four sided design.
As Randy Denis, President at Gardner Glass & Glazing comments:
"Specifying the use of SentryGlas® TW interlayer was a joint decision between ourselves and the laminator, Oldcastle BuildingEnvelope. The Hall of Fame project had some pretty special requirements in terms of the glazing.
As the building interior features lots of sophisticated LED lighting systems and interactive back-lit displays, the architects wanted the glazing systems to perform multiple roles: to make the LED lighting highly visible when the displays are lit up, but also to have a more muted, reduced glare appearance when these systems are not illuminated. Finding the right glass and interlayer to achieve this dual role was therefore a challenge."

SentryGlas® TW is a laminated safety glass that enables architects to design buildings with safer, lighter structural glass combined with a variety of white colour effects, providing both a pleasing aesthetic effect and a sense of privacy.
The interlayer gives architects mor design freedom due to the translucent white colours, but combined with the technical benefits and structural properties of SentryGlas® i.e. safer, lighter, tougher structural glass solutions.
The interlayer provides excellent edge stability, particularly in minimally supported glass applications such as glass canopies and balustrades.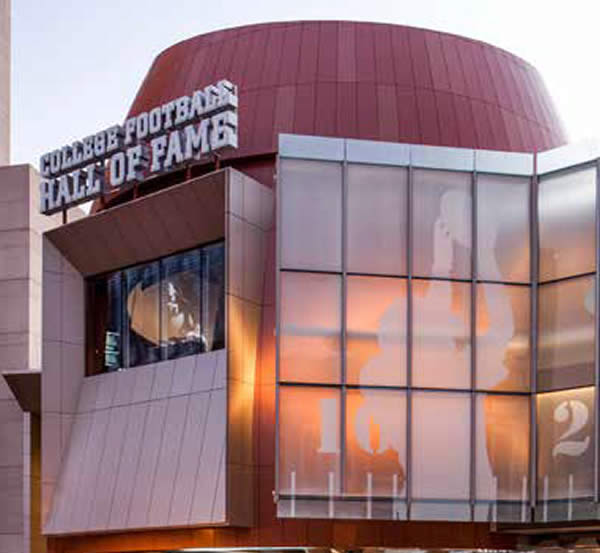 Randy Denis continues: "There were multiple conditions on this project that supported the use of SentryGlas® TW. First, it gave us the white colour effects and light transmittance properties that the architect and building owner desired, but it also provided the strength, stiffness and safety [postbreakage] properties that were also important, particularly for the entrance hall's point-supported overhead glazing. In addition, for the exterior façade, which is cantilevered at the top and bottom, it was critical that the laminated glass was compatible with the silicone framing system. Again, SentryGlas® TW scored very highly here. As the design of the building evolved, it became clear to us and the laminator that SentryGlas® TW was the most suitable laminated glass."

Available to laminators on roll, SentryGlas® TW interlayer can be stacked to achieve different visible light transmission properties, giving designers more freedom.
For example, a 65% visible transmittance (Tvis) is achieved by stacking two plies of 0.80 mm (31 mil) thickness interlayer together during the lamination process.
The result is an approximate overall interlayer thickness of 1.52 mm (60 mil). A higher Tvis of 80% can be achieved by stacking one ply of white and one ply of clear SentryGlas® N-UV ionoplast interlayers.
For the College Football Hall of Fame, two types of glass makeup were used. The first was approx. 14.3 mm (9/16") thickness glazing comprising of two layers: 6 mm (¼") HS (Heat Strengthened) glass and two plies of 0.80 mm (31 mil) SentryGlas® TW interlayer with a visible transmittance (Tvis) of 65%. Approximately 93 m2 (1,000 square feet) of this glass type was supplied for the entrance hall ceiling.
An additional 929 m2 (10,000 square feet) of glazing was supplied for the external façade. This approx. 14.3 mm (9/16") thick glazing also comprised of two layers: 6 mm (¼") HS glass, one ply of 0.80 mm (31 mil) SentryGlas® TW interlayer and one ply of 0.89 mm (35 mil) clear SentryGlas® N-UV interlayer. The visible transmittance (Tvis) of this laminated glass was 80%.
Lighter façade panels enable more subtle supporting structures
For decades, interlayers made of polyvinyl butyral (PVB) have been the industry standard when producing laminated safety glass.
Architects are well aware of the possibilities and limitations of such glass when used extensively in façade engineering, for roofing and window panels. In contrast, SentryGlas® enables an entirely new approach because the interlayer is over 100 times stiffer and five times stronger than PVB.
As a consequence, there is an almost perfect transmission of load between two laminated sheets of glass, even at high temperatures, leading to the excellent flexural behavior of the glass when under load – also under direct sunlight in high summer.
Accordingly, laminates with SentryGlas® show less than half the rate of deflection when compared to laminates with PVB , when under the same load, and thus almost the same behavior as monolithic glass of the same thickness.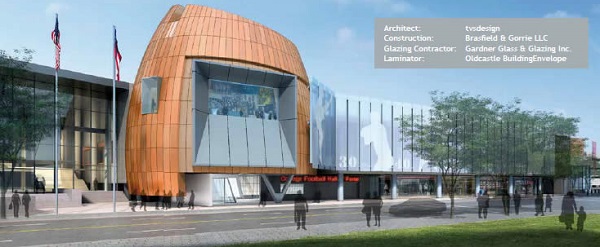 Architect: tvsdesign
Construction: Brasfield & Gorrie LLC
Glazing Contractor: Gardner Glass & Glazing Inc.
Laminator: Oldcastle Building Envelope
Trosifol® is the global leader in PVB and ionoplast interlayers for laminated safety glass in the architectural segment. With the broadest product portfolio Trosifol® offers outstanding solutions:
Structural: Trosifol® Extra Stiff (ES) PVB and SentryGlas® ionoplast interlayer
Acoustic: Trosifol® SC Monolayer and Multilayer for sound insulation
UV Control: from full UV protection to natural UV transmission
UltraClear: Lowest Yellowness Index in industry
Decorative & Design: opaque black & white, colored & printed interlayers
For further products of the Kuraray Group, please visit www.kuraray.com.
You can find further information on our Trosifol® products at www.trosifol.com.