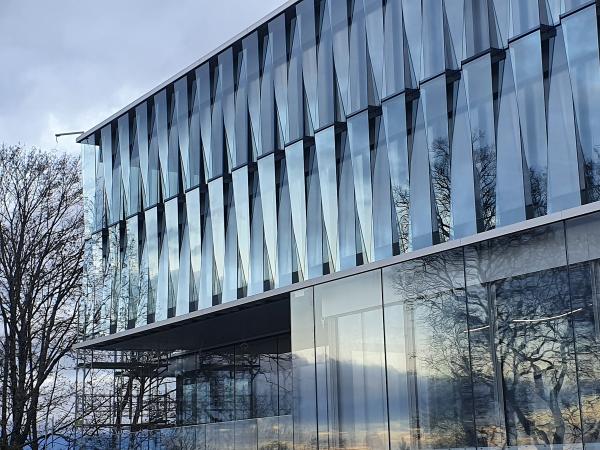 Reducing carbon emissions through the construction of Net Zero Energy Buildings (NZEB) is a global objective. Tvitec triple glazing is the high-performance glass industry's major contribution to this environmental goal.
The six architectural projects we're going to look at below are examples of this trend from around the world. The use of triple glazing is crucial for perfect insulation and energy saving in single building construction.
1. MacKimmie Tower. Canada's largest Net Zero Carbon building
This tower sits at the centre of the University of Calgary's library complex. Its design, by the Dialog Architects studio, has rendered the building 85% more energy efficient than the original. As a result, it is the first in Canada to receive Zero Carbon Building certification. Tvitec supplied over 5,000 metres of triple glazing for its client Ferguson Corporation. The units were tempered and heat-strengthened for maximum safety and security and incorporate Guardian Climaguard high-performance coatings. It also stands out for the unique shapes of its façades. Tvitec continues to manufacture triple glazing insulation for the ongoing expansion of this superproject.
2.Ecavenir. Switzerland leads the way in the use of triple glazing
Because of both their climatic conditions and environmental awareness, many projects in Switzerland rely heavily on triple glazing to complete buildings such as the ECA Lausanne headquarters. The offices of the Vaud canton fire insurance consortium include geothermal heating, breathable façades, and solar panels on the roof. Over 3,500 metres of Tvitec triple glazing clad this space designed by Architram Architecture et Urbanisme. Sottas was in charge of installing the façade, where the tempered and laminated glass combine Low Iron and AGC's IPlus Top 1.1 solar control layer. Natural light, solar absorption and high insulation.
4. One Post Office Square. Boston's game-changing office tower
With its refurbishment now near completion, the One Post Office is already attracting attention in Boston for its elegant aesthetics and its eco-efficient and sustainable design. Tvitec manufactured nearly 30,000 metres of architectural glass for the façade specialists Benson. Most of it was triple glazed, tempered and heat-strengthened, and coated with Guardian HP Neutral and HP Silver 43/31 coatings. Tvitec also incorporated screen printing into much of the project. The floor-to-ceiling glass, following the design of the Gensler architecture studio, is attracting major firms who, because of its comfort and energy efficiency, want to establish their workplaces in this centrally located skyscraper, which will boast the highest LEED environmental certification available.
 4. Infinity. Integral insulation in the Grand Duchy
Tvitec supplied a large volume of triple glazed units for the Infinity complex office centre, located in the centre of Luxembourg. Tempered and laminated glass units that also feature acoustic Pvb. In addition to the thermal insulation of triple glazing, the building project is set with maximum security and almost complete noise mitigation. Tvitec supplied its top-grade insulating glass for the Italian façade specialist AZA, with part of the building project completed by the firm Kyotec. Infinity's design is the work of the Arquitectonica + M3 Architects studio. The use of quality materials, systems and highly sustainable networks have earned this residential, commercial and office complex a BREEAM Excellent rating.
5. Grand Morillon. Kengo Kuma's complete student residence
In Geneva, Kengo Kuma has designed a student residence that's state-of-the-art in every sense of the word. The prestigious Graduate Institute opted for a concept that is simple in design but complex in execution. A metal façade with large shutters surrounds the 700 rooms and multitude of communal spaces of the residence. Tvitec's triple glazing for the façade specialist Sottas allows maximum natural light to enter the building and full indoor climate control, especially in winter. Tvitec supplied around a thousand metres of glass for the project. Half of this was triple-glazed, tempered and laminated with a unique solar control coating from Glastroesch – Combi Neutral 61/32 with Low Iron. Laminates were also produced for large areas of balustrades.
6. Haren Prison. Bullet-proof glass replacing bars and maximum eco-efficiency
Haren prison in Belgium will soon be welcoming its first inmates, who'll get to experience an alternative prison concept. Glass replaces bars on the outside of the cells. But it's not just any glass – it's BR6-certified tempered and laminated glass, resistant to repeated and close-range impacts from assault rifles. Tvitec's bullet-proof glass is incorporated into the triple glazing supplied for Spanish façade specialists Proinller and Ferga, who have been working for the construction company FCC. Tvitec manufactured almost 4,000 metres of these insulating glass units with truly impressive thickness. The sustainable glass is coupled with systems such as geothermal storage that will cool or heat the entire prison complex.
Better with triple glazing
Triple glazing offers numerous advantages, the most significant one being – not surprisingly – its outstanding thermal performance. In some regions, it may be worthwhile to install triple glazing in order to reduce heat loss and increase the temperature of the inside panes. In general, triple-glazed windows improve comfort, reduce condensation and minimize noise. Its temperature coefficient of resistance (R-value) is indeed much higher than double glazing. This explains in part why triple-glazed products can be up to 50% more efficient than double-glazed. Triple glazing is also very heavy, which requires strong window profiles, specially designed to support the weight. If not, the lifespan of the window could be reduced.
1. Can reduce heat loss in your house which can lower your energy bills.
2. More efficient at heat retention than double glazing, making your space feel warmer.
3. Less prone to condensation build-up between the panes than double glazing.
4.  It is harder to break, making your building more secure.
5. The extra pane of glass blocks out more noise from outside than double glazing.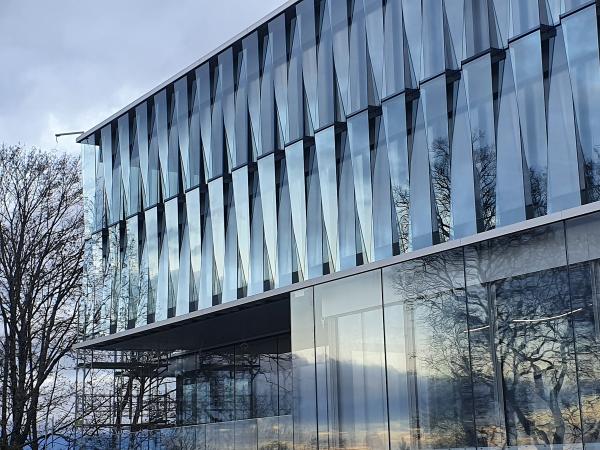 600
450
tvitecglass.com
2021-11-16T11:00:00
Six global footprints of Tvitec's triple glazing for Net Zero buildings
glassonweb.com