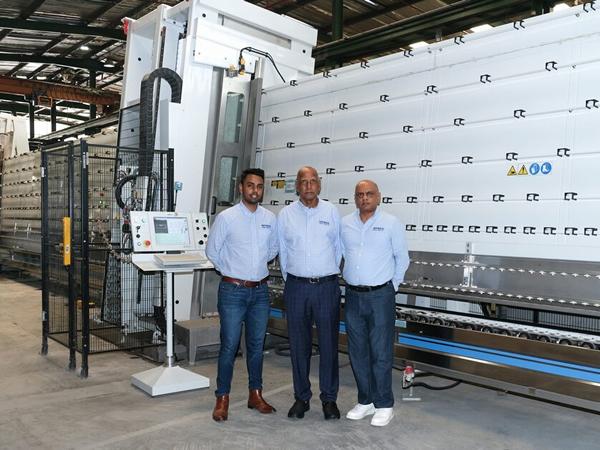 Photo source
www.forelspa.com
A year ago, Hitech Safety Glass invested in a Forel vertical processing line composed of an Edging Machine Art. EM, a Drilling and Milling Machine Art. DM and a Washing Machine Art. VW.
Hitech Safety Glass headquarters are located in Durban, on the east coast of South Africa. The glass company was initially called City Glass. It was established by Mr. Roopnarain Dasarath as a family business 43 years ago. The company sold glass that was cut to size and provided glass installation services.
With patience, hard work and dedication, the family business grew successfully. Mr. Roopnarain Dasarath's son, Ishan Dasarath, has been on his side since the beginning. Ishan introduced an architectural fenestration division in the late 1990s called: City Glass & Aluminium. With the success of the business, the Dasarath family saw a new opportunity in enlarging their activity to include glass processing. In 2004 Hitech Safety Glass Ltd. was established.
Hitech Safety Glass revolutionised the local industry by offering an overnight delivery service and continued this trend by being the first to manufacture double glazed units in its home state of KwaZulu- Natal. The company then expanded to Port Elizabeth, in the Eastern Cape, where it has a fully operational plant.
The company is currently undergoing generational change, with the introduction of Vihaan, Ishan's son, to the family business 4 years ago. A year ago, Hitech Safety Glass invested in a Forel vertical processing line composed of an Edging Machine Art. EM, a Drilling and Milling Machine Art. DM and a Washing Machine Art. VW. 
We took some time to talk to Mr. Vihaan Dasarath, about Hitech Glass's future goals, market trends and obviously, the glass processing machinery.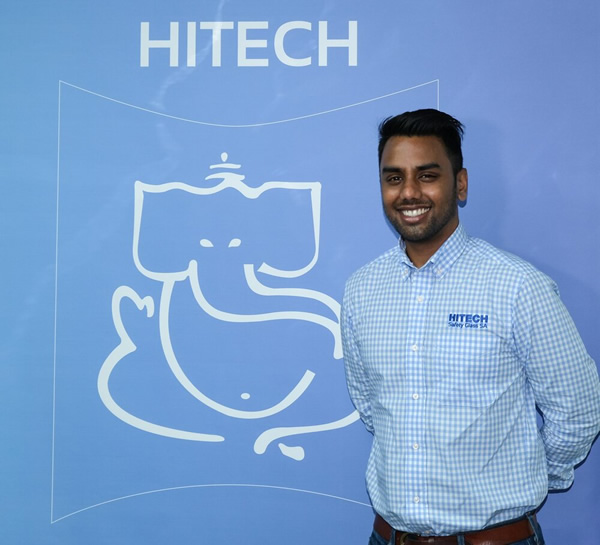 Hitech Glass is a three-generation company and in a few years will celebrate its 50th anniversary. How is business today? How is the cooperation between the previous and the new generation? 
The strength of the previous generations has helped the new generation to embrace the opportunities offered by the 4th Industrial Revolution in order to continue the family philosophy of customer service and quality, in these changing times. The average customer ranges from a retail consumer to architectural aluminium installers, interior decorators, showers and balustrade installers and the refrigeration industry. The strength of Hitech lies in its ability to service a range of customers across the spectrum, a customer that is asking for an always higher quality. Our mission is to be always a competitive supplier, so our efforts are focused in a continuous growth and improvement of our offer, also by investing in more advanced machinery.
Speaking about the investment, Hitech glass invested one year ago in a new vertical processing line by FOREL. What is the target of this investment? Have you reached your goals?
This investment was in line with our strategy to enhance quality and drastically reduce lead times. This significant purchase for Hitech has exceeded expectations and the association with Forel has been nothing short of fantastic. After extensive research, we were drawn to Forel as a manufacturer. While traveling through Canada, we have met the representatives of Forel North America, which provided the opportunity for me to see Forel processing lines in operation at various factories in Toronto. The quality of the machinery was something that attracted me to the brand, but it was the family ethos of the company that convinced me that Forel was the right partner for Hitech. We are two family companies established in almost the same year, grown with a similar passion and dedication to the customers' needs. It was easy to find a common language.
What do you appreciate about FOREL vertical processing line?
The fully automated EM, DM and VW line has essentially combined three departments into one seamless production line. The ability for glass to pass through three different processes with no human contact has drastically reduced reject rates. Add to this the use of sophisticated software which ensures that all drilling and milling is done to exact dimensions. The greatest facet to this line is the simplicity of the user interface, which allows easy connection to Forel's 24-hour service centre in case or fault. 
What do you think about FOREL as a supplier? (technology, service, assistance, ecc.) 
We view Forel as a strategic partner rather than a supplier. Their support from pre to post-sales has been excellent. We're very satisfied with choosing Forel for our machinery.
Covid-19 emergency is changing many aspects of our lives, and our business. In your opinion, how South African market will evolve in the future?
 The South African market has followed the developed world and we believe that this trend will continue for the foreseeable future. The contraction of the world economy caused by the current pandemic will force the consumer to tighten their budgets. This will flow through the chain and developers and builders will have a greater focus on cost-effective products. As an industry, we will have to cut inefficiencies and create synergies to meet the nuanced demand.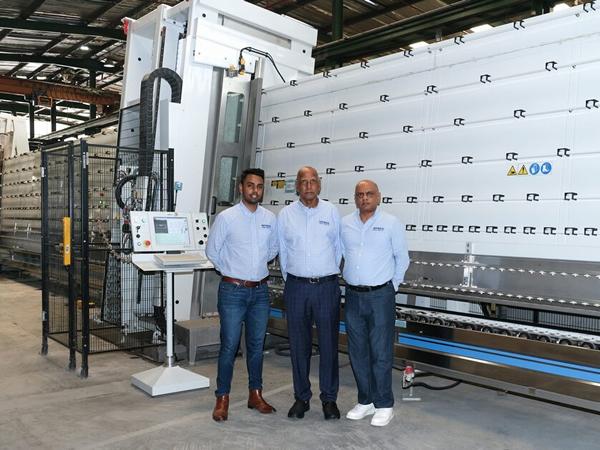 600
450
www.forelspa.com
2020-11-05T09:00:00
Hitech Safety Glass: "We enhance quality using Forel machinery"
glassonweb.com