In relation to HEGLA it is a true showcase of the specialist manufacturers capabilities which brings together engineering excellence and faster output.
Over the last 18 months Clayton Glass has been proactive and reacted positively to the unprecedented times that began when Covid-19 stopped the world in its tracks. The team took decisive action and adapted corporate protocols to ensure that customers could be supported and supplied. 
In order to achieve this the company has had to rely upon the extensive technologies that have been installed at the manufacturing facilities over recent years.  
Clayton Glass epitomises how combined technology can optimise output on a production floor. In relation to HEGLA it is a true showcase of the specialist manufacturers capabilities which brings together engineering excellence and faster output. 
Despite the tough economic times that initially started in March 2020, Clayton Glass had the reassurance of being able to rely upon the performance of the HEGLA machinery to satisfy customer demand, as increases in orders rose. 
Ryan Green, Managing Director at Clayton Glass considers the working relationship with HEGLA more of a partnership which he believes is very important in business. 
Ryan comments, "We have been working in uncharted waters with the pandemic, but business is about working together. Being able to rely upon products such as those from the HEGLA range ensures that we get the very best results time after time and on time. Support I can rely upon is a critical part of our business relationship."
Today, the company operates across four separate sites, and delivers nationally from Scotland to the South Downs and all places in between.
Clayton Glass now produces approximately 6,000 roof units per week as well as 45,000 standard IGUs per week. Being able to maximise the use of glass on HEGLA cutting lines and systems is imperative as glass wastage minimised, which in times of shortage is invaluable.  
Sealed units are now much more technical, and as the industry continues to pick up, many more products are in demand, so faster, flexible, more efficient and robust equipment is required for multi shift operations. 
Quality Support That Can Be Guaranteed
Paul Gibbs, Sales at HEGLA UK comments, "Our customers have been able to rely upon us in what can only be described as some of the darkest of times. Throughout the crisis of the last 15 months, we have been there and stood by our customers to provide solutions and support where it was required.  
Our machinery is technically sophisticated and engineered to the highest standards meaning it lasts and provides many payback features." 
Working in partnership with companies such as Clayton Glass it is important that the HEGLA team can tailor solutions to meet very specific needs. Glass manufacturing is a tough business and to manufacture well it is vital to invest well, according to Ryan Green. 
"You need to constantly evaluate and you also need a lot of expensive kit to produce a well made, low unit priced IGU. However, that expensive and reliable machinery and the back-up supplied by a working partner like HEGLA is critical," he comments.  
HEGLA specialises in cutting and handling with full in-house manufacturing of all products, and guaranteed customer support that allows the team to be flexible when making design plans.
Ryan continues: "We work with HEGLA and discuss what we need and, they are very good at listening and then coming back with a solution. This is where the real partnership aspect comes in. HEGLA is an integral part of our business just as Clayton aims to be part of our customers' businesses - providing them with solutions rather than just components. HEGLA has added real value to this business."
HEGLA created a laser system for Clayton Glass to enable the company to offer all customers branded IGUs if desired. This system can also offer company logo marking and every single IGU is marked and recorded; so, if it should ever need replacing the laser mark denotes the unit's exact size and specification. 
Clayton Glass is certainly ambitious for the future with more investments planned later this year. As an independent company the team will aim to keep evaluating the market and developing new, more dynamic products.  
During the last 12 - 14 months, evaluating business needs as well as the risks, has never been more important for Clayton Glass. Careful restructuring has enabled Clayton to stay strong as an independent glass sealed unit manufacturer through these tough times. 
With products including conservatory roofing SMARTGLASS as well as ECOMAX which is the UK's leading100% biodegradable glass that constitutes the highest levels of recycled glass, have really been milestones. These highlight the capability of the investments made through its technologically superior production methods.
Technically ahead
For Commercial Director Jason McCabe, the sturdiness, reliability and quality standards of the HEGLA machinery is extremely impressive.  
He comments, "Having reliable kit is part of the Jigsaw that has allowed us to deliver an OTIF of at least 99% over a period of many years. That is in large part due to the HEGLA products we have installed here."
Ryan further comments, "We use technology wherever we can to make product selection and ordering as easy as possible for our customers. Our partnership with our customers is equally as important to us, as is our partnership with HEGLA for machinery."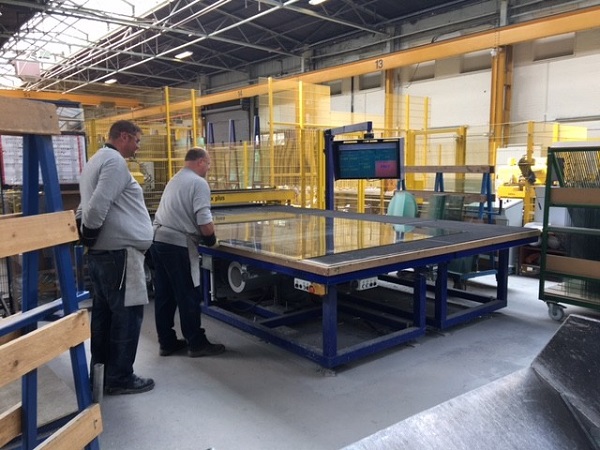 Placing customer needs as paramount is a huge part of the service support from Clayton Glass, with a progressive approach to making life easier for them. This is demonstrated with investments in quality machinery and providing solutions such as managing customer interface with concepts including GlassTrak - the unique, self-service tool that expedites orders, confirmations and PODs. 
All the HEGLA projects began by both teams working together in discussion, followed by CAD design layouts, so that Clayton Glass management could plan ahead for further expansion.
For Paul Gibbs a working partnership perfectly describes HEGLA's relationship with customers. "A partnership is something we try hard to achieve. Upgrading or replacing cutting and loading equipment can be an extremely difficult job - equally service and support is vital. We take a lot of time with our customers discussing dimensions and output prior to installation.
The machinery we provide is technically sophisticated and developed to stand the test of time. We work with customers and discuss what they need. Back up for that is essential. It's a matter of working with the range of talents we have available and growing them alongside our customers. We will always aim to push the boundaries when it comes to service, tailored solutions and consistent quality."
For more information on the HEGLA portfolio please call Paul Gibbs on +44 7802 655214. For details on the range of products available from Clayton Glass visit the website www.claytonglass.co.uk
600
450
HEGLA
2021-07-09T11:00:00
HEGLA and Clayton Glass Working Together To Provide Best Quality Solutions
glassonweb.com