First presented at GPD 2019
Extended abstract (The complete contribution will be published in the Glass Structures & Engineering journal)
The trend towards large glass façades and the urge to reduce the material to a minimum requires further evolution in high performance transparent as well as lightweight structures. Conventional glazings with a comparatively high self-weight are often a limiting factor for slender substructures and connections.
Researchers and engineers search for solutions to achieve transparent lightweight structures combined with high structural performance. Therefore, a combination of plastic and glass to reduce self-weight and to utilize the high durability of glass at the same time, is under development. The novel glass-plastic-composite panels, named NEEROGLAS®, consist of an arrangement of acrylic glass (PMMA) as an interlayer core and cover layers of thin glass (see Fig. 1).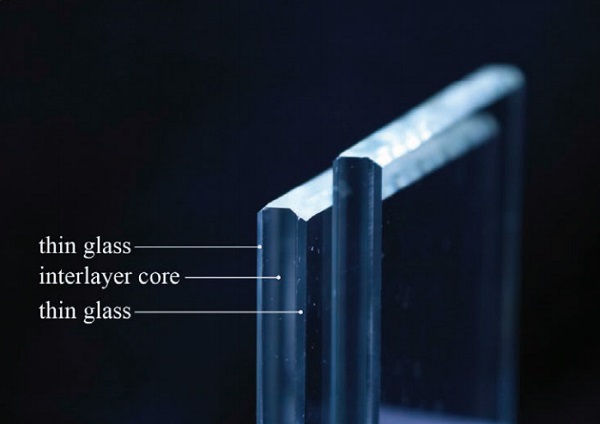 The glass cover layers are connected to the polymer interlayer core with no use of additional adhesives or interlayer films in the chemical manufacturing process, developed and performed by KRD Coatings GmbH. The chemical connection leads to strong adhesion of the glass to the plastic interlayer core. This forms the composite panel that exhibits a highperformance load-bearing behaviour and full transparency at low self-weight.
Hence, NEEROGLAS® offers high potential for the use in lightweight transparent glass constructions for the building industry. An additional advantage compared to conventional glass is the opportunity to form a direct connection of the supporting structure into the plastic interlayer core (see Fig. 2).
In this context, bonded, screwed or inserted variations are under development. These novel construction types will allow for small as well as unremarkable connection details, which leads to the desired maximum transparency in all glass systems.
The first studies, including four-point bending tests according to EN 1288-3, showed a nearly equivalent load-bearing behaviour to monolithic glass panes with the same nominal thickness.
However, the composite loadbearing behaviour is significantly influenced by time- and temperature-dependent stiffness of the plastic interlayer material, as well as the shear connection between the interlayer core and glass cover layers. Hence, an extended experimental study on the load-bearing behaviour of the innovative composite panels was performed.
The full paper presents the new product with possible applications for the building industry in detail and introduces the ongoing development and investigation process for the novel glass-plastic-composite panels.
Furthermore, the test methods and results for conducted short- and long-term loadbearing behaviour tests according to fourpoint bending (EN 1288-3) are described, compared to conventional glass structures and discussed extensively.
This also includes a study on potential material models and analytical simulations to extend the results to large-scale application. In total, this will mark a first comprehensive evaluation of the novel composite panels that leads to a preliminary dataset for further analysis.
The concept and investigation of NEEROGLAS® revealed new transparent structural application possibilities for the building industry by forming a composite structure of two materials. The high structural performance and low selfweight at the same time paves the way for high transparent glass constructions with slender connection details and substructures.