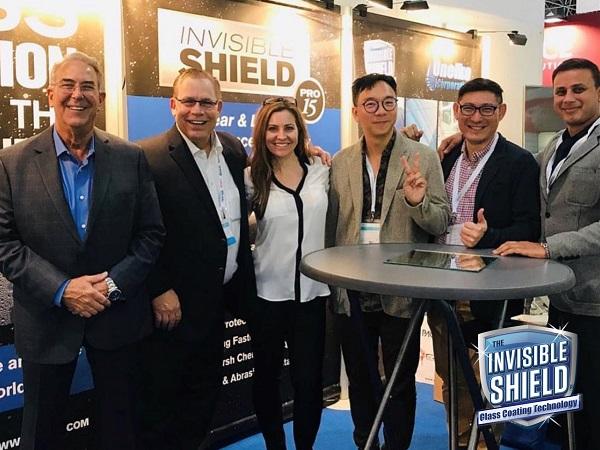 Photo source
Unelko Corporation
Visit Unelko at the upcoming Glasstec - Hall 11, F41
Unelko manufactures innovative cleaners, treatments and protective coatings designed to restore, enhance, preserve, and maintain glass and other hard surfaces. Unelko has mastered monomolecular, nano-scale glass protection that is invisible to the naked eye, increases glass clarity and protects glass against the corrosive effects of the environment, including airborne pollutants and contaminants that are omnipresent in major cities today. Unelko pioneered the Invisible Shield® "Easy Clean" Coatings to preserve and protect glass and other surfaces to reduce the frequency and cost of cleaning. Their primary focus has been on the preservation and enhancement of residential and commercial glass.
"Glass is the single most important building material known to man, and it must be protected," stated Howard G. Ohlhausen, Founder of Unelko.
The Invisible Shield® and Invisible Shield® PRO 15 Glass Coatings and REPEL® Dual- Action Cleaner/Coatings have been proven most effective against the ongoing deterioration and degradation of residential and commercial glass. Manufacturers of flat glass, windows, facades, partitions, mirrors, shower doors, tile, windshields, marine and solar glass can now offer a better product by protecting glass against harmful effects of the environment, degradation and corrosion to further enhance the appearance and extend the life of glass. Invisible Shield and Invisible Shield PRO 15 can be pre-applied to glass during manufacture or easily applied by professional contractors in the field to protect existing glass as a value-added preservation, easy- clean solution. DIY products are available for individual- use applications as well.
Visit Unelko at the Upcoming Glasstec in Dusseldorf, Germany Hall 11, F41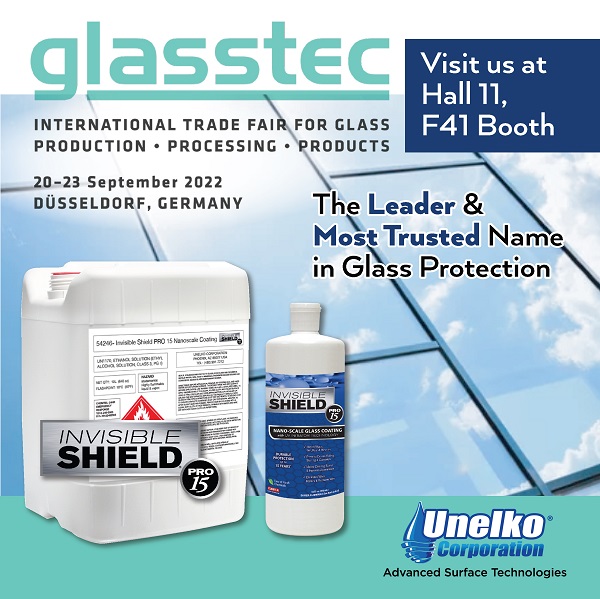 The New Microburst Vertical Glass Coating Machine wins 2021 USGlass Readers' Choice Award, Manufactured by Perfect Score Technologies in Dallas, Texas. It is the best performing glass coating machine of its kind in the industry and is unmatched from an operational, performance and safety standpoint.
The compact, high output, two-sided vertical coating machine is extremely efficient. It utilizes ultraviolet (UV) and infrared (IR) curing to instantly bond Unelko's top rated Invisible Shield PRO 15 coating to both sides of almost any size commercial glass. It can treat/protect both sides of glass within 1.5 minutes – 2,800 sq. ft. per hour with a high performance, hydrophobic/oleophobic coating on glass that then leaves the machine fully cured/bonded, protected and 99% clean. No clean up is required.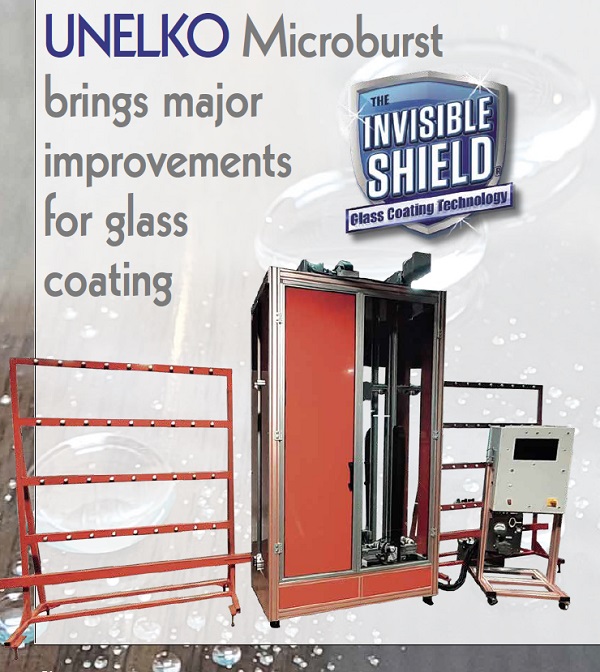 Unlike other glass coating machines that require extensive handling, expensive product vials, long curing times, offer inferior performance and/or require excessive cleaning, the Invisible Shield Glass Coating Machine is fully automated and is time, energy, product, and performance efficient. Our durable protective coating increases scratch resistance up to 93%.
For more information, visit www.glasscareexperts.com.
Home Page www.Unelko.com
Contact Sales at: info@unelko.com regarding products, performance, test data, and applications.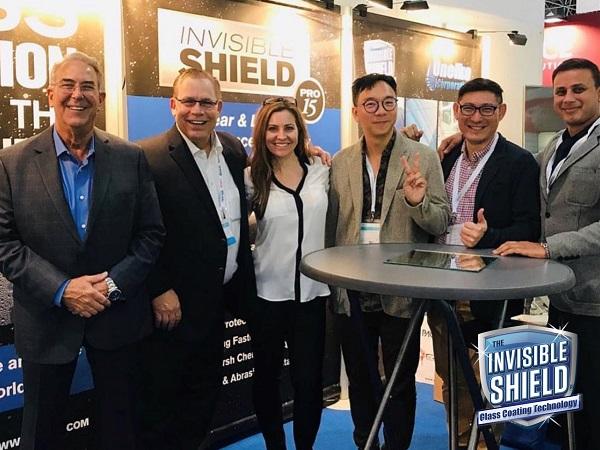 600
450
Unelko Corporation
2022-09-14T04:50:00
Visit Unelko at Glasstec & See Invisible Shield Glass Coatings in Action!
glassonweb.com