Photo source
Glaston Corporation
Killing two birds with one stone
"We had an excellent opportunity to replace our two older tempering furnaces with one new Glaston RC Series line to reduce energy consumption, avoid problems with outdated spare parts and beef up our production with more automation," says Samir Bou Obeid, Chairman of AURYS.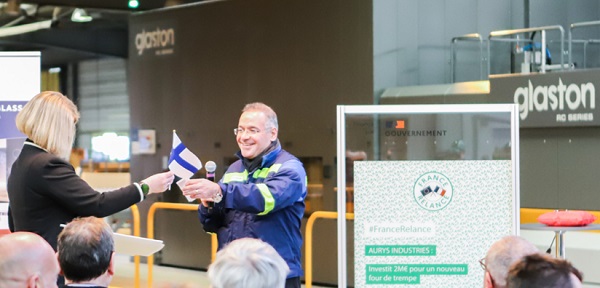 AURYS is one of Europe's leading processors of decorative glass products for interior design and the only mirror manufacturer in France. The Normandy, Francebased company celebrated its 50th anniversary in 2022 but only became a fully independent, family-owned business in 2021 with the tagline of "Uplift interiors by glass." Today, the company exports to 18 countries, including unique aged mirrors to Japan and the US.
When the company expanded into color-lacquered glass and tempering, it purchased its first Tamglass, now Glaston, furnace in 1989 to temper thin 3 mm glass. Another tempering line brand for thicker glass of  4–12 mm was also acquired later.
FUNDING TO REDUCE ENERGY
"In March 2022, we decided to refurbish our tempering process. We also realized we could apply for funding for the investment from the France Relance recovery plan," says Samir Bou Obeid. This program aims to revive French industry by significantly speeding up the ecological transition, enabling France to become Europe's first major decarbonized economy by 2050. 
"We felt if we could cover our tempering needs with one furnace, we could save substantially on energy costs," he says. "With two furnaces, there is the stop-and-go time, which wastes a lot of energy."
The company's goals were to reduce energy consumption, rationalize its production setup and eliminate spare part problems. Investing in a state-of-the-art furnace would also beef up the company's Industry 4.0 roadmap by digitalizing production. 
ALL PIECES IN PLACE
"Although the Ukraine war brought uncertainty, we were bullish and didn't want to delay. Glaston, too, convinced us to move forward – they ensured us we could be up and running at the start of 2023. So, everything fell into place at the same time," he continues.
Plus, France Relance granted them a substantial sum of funding in June 2022.
PRECISION COUNTS
AURYS considered both Glaston's RC Series and FC Series lines. But according to the company's process manager, the choice came down to the precise ability to temper 2.85 mm glass – not just 3 mm – and the  RC Series could do that. 
"Glaston's FC Series suits coated glass best. And our French market prefers raw glass with screen printing, which the RC Series can handle better," Obeid adds. "The RC also processes a wide range of small glass sheets as well as thicker glass." 
COMMISSIONING AHEAD OF SCHEDULE
AURYS needed to build up stock before it could dismantle the Tamglass furnace in October 2022. Obeid and his team were pleased with Glaston's hard work to keep the schedules.
The Glaston team from Poland provided them with professional service throughout the entire process. Commissioning was carried out before the end of 2022, ahead of schedule, and fine-tuning commenced in January 2023. 
"We never thought it'd be possible – a new furnace in a record time of 9 months from order placement," Obeid says. "In parallel, we needed the compressor tank, auxiliary equipment and transformer – and all came together nicely – just like Lego blocks." 
AURYS has been increasing tempered glass throughput on its new RC Series line each day. The other old furnace will be dismantled at the end of February 2023 once the team is convinced that the RC is performing as desired.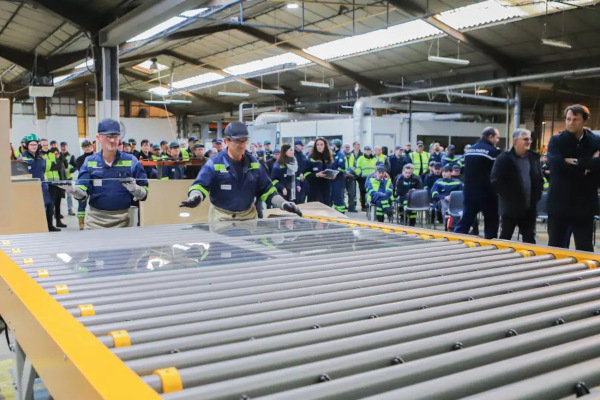 REMOTE SUPPORT A RELIEF
Obeid and his team also appreciate the digitalization advantages of the new furnace. "It is a relief that our manufacturing can be monitored remotely from Tampere, Finland. In the good old days, technicians would be sent to the site, and that took time. Now, advanced capacities using artificial intelligence give us more support."
Running a tempering line no longer varies with the human factor, where the morning shift operator might run the machine differently than the evening shift operator. Automation ensures a standardized approach. It's a solid baseline from which AURYS hopes to continue to develop – perhaps even with Glaston's Autopilot in the future. 
Another plus to the new system Obeid mentions is that remote support and automation will help onboard newcomers quickly, as AURYS is expecting many people to retire soon.  
"Now that training has been completed, we're ready to get the most out of our investment," Obeid says. He's setting his sights on the next developments for AURYS, which include break-free mirrors and innovative laminated products. 
Glaston RC Series
More about the product: https://glaston.net/machine/rc-series/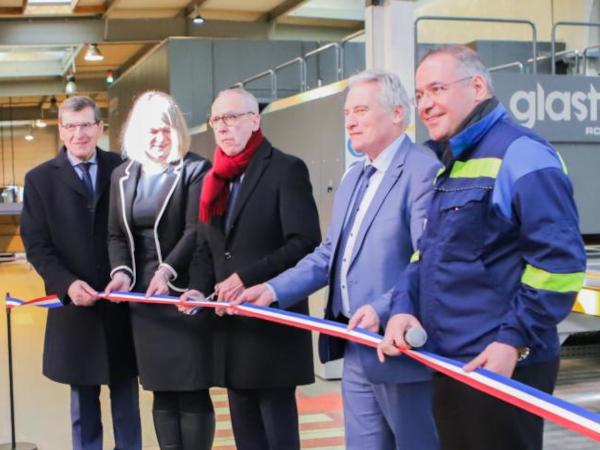 600
450
Glaston Corporation
2023-03-08T07:32:19
Reducing energy use by 30% with Glaston RC Series
glassonweb.com