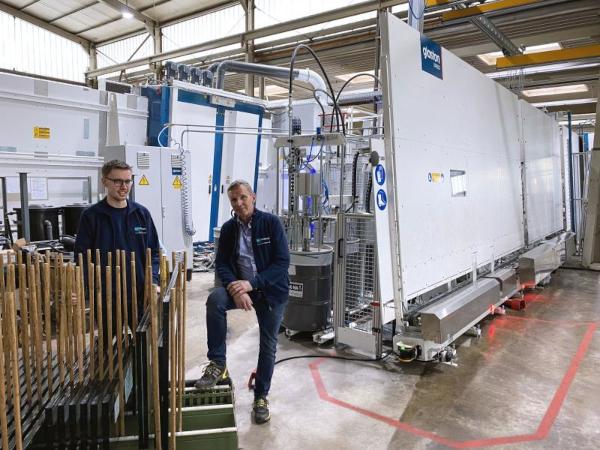 Photo source
Glaston Corporation
The best ideas are born over lunch
"The idea of a special U-shaped design to fit our confined space was created over lunch by my son Maximillian Dreisbusch and two Glaston service engineers. I think this says everything about our close and collaborative partnership with Glaston," says Thomas Dreisbusch, Managing Director of Glas Dreisbusch.
With a history spanning nearly 100 years, Glas Dreisbusch of Goldbach, Germany, located 50 km east of Frankfurt/Main, started as a furniture joinery and flat glass trading company. Over the years, it evolved from a purely handicraft glass grinding business to a mediumsized industrial company producing insulating glass. Managing Director Thomas Dreisbusch took over the helm from his father in 1995 and represents the family's third generation. In the meantime, the fourth generation is already working in the family business with his son Maximilian, who has become very familiar with the technology in particular.
Today, Glas Dreisbusch provides the entire range of insulating glass, including double and triple insulating glass units, safety glass and readyto-use products, such as printed glass, all-glass door systems and showers. Some of the company's special products are blinds in insulating glass and alarm insulating glass for burglary protection.
MEDIUM-SIZED COMPANY ADVANTAGES
The company serves window and metal construction companies within a radius of approximately 100 km in the Rhine/Main and Franconia region. The medium-sized family business is proud of its ability to serve medium-sized customers. It stands fully behind its products and is able to react quickly to new customer requirements and maintain outstanding delivery reliability.
"We've got the advantage of our personal contacts and fast decision-making ability," says Thomas Dreisbusch. "Our customers appreciate that we can provide them with an excellent mix of high glass quality and a wide variety of different glass products."
WORLD'S FIRST U-SHAPE
In In 1970, the company started producing insulating glass and purchased its first Lenhardt insulating glass line. In the early 2000s, it purchased a Bystronic glass line with an automatic butyl coating robot for glass production with conventional spacers. Both Lenhardt and Bystronic glass brands are now part of Glaston.
In spring 2021, the company purchased its Glaston VARIO TPS® 2735 line, which started up in December that year. "The special feature of this particular TPS® line is its U-shaped design," Thomas Dreisbusch explains. "It's unique in the world!"
LUNCH BREAK BRAINSTORMING
During a lunch break with two Glaston service engineers, Maximillian Dreisbusch explained that the company would like to replace its existing insulating glass production line, but the confined space with existing hall columns made it impossible. Together, they came up with the idea of the U-shape.
"For two days, the Glaston service engineers measured the hall down to the last corner so that the new line would fit perfectly. And those efforts paid off beautifully! In some places, the distance between the hall column and the line is only about 10 cm!" says Maximillian Dreisbusch.
The line features two special turning stations between the inspection station and the automatic assembly, gas filling and press robot. The turning stations move the glass from one side of the line to the other, thereby creating the line's U-shape.
FLEXIBILITY AND SUSTAINABILITY
"TPS® is the most flexible insulating glass production system for us," Thomas Dreisbusch confirms. "It produces both standard and special formats on one line, eliminating the need to split orders. This gives our customers unlimited design possibilities for shapes and sizes. Also, the line differs from conventional systems in that the Thermo Plastic Spacer TPS® is applied directly to the glass plate."
Invented in 1994 by Glaston, TPS® technology meets the market's highest requirements for warm edge spacers. Not only does it enhance energy efficiency in buildings, it also increases insulating glass product longevity for increased sustainability and reduction of CO2.
CONVINCED OF RESULTS
During commissioning, Glas Dreisbusch began delivering TPS® insulating glass units for the first time. "Our customers were immediately impressed by the absolute plane parallelism of the spacers for triple insulating glass units," says Thomas Dreisbusch, pleased with the successful changeover to the new spacer system.
"We have always been more than satisfied in our trusted relationship with Glaston and the people behind the brand," Thomas Dreisbusch says. "And our experience with TPS® has further convinced us, thanks to the quality, flexibility and productivity we now have to serve our customers better."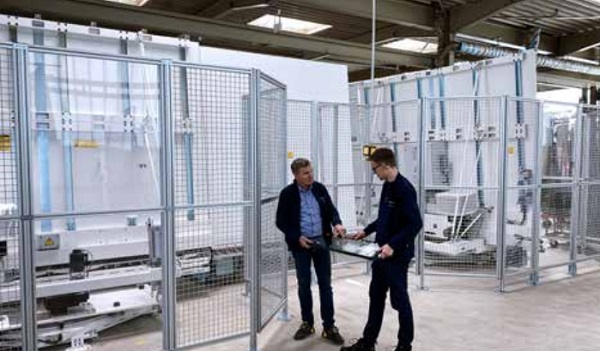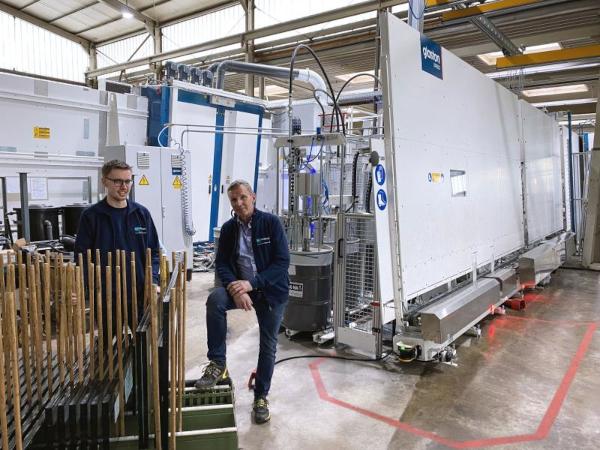 600
450
Glaston Corporation
2022-10-21T11:30:00
Glas Dreisbusch gets the first-ever U-shaped Glaston VARIO TPS® line
glassonweb.com