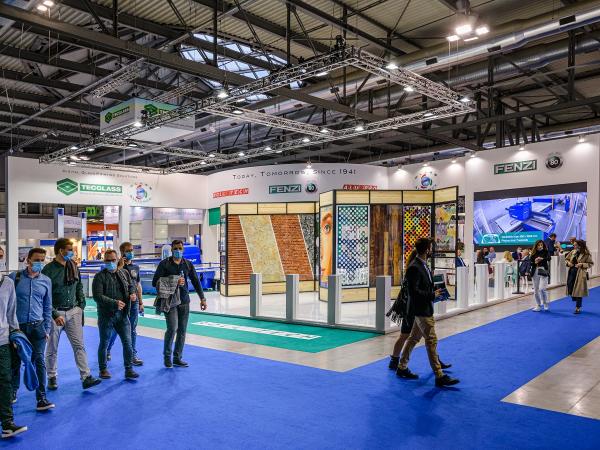 Photo source
www.fenzigroup.com
High-Tech Solutions and Outstanding Performance for the International Glass Industry
A top-ranked event for industry insiders, Vitrum 2021, in its first post-pandemic edition, proved how capably the global glass industry could come together with a dynamic response to the challenges posed by the coronavirus. During the four days of the trade show, held October 5-8 in Milan, industry firms and leading actors crowded the popular Fenzi stand.
The leading Group in chemicals for secondary glass processing brought the most recent innovations in all of its business units to the show ‒ especially innovative products and high-tech solutions designed to boost thermal performance of windows, ensure the utmost in living comfort and expand the possibilities of glass decoration. From primary and secondary sealants with the most advanced eco-compatibility features to the most complete range of warm edge profiles, from decorative paints for all fields of application to mirror-backing paints and chemical silvering solutions to the most cutting-edge technology in digital printing on glass.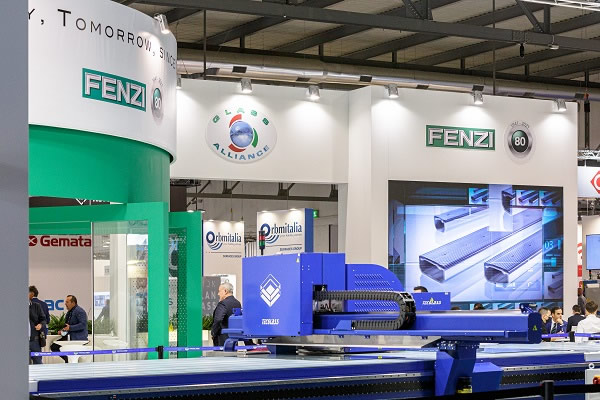 "Despite the difficult and constantly evolving situation, at the pavilions of Fiera Milano Rho, the entire glass industry showcased its vitality, attracting Italian and international buyers, while demonstrating its willingness to actively participate in global growth with an immense spirit of innovation and responsibility," remarked Matteo Padovan, Managing Director of Fenzi SpA.
"As always, the very core of our business is invested in quality, specialization in the glass industry, and optimization of product performance with particular attention to eco-compatibility, resulting in across-the-board appreciation of our innovations on display," said Padovan. "Given our focus on the needs of the glass industry, we are able to offer highly technological products that coincide perfectly with market demand for quality. A commitment acknowledged by the visitors to the Group's stand, to our great satisfaction. Indeed, Vitrum was a major event for us, drawing visitors from across Europe whose specializations led to numerous business discussions with highly qualified industry insiders. Although many overseas professionals were unable to attend, due to pandemic-related restrictions, the 22nd edition of Vitrum had a very productive outcome for all of the Group's companies," he concluded.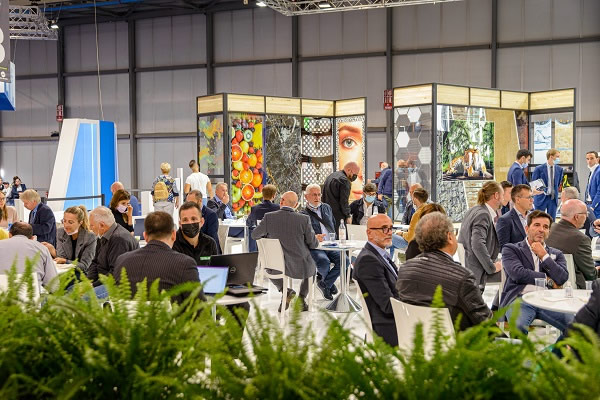 On stage at Vitrum 2021
Sealants for IG Units.
The broad and diversified array of Fenzi sealants makes it possible to produce IG units that hold an impeccable seal indefinitely. Each product is an industry leader, yet Fenzi research never stops, striving continually to improve performance and ensure the utmost practicality and ease-of-use.
Thiover
The top-selling polysulphide sealant around the globe, a best-seller you can count on, time after time.
Excellent thermal insulation performance in all kinds of climates, delivering significantly improved living comfort. Perfect for high-performance energy-saving windows.
Suitable at all latitudes, it is the product that adapts best to any and all extrusion systems and processing conditions.
All Thiover sealants conform to the most cutting-edge criteria for eco-compatibility ‒ they are entirely solvent-free and contain no heavy metals or other harmful ingredients.
Superior mechanical properties, excellent levels of gas retention and low permeability to water vapor.
Butylver TPS
The latest-generation thermoplastic spacer ‒ perfectly synergistic with commercially available automatic applicators.
For IGUs with superior-quality warm edge performance, produced with the highest levels of industrial automation.
Outstanding workability and excellent thermal performance, flexible design and absolute uniformity of color.
One-part, polyisobutylene base with integrated desiccants, ensures flawless adhesion with minimal permeability, excellent rigidity and stability.
Makes it possible to achieve ultra-high-performance IGUs of various types and sizes, with high added value in terms of quality, aesthetics and, above all, durability over time.
Butylver
The butyl-based sealant for primary seal that combines maximum quality and minimum permeability.
High-quality polyisobutylene, one-component, solvent-free seal, achieves the lowest MVTR and GPR values.
High resistance to aging, excellent adhesion to glass, aluminum, steel and stainless steel, perfect processability.
Broad spectrum of compatibility to insulating glass components and to building materials.
Maximum durability and seal under the most severe climatic conditions.
Hotver
The one-part, hot-melt sealant ideal for manufacturing windows with the utmost energy efficiency.
The newest, most cutting-edge hot-melt sealant in the Fenzi range.
Exceptional physical-chemical properties, excellent resistance to low and high temperatures and easy to process.
Flawless adhesion to glass and to all traditional and warm edge spacer profiles.
Extremely high gas leak rate performance.
Poliver
The secondary barrier polyurethane sealant, a consistent market leader, available in various versions based on the needs of each operator and manufacturing system.
Specifically formulated polyurethanes for manufacturing IGUs, exceptional ease of application.
Entirely solvent-free.
Can be used to manufacture double or triple IG units.
High degree of adhesion to all types of glass, extremely low permeability to water vapor and gas, excellent UV resistance.
Molver
High-quality molecular sieve specifically designed for manufacturing IG units.
Formulated to guarantee maximum absorption capacity; its chemical structure ensures longer-lasting performance inside the glass.
Especially efficient absorption because moisture stays inside the granule, without rising to the surface.
Can be used in any insulating glass system that calls for perimeter sealing with polysulphide, silicone, polyurethane or hot-melt sealants.
Latest-generation warm edge system.
In addition to sealants, the Fenzi Group also supplies the manufacturers of IG units with aluminum, hybrid and warm edge spacer profiles produced at the Alu Pro and Rolltech plants and sold around the world by the Glass Alliance network. Alu Pro and Rolltech produce aluminum, steel and stainless-steel spacers as well as steel combined with special plastic materials and various latest-generation warm edge spacers. These are cutting-edge products for all applications, thanks in part to the combined efforts of the companies' individual research and development centers.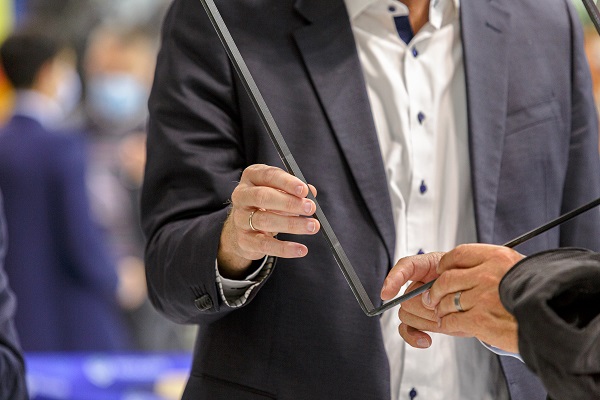 The range includes some of the most state-of-the-art solutions for warm edge systems:
Chromatech Ultra
An innovative warm edge spacer that meets the most demanding requirements for energy efficiency.
Stainless steel and special blends of plastic make up this exclusive patented structure to ensure long life, durability and state-of-the-art insulating performance.
Ensures an extremely low level of thermal transmittance and exceptional ease of use, essential features for processors; and, it bends easily without the need for expensive machinery.
Multitech G
The latest-generation rigid spacer for achieving the best thermal performance possible today.
Crafted without the use of any metal and enhanced with an extremely thin but extraordinarily insulating special transparent multi-layer barrier.
The distinctive transparency of the multi-layer barrier allows the original color of the spacer profile to be maintained on all sides, making it superbly suited to any architectural design.
Thermix Tx Pro
A modern profile made with a special technopolymer and stiffened with two highly resistant stainless-steel wires, with exceptional thermal properties and excellent Uw-values.
Partially coated with super-thin stainless-steel foil with the dual purpose of providing bonding support for the sealants and acting as a barrier against loss of gases.
Can be cut to form frames with plastic corner keys or bent by any of today's commercially available bending machines.
AquaglassXpack, the innovative range of water-based eco-friendly paints for hollow glass.
The Fenzi range of paints developed for the hollow glass industry is expanding with a new line of organic, water-based paints designed for glass packaging. Perfect for producing surfaces with transparent, opaque and metallic colors with extremely high resistance, based on industry tests and customer specifications.
Organic, one-part and water-based for decorative use, the AquaglassXpack paints are a combination of resins and select pigments that not only lend the paint exceptional hardness, durability and elasticity, but also unique colors. While maintaining intact all the features that have made Fenzi paints a very sought-after product in the marketplace, the new AquaglassXpack range guarantees excellent adhesion to the glass, exceptional mechanical properties of the painted film, superlative coverage, exemplary stability and durability of the color over time, outstanding UV resistance and the utmost in color brilliance.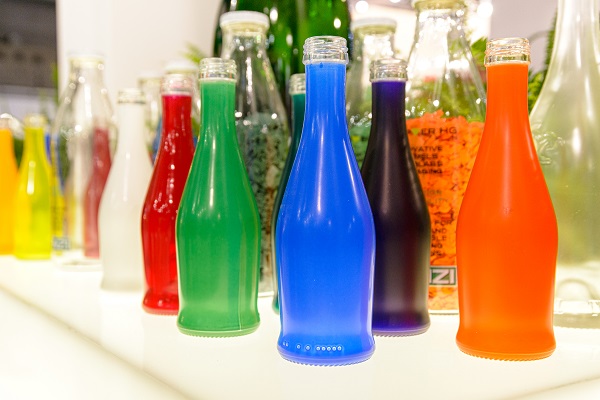 The AquaglassXpack line includes transparent, colored, opaque and metallic water-based paints. With an unlimited and flexible color palette, Fenzi delivers countless customization options, even with special effects. Thanks to the Fenzi lab solutions, it is possible to achieve a series of virtually infinite shades and colors from among the international color scales, all faithfully reproducible. In addition, custom color samples requested by customers are ready in no time at all. Moreover, the RAL, RAL DESIGN, RAL EFFECT E2, NCS, Pantone, Dulux, Sherwin William, Sikkens, Benjamin Moore, British Standard, Taubmans and Guittet formulas are always available on the website: www.fenzi-aquaglass.com for fast independent production of the desired shade of color.
Duralux Water Based: new line of Fenzi mirror-backing paints offers quality, ecology and durability
The most recent frontier in terms of mirror-backing paints is the new line of latest-generation Fenzi products capable of contributing to the production of high-quality, eco-friendly mirrors with outstanding reflective, safety and chemical resistance properties. Using a water base, the Fenzi Group labs developed Duralux Water Based, a complete range of lead-free, glass-silvering mirrorbacking paints with extremely low VOC emissions ‒ chemical agents potentially harmful to health and the environment.
This is a major innovation for mirror manufacturers, processors, end users and the environment.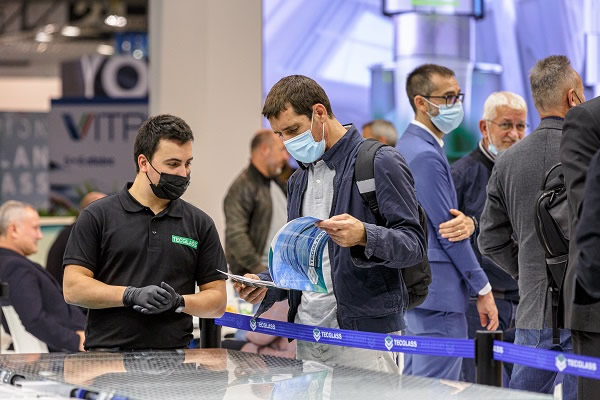 Compared to the other commercially available mirror-backing paints, the special Duralux Water Based formulation makes unique performance possible ‒ including a VOC level five-times lower than the market standard, the use of solvents with reduced environmental impact, extraordinary chemical resistance and greater product durability. This is a one-coat, user-friendly painting system, convenient for curtain or spray application, completely lead-free, perfect for use on copper-free mirrors, and it can be applied on most existing mirror lines that use traditional solventbased paints.
The Duralux line ensures a tried and true, high-performance product, one that is always updated. In 80 years of business, the Group has become a global leader in glass-processing chemicals, offering a complete range of products and setting the standard for the entire glass industry. Thanks to its considerable innovative prowess, based on know-how acquired in so many years in this market and on research and development activities consistently focused on customer needs, the Group has created a complete, always cutting-edge product range, positioning itself as the preferred partner for mirror manufacturers around the world.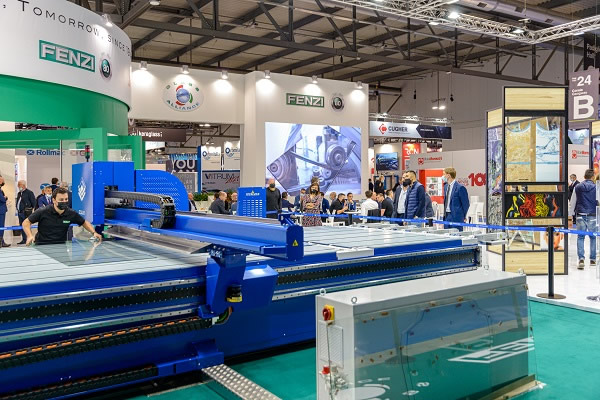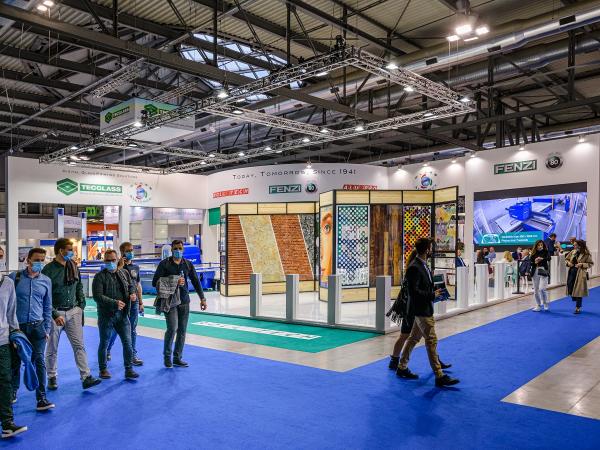 600
450
www.fenzigroup.com
2021-10-22T11:00:00
The Fenzi Group at Vitrum 2021
glassonweb.com