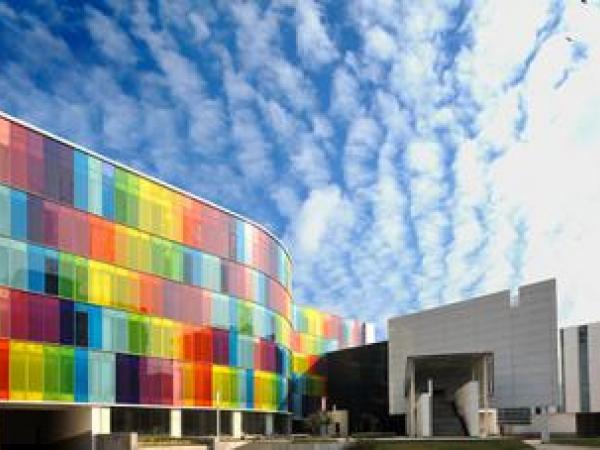 Architects and Artists Recognized for Use of Color Glazing in Design Projects
Eastman, manufacturer of the Vanceva Color System for laminated glass, announced the winners of this year's World of Color Awards (WOCA). This annual international design competition honors architects, interior designers, glass fabricators, furniture designers, glazing contractors, engineers and artists for their innovative and liberal use of colored laminated safety glass in building design and interior spaces.
Photographs of the winning projects and the awards will be showcased at the Eastman exhibit booth, located in Hall 11 - A48, at Glasstec 2016, the world's largest international glass trade show running September 20-23 in Düsseldorf, Germany. The winners will also be presented their awards during the event.
This year's WOCA competition collected the highest number of eligible projects ever with 74 projects from around the world. An international jury of five celebrated industry professionals reviewed the project submissions and awards were given for EXTERIOR Division Winner, INTERIOR DivisionWinner, as well as Honorable Mentions for both categories. Entries were judged on the creative use of glass with laminated color interlayers, aesthetics, and degree of attention paid to the overall benefits and technology of laminated glass.
WINNERS
EXTERIOR Division Winner: Emporia Shopping, Malmö, Sweden
Emporia, situated in Hyllie on the south side of Malmö, Sweden, is one of the biggest and most sculpturally beautiful shopping malls in Scandinavia. Designed by Gert Wingårdh of Wingårdh arkitektkontor, Emporia features two main entrances made out of colored curved glass, one using golden Vanceva Color interlayers and the other one in blue. It's like the sun and the sea at opposing ends of this massive structure; in between, three stories of blue, red and green-themed retail space arranged in a figure eight.
CRICURSA manufactured 567 moulds to slump 815 curved glass panels to create the magnificent entrances. A key point to achieving the architect's concept was the selection of the right product to confer color to the glass while maintaining high transparency and low hazing. Vanceva Color was the perfect selection.
Architect(s)/Firm(s): Gert Wingårdh of Wingårdh arkitektkontor
Glass Laminator: CRICURSA
INTERIOR Division Winner: Shanghai Museum of Glass, Shanghai, China
The Rainbow Chapel is a colorful, round wedding space set inside a partially open, bright white cube located at G+ Park in north Shanghai as part of the Shanghai Museum of Glass complex. Imagined by Tilman Thürmer and Manuela Mappa with their Coordination Asia design team, the Rainbow Chapel's 390 square meter interior showcases 3,060 transparent and semi-transparent glass panels in 65 vibrant colors from the Vanceva color laminated glass system.
These glass panels create a 6.8-meter high circular façade which transitions like a rainbow from red, orange and yellow to blue, green and purple.With the partially open exterior cube walls, light flows through the kaleidoscope windows to create a joyful backdrop for any occasion. The Rainbow Chapel, with its adjacent 1200-square meter Banquet Hall, is the perfect setting for weddings, anniversaries, concerts and other special events.
Architect(s)/Firm(s): Tilman Thürmer and Manuela Mappa
Glass Laminator: Shanghai Sheet Glass Co., Ltd
Honorable Mention: Corning Museum of Glass, New York City, United States of America
The 100,000 square foot North Wing expansion of the Corning Museum of Glass fuses the line between built and natural environments. The square, minimalist design by architect Thomas Phifer and Partners features a 16-meter high glass façade that spans 2,000 square meters, offering a sweeping panoramic view of the museum grounds.
The use of Vanceva Polar White interlayer with a dot matrix pattern enables the glass façade's virtually seamless reflective surface to integrate the museum's natural setting. In winter, it blends in with the snow and in summer it floats above the green lawn. Visitors experience moments of transparence and reflection, whether looking at art glass exhibits inside or looking outward at the changing landscape.
Architect(s)/Firm(s): Thomas Phifer and Partners, New York
Glass Laminator: Thiele Glas Werk GmbH, Germany
Honorable Mention: Giant Amber Concert Hall, Liepaja, Latvia
In a city of straight-lined streets and squared-off buildings, "Giant Amber" — the nickname of the 1,200-seat concert hall in Liepaja, Latvia — stands out for its size, shape and color. Large, round and brightly hued like the precious stone so prevalent in this Baltic region, Giant Amber's gorgeous glass façade was created specifically for this project by Vanceva.
Architect Volker Giencke's design mimics an egg. Like a yolk suspended inside a glass shell, the concert hall is attached to the entire framework of the building and the bearing framework is made of structure steel framing. The marvelous hall has the impression that one building has been inserted into another.
Architect(s)/Firm(s): Volker Giencke — Giencke & Company Architects
Glass Laminator: AB Klar Glass Lietuva
Honorable Mention: An Urban Park as a UFO, Beasain, Spain
Glass can radically transform urban spaces and delightful example is "José Miguel Barandiaran" park in the little Basque village of Beasain, Spain. To provide shelter from the sun, Lander Aranburu y Josean Alonso arquitecto envisioned a futuristic playground with a skylighted roof resembling a flying saucer. For light and playful color, TVITEC Glass introduced ovals in varying sizes using laminated glass with Vanceva PVB interlayers of green, orange, yellow and blue to form a lasting and easy-to-maintain glazing system.
Architect(s)/Firm(s): Lander Aranburu y Josean Alonso arquitectos
Glass Laminator: TVITEC Glass
Honorable Mention: Spectrum, Perth, Australia
Combining the Vanceva Color System and Cooling Brothers ImagInk Printed Glass, 'Spectrum' showcases a flowing kaleidoscope of color and light in this Perth apartment complex developed by QUBE Properties. The 3.1m laminated glass panels are back-lit with powerful LED lights at night, throwing color and dynamic shadows across the streetscape for a multi-colored light show.
Spectrum is a superb demonstration of a talented artist and open-minded developer successfully engaging to deliver a technically challenging and industry leading installation. The result is a visual feast, utilizing the Vanceva color system and ImagInk digital ceramic fritting to raise the bar for future public art installations within commercial developments.
Artist: Rick Vermey
Glass Laminator: Cooling Brothers Glass Company
THE JURY
The jury for the fifth annual Vanceva World of Color Awards consisted of an international mix of celebrated industry professionals in both the architectural, interior design and color marketing industries. This year's jury panelists were: Abin Chaudhuri, founder of Abin Design Studio (ADS) in India and a winner of the 2012 VancevaWorld of Color Awards Exterior Division for his work on the International Management Institute project in Kolkata, India.
Brunete Fraccaroli, founder of Brunete Fraccaroli Arquitetura e Interiores in São Paulo, Brazil. Known worldwide as "the color architect" for the use of brilliant color and glass in her work. Martin Glass, director at Architects von Gerkan, Marg and Partners (gmp) in their Berlin office, recognized for his work on the Berlin Olympic Stadium, Commerzbank-Arena Frankfurt, Dubai Sports City and more.
Andrew Moor, principal of Andrew Moor Associates in London and author of The Colour of Architecture. For over 30 years, Moor has been an "architectural glass art consultant" and project manager for works in the retail, office, hotel, leisure and private sectors.
Kiku Obata, founder and president of Kiku Obata & Company, a St. Louis, Missouri, USA and London-based research and design studio that creates brand identities, communications and experiences across print, interactive and the built environment.
The Vanceva Color System provides unparalleled creative freedom to incorporate color into glass and glazing systems using tinted interlayers, which are laminated between two pieces of glass. A palette of 16 colors can be combined in up to four layers to produce more than 17,000 transparent, translucent and opaque glass colors. Designers enjoy unparalleled flexibility to create custom colors and one-of-a-kind aesthetics. Vanceva color interlayers also offer all the benefits of polyvinyl butyral (PVB) interlayers for laminated safety glass including security, solar, sound insulation and UV protection.
Saflex® and Vanceva® brand PVB interlayers are the most trusted name in PVB interlayer technology for laminated glazing, delivering outstanding performance and durability, backed by reliable and knowledgeable service. As a result, it is found in nearly 40 percent of laminated architectural and automotive glass worldwide.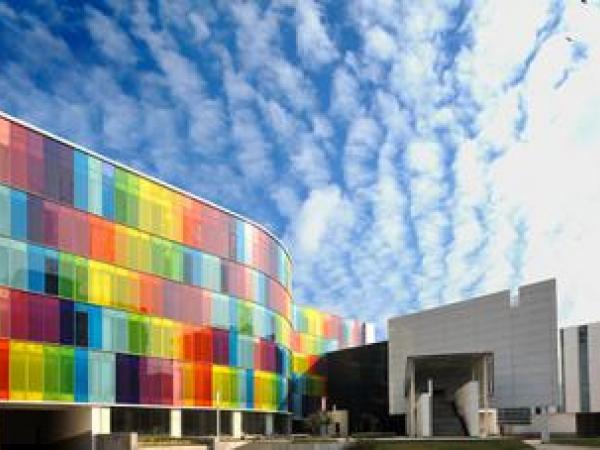 600
450
Eastman
2016-04-01T13:00:00
Eastman's World of Color Awards™ Entry Deadline Extended to April 14, 2016
glassonweb.com