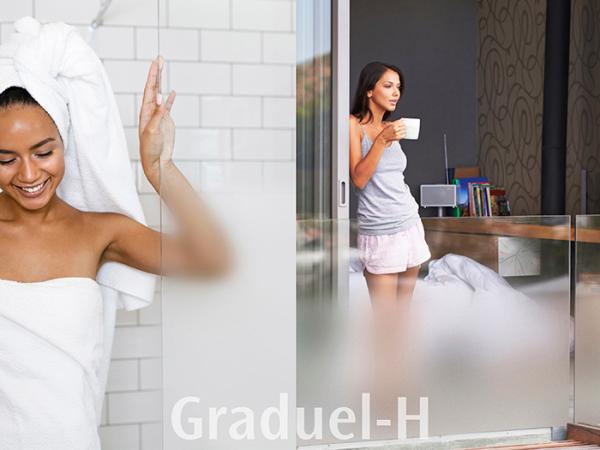 Graduel-H, the cost-minded and wider new gradual opacity glass
Satin glass specialist SEVASA presents its new Graduel-H glass launch, the gradual opacity glass, now in a more profitable and economical horizontal format. It can also be cut and installed into wider pieces and with the same quality and beauty as the known Graduel®. 
For the first time the Graduel's gradient goes from translucent to transparent running parallel to the short side of the sheet (88" or 94 ½"), the sheet is better used during processing, with less waste and therefore better profitability.  
This horizontal format also allows interior designers and glaziers to get wider pieces up to 3210 mm wide to install in shower screens and dividers. 
It has been a highly sought-after demand for a long time in the market and to Sevasa, which led the company to focus its R&D on this format. And now at launch. 
Gradual opacity, selective privacy 
The new Graduel-H glass offers the same quality and finish beauty as the known Graduel®: 
Short transition, maintaining the unique quality of Graduel®. 
Does not show fingerprints, requires less maintenance. 
High resistance to scratches and stains in the treated translucent area. 
High durability. Ideal for public spaces and high traffic areas. 
Now this progressive opacity satin glass presents 4 solutions: 
Graduel-H: 
Translucent to Transparent, along the short side of the sheet. 
Graduel: 
From Translucent to Transparent, long side of the sheet. 
Translucent - Transparent - Translucent. 
Transparent - Translucent - Transparent. 
The new Graduel-H glass (like the other 3 previous versions of Graduel) is ideal for its use indoors: shower and bathroom screens, office enclosures, partitions and dividers, doors, etc... as exterior as well: balconies, facades, canopies, etc…. It is bright, elegant and a versatile option. 
It can also be customized: the transparent/translucent area and its location (depending on models) to suit client's requirements. 
Contact Sevasa to request more information: info@sevasa.com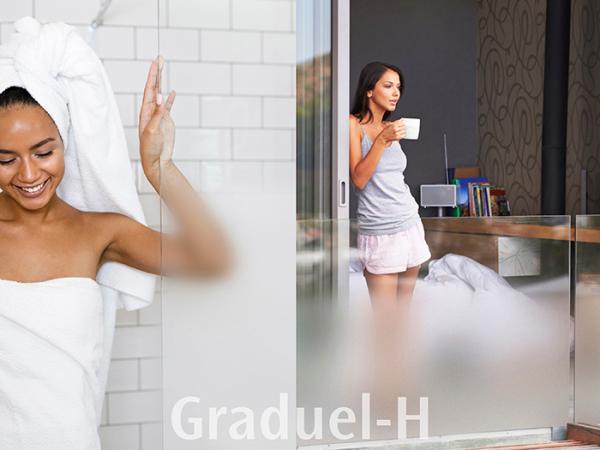 600
450
Sevasa
2022-09-14T06:00:00
SEVASA presents Graduel-H
glassonweb.com