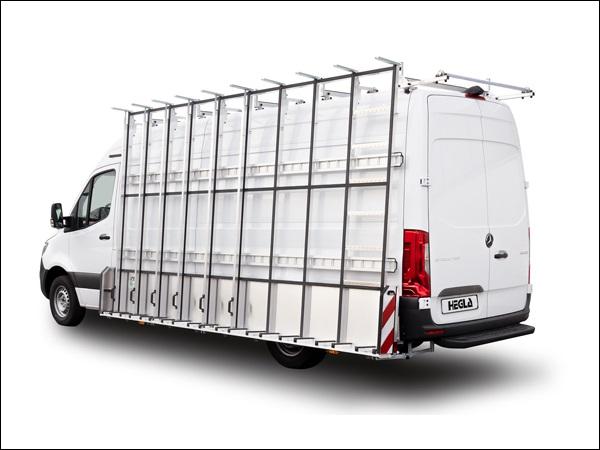 Photo source
www.langgut-profillager.de
Whether it's the transport of conventional glass or bulky/extra-large elements, securing loads properly and professionally for transport is the name of the game for glass specialists.
The requirements for securing bulky goods are just as varied as the options available for logistics. Vans converted into glass-industry vehicles provide optimal loading positions, a high degree of flexibility, and easy load-securing options.
Van with glass-industry attachment as a universal solution
With a tailored glass-industry attachment, a delivery vehicle can be precisely adapted to your company's needs and even open up enhanced functionalities. For special pieces of glass, small delivery quantities and rush installations, vans with a total weight of 3.5 or 6 tonnes have proven to be a universal solution. Equipped with a HEGLA exterior rack, this vehicle type can be used to master many logistics tasks typical for the glass industry.
To professionally secure loads and for elements that extend above the top of the vehicle, height-adjustable and user-friendly slat bars provide the necessary protection. "If additional stability is required, the load can be secured with optional integrated lashing rails and lashing straps. The lateral inclinometer tells installers whether or not the glass is secured against tilting. With window fronts becoming ever larger and heavier, not to mention triple glazing, we are more frequently recommending attachments with wider rack supports," notes Hans-Peter Löhner, managing director of HEGLA Fahrzeugbau. If a customer decides in favour of a quick-release exterior rack, it can be removed for vehicle care or private use in just a few quick steps or even used on other vans.
Optimally protected in-vehicle transport
If high-quality goods that require protection, such as mirrors or shower partitions, have to be delivered at regular intervals, the industry expert recommends installing an interior rack. They protect against environmental influences and damage, and also add the required stability to individual panes of insulated glass units that are not completely hardened.
The interior rack version with folding horizontal support delivers exceptional flexibility. "If several structural elements and glass types are to be delivered at the same time, the support can be divided or folded up completely and almost the entire width of the vehicle can be used," explains HEGLA Fahrzeugbau's managing director. With the help of an optional hole pattern installed in the floor and ceiling, loads can be leaned against the interior rack's vertical support folded down and secured with padded slat bars across the transporter's entire interior width.  
Using a pull-out interior rack is ergonomic and provides special protection from the elements. Sensitive or bulky goods find their ideal transport position on such racks. Without having to enter the loading area, drivers can load the user-friendly rack at a height that is easy on the back, secure the load, and smoothly return the rack to the rear of the vehicle.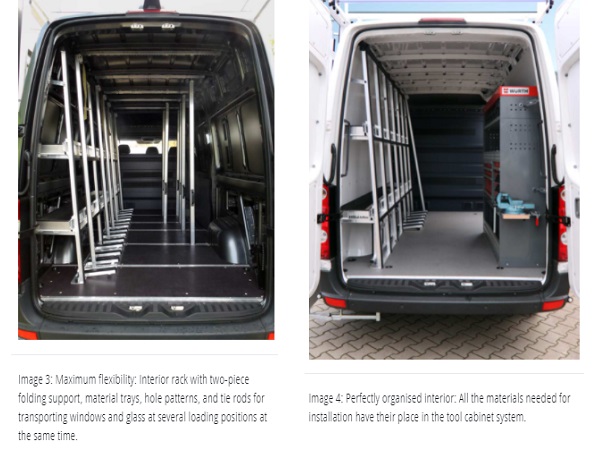 Orderly storage for tools and construction materials
Loads are not the only things that have to be professionally secured; structural elements and tools should not be allowed to fly around in the vehicle interior either. "By installing a tool cabinet system, you make a well-organised impression with your customers. In the installation-friendly shelving systems, everything has a place and the material is clearly visible," explains Hans-Peter Löhner.  
During a consultation, the perfect attachment for the individual application is determined together with the customer. We work closely with vehicle manufacturers when developing our transport attachments. At the customer's request, conversion can be carried out in a single day at one of HEGLA's three sites in Germany.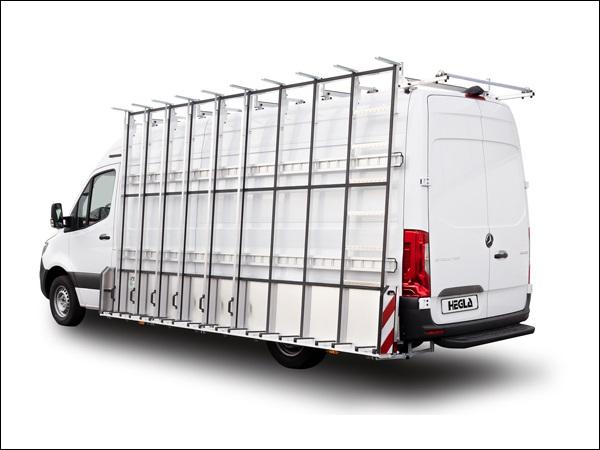 600
450
www.langgut-profillager.de
2021-09-08T07:30:00
Intact delivery: The professional glass-industry vehicle for optimally securing loads
glassonweb.com