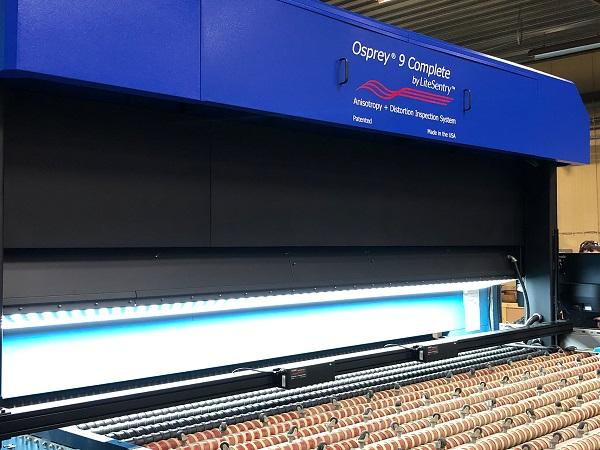 Photo source
www.glass-iq.com
Read the interview that Softsolution's partner, Juha Karisola, made with FSG after the installation of LiteSentry's Osprey® inspection systems.
Forserum Safety Glass AB continues striving towards even higher quality and efficiency in operations with the newly installed Osprey® System for Flatness, Distortion, and Anisotropy measurement. While Osprey is recognized as the industry standard for quality assurance for tempered products in North America and Central Europe, this is the very first Osprey System in Scandinavia. It measures online all sheets of tempered glass for flatness, all distortions, and anisotropy before the glass is delivered to the customer or further processed to laminated safety glass, fire glass, or insulation glass.
Juha Karisola met Lovisa Håkansson somewhen after the installation in Foreserum, Sweden. He asked a few questions and was pleased to receive absolutely positive feedback in the area of quality assurance at FSG.  
How did you choose the online scanner for a tempering line?
FSG is producing laminated glass ourselves. When we are producing tempered or heat-strengthened laminated glass, we need to be sure about tempering quality. We found out that one scanner should be the best way to control the quality of each tempered glass. We were talking with companies, who know this equipment, and most of them recommend Osprey system from LiteSentry.
Osprey flatness, distortion, and anisotropy system were installed on your tempering line some months ago. How was the installation & training running?
The installation was going on very well, we felt safe with Matt from LiteSentry who was with us at FSG as an installer. He was professional, helpful, and explained in a good way how we could use the scanner.
What is your impression of the system now when it has been in use for a longer period?
Since the installation, we have learned how important it is to be alerted and how quickly the quality can change when we temper glass. Our scanner helps us to constantly detect quality deficiencies that we did not see with the human eyes before. Based on the facts, we know that we have become better after the installation of the scanner.
What do you think of the user interface and usability of the system?
It may feel like there are a lot of numbers and parameters to take into account at the beginning when you start using the scanner, but since there are clear images that provide information, this has not been a problem. All operators can tell what is right or wrong. User-friendly!
Ms. Lovisa Håkansson comments:
"We are very pleased with the service, we have been well taken care of from the first contact with LiteSentry and we absolutely think that the money is well invested."
The original idea was to measure the flatness and based on that seek ways how to improve the quality and flatness of tempered glass and the yield of downstream processes, such as laminating and IG. How did this work out?
We have really noticed that our quality has improved with Osprey. We see that, especially on our laminating line, we now have much better glass quality and practically no rejections on laminating. We have managed to minimize glass with roller waves, edge lift, and other distortions. We have simply seen benefits in other processes where we use tempered glass.
What are/ have been major challenges in producing tempered glass?
Without the scanner, our biggest problem was that our tempered glass did not turn out well in the lamination line. When installing the scanner, our biggest challenge has been to start working more with the parameters of the oven, so we find the right quality.
Customers usually appreciate the fact that the production is inspected 100% and they can rely on the quality. Any feedback from your customers yet?
Our customers always have great demands on us regarding traceability and quality. Now that we have such good quality and do not need to rework glass, this means that we have higher delivery reliability for customers. This brings very satisfied customers and employees. We have very few external complaints regarding our tempering quality after installing the scanner.
600
450
www.glass-iq.com
2022-06-02T07:20:00
First Osprey® System in Scandinavia
glassonweb.com