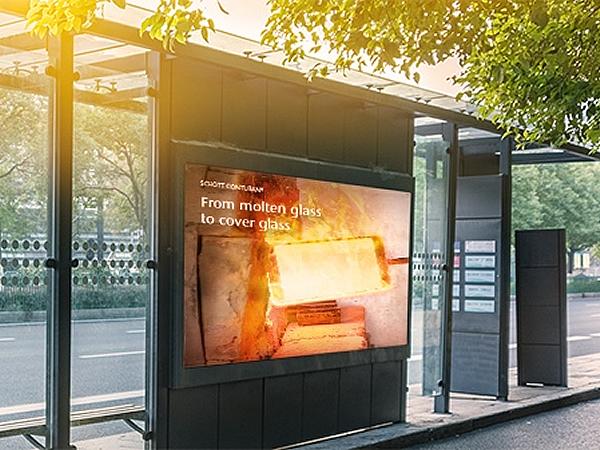 Photo source
CONTURAN® IR Protect deflects infrared (IR) and ultraviolet (UV) radiation with a high degree of success | Picture: SCHOTT AG
The latest laminated, anti-glare cover glass from SCHOTT – CONTURAN® IR Protect – deflects more than 80 percent of infrared (IR) and ultraviolet (UV) radiation.
Its properties allow the glass to reliably protect sensitive electronic and digital signage displays or digital banner boards from the challenges brought on by outside use.
Hot summer days present an extreme challenge to displays in self-contained advertising systems. Active cooling systems are needed to keep the interior space of the displays at safe temperatures so that the displays do not overheat, malfunction, or become badly damaged.
To help make sure digital signage displays are always on and always visible, even when the sun beats down with its most intensive rays, the international technology group SCHOTT is proud to introduce a new laminated anti-glare cover glass which uniquely combines display protection with optimal visibility.
Reliable protection from UV and Infrared radiation
CONTURAN® IR Protect reliably repels infrared and UV radiation. The laminated safety glass is made by combining two flat glass panes with an integrated IR protective film and provides the respective protection against fracturing, bottoming out and shattering while reducing the transmission of infrared radiation by more than 80 percent.
The UV protection is as high as 99 percent. Additionally, CONTURAN® IR Protect transmits more than 91 percent of light within the visible spectrum and has a residual reflection rate of less than one percent. All of these features combine to ensure unrestricted visibility of the display content.
Low temperatures achieved by IR protection in enclosed outdoor display systems not only reduce the likelihood of a malfunction occurring, but also reduce the need for an active or passive cooling system. The space saved can lead to a more compact system size overall, as well as the realization of additional cost benefits.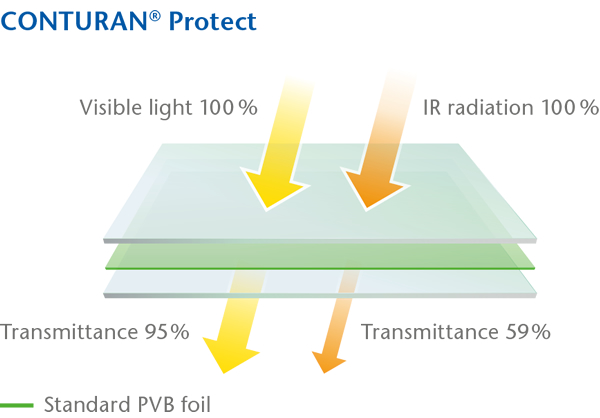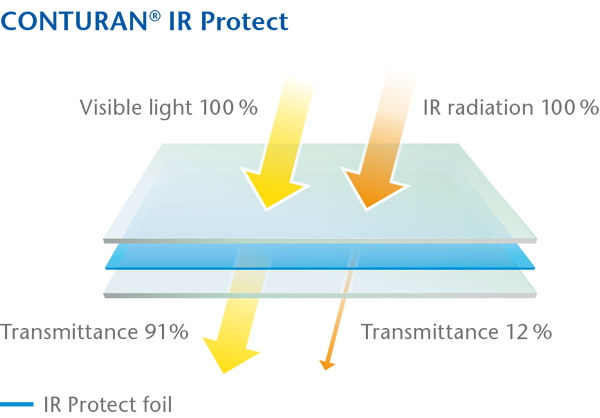 Combinable with all other glass members of the CONTURAN® family
This special glass, which is produced in Germany, is available immediately in maximum dimensions of 1,520 mm x 3,250 mm. However, for customers in need of alternative specifications, the option to customize exists.
CONTURAN® IR Protect can be combined with all other glass types belonging to the CONTURAN® Product family. In addition, SCHOTT also offers a variety of processing features, such as pre-tensioning, partial pre-tensioning, or printing.
CONTURAN® IR Protect can be used for a variety of applications and is particularly ideal for digital signage, public information boards, train destination display panels or interactive information terminals.
Click here for further information.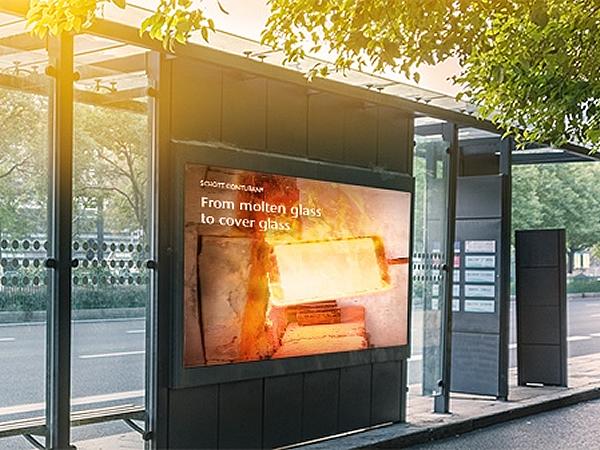 600
450
www.us.schott.com
2017-09-18T11:00:00
SCHOTT CONTURAN® IR Protect improves daytime visibility of digital outdoor signs, protects them from heat of sun
glassonweb.com